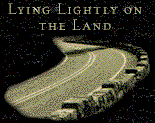 'Golden Age' of Park Road Development
In order to accommodate the influx of motorists and their demands for modern, high-quality roads, landscape architects from the National Park Service worked with highway engineers from the U.S. Bureau of Public Roads to develop a systematic approach to road design, construction, and management. This collaborative effort produced a 'Golden Age' of park road development that
| | |
| --- | --- |
| | Entrance arch to Mount McKinley National Park, Alaska (now Denali National Park) 1939. |

lasted from the mid 1920s until the outbreak of World War II. Bigger budgets and newer, more powerful machinery enabled the park road builders of the 1920s and 1930s to attempt more ambitious projects than their predecessors. These designers and engineers sought to reduce the visual impact of road construction, harmonize structures with the local environment, and lead visitors through an enjoyable series of visual experiences. To a large extent, the basic characteristics of today's National Park System were established during this period.
| | |
| --- | --- |
| | Going-to-the-Sun Road, Glacier National Park, 1933. |

Among the outstanding projects of the era were the Going-to-the-Sun Road in Glacier National Park, the Zion-Mount Carmel Highway in Zion National Park, Skyline Drive in Shenandoah National Park, and the reconstruction of the major entrance roads into Yosemite National Park.