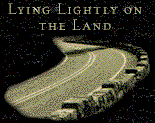 Trouble in Paradise
By the mid 1950s, increased prosperity, expanding leisure time, and rapidly improving interstate highways brought unprecedented numbers of motorists into the national parks, overwhelming facilities designed for the modest crowds of the pre-World War II era. These vacationers demanded more and better roads to accommodate larger vehicles and the growing desire for quick, comfortable, and easy access to scenic and historic features. In response to widespread public demand, the National Park Service launched Mission 66, a ten-year program designed to upgrade park facilities and expand and improve roads in time for the agency's 50th anniversary in 1966.
| | |
| --- | --- |
| | Family reading map in the Great Smoky Mountains National Park, 1957. |

At the same time, an increased interest in wilderness preservation and ecological principles resulted in growing opposition to park road building. These competing concerns threatened to split the traditional National Park Service constituency between environmentalists, who actively opposed road development, and the tourist industry, which continued to push for highway improvements. By the late 1960s, the National Park Service gradually reoriented its policies to limit additional road construction, promote alternative modes of transportation, and continue to ensure that new roads and facilities would intrude as little as possible on park landscapes.
| | |
| --- | --- |
| | Campers enjoying Platt National Park (now Chickasaw National Recreation Area), c. early 1960s. |