CRGIS Buffalo Soldiers Mapping Project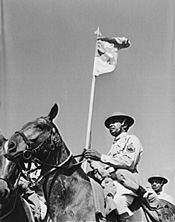 Following the Civil War, the United States Army recognized the contributions of African American soldiers in maintaining the Union by offering placement of black troops as regular soldiers in the "peacetime" US military. In 1866 Congress reorganized the military to reflect these needs, and to take advantage of the willing and skilled African American troops. Creating African Ameircan cavalry and infantry units, military leadership sent these troops west to participate in the "Indian Wars," to help conquer and control the Native American population. It was there, according to tradition, that the Native Americans dubbed the "Buffalo Soldiers."
Exploring the Contributions of Buffalo Soldiers through New Technologies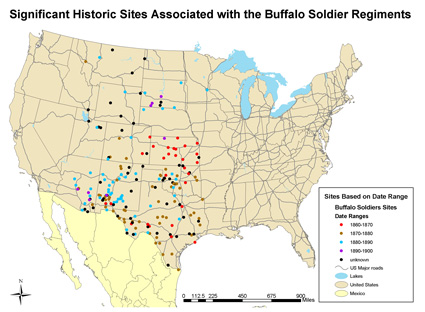 The role played by Buffalo Soldiers in the conquest of the American West is controversial. The American military studied the colonial model used in the deployment of native troops against indigenous populations. The establishment of regular black troops in the American West after the Civil War reflected many of these ideas. Today, many aspects of Buffalo Soldier history are idealized or incorporated as a part of an evolving national mythology. Regardles, the Buffalo Soldiers played an important role in the 19th century history of the American West.
In 2002, the National Park Service (NPS) Intermountain Regional Office and the Desert Southwest Cooperative Ecosystems Studies Unit began a partnership with Howard University and Haskell Indian Nations University. Designed to give undergraduate history students experience in inventorying the significant data and sites associated with the Buffalo Soldiers and to foster cooperation among the African American and Native American communities, the effort was entitled, "The Warriors Project." By opening a dialogue between the two communities, NPS hopes to foster interest in a subject of mutual importance to a new generation of students, in addition to providing more recognition of these important resources.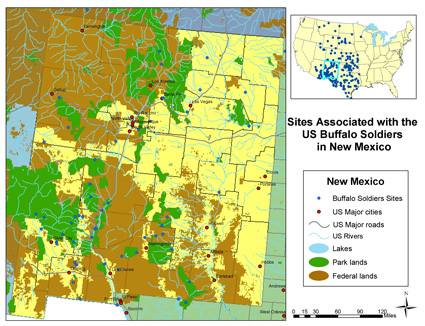 Working together, students from the two universities identified approximately 250 sites in 12 states associated with the Buffalo Soldier activity between 1866 and 1891, and compiled a bibliography of primary and secondary source works.
CRGIS provided training for the participating students at Howard University, focusing on how to apply GIS to cultural resource applications. CRGIS created generalized point locations for 215 of the 250 identified sites, using existing data sources such as the National Register of Historic Places, Federal land boundaries, NPS boundaries, and the Geographic Names Information System created by the US Geological Survey. The attribute table associated with the points identified those sites already listed on the National Register, located on Federal property, or otherwise protected in some way.
Information provided by the Howard University students, such as date ranges, military units, and Native American opponents, was similarly entered into the attribute table, attaching a wealth of information to each point. Definitive locations for the remaining 35 sites could not be determined from the information gathered.