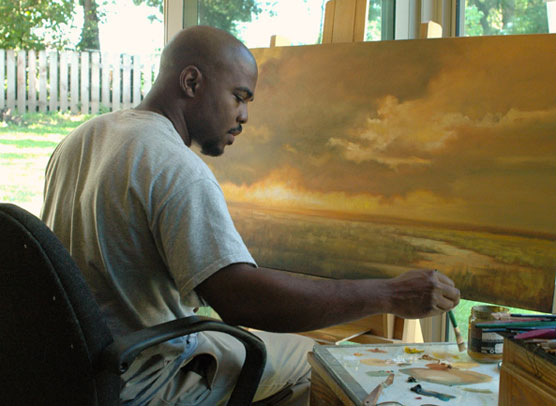 News Release Date:
July 25, 2012
Contact: Kristin Gibbs, (319) 643-2541
Contact: Adam Prato, (319) 643-2541
WEST BRANCH, IOWA- Landscape painter Steven S. Walker and photographer Missy Gaido Allen will be the Artists-in-Residence this summer at Herbert Hoover National Historic Site. Mr. Walker will be in residence from July 29 through August 11, Ms. Allen from August 6 through 10. The Artist-in-Residence (AIR) Program at Herbert Hoover National Historic Site promotes creative means of communicating the park's national significance and its relevance to visitors.
Steven S. Walker will discuss and demonstrate painting techniques to park visitors on Wednesday, August 8. Meet at the visitor center at 6:00 p.m. and be prepared to go outdoors. The program precedes the 7:00 p.m. family night program at Herbert Hoover Presidential Library and Museum, celebrating the museum's fiftieth anniversary and featuring the 1962 film "The Man Who Shot Liberty Valance."
Born in Myrtle Beach, South Carolina and raised in Virginia, Steven S. Walker has been creating artwork for most of his life. A former freelance illustrator and college instructor, Mr. Walker found peace of mind and inspiration painting the back roads and rustic barns of Virginia. He has exhibited several solo shows and in various national exhibitions such as the 2012 Salon International and the Richeson 75 Landscape Show. Mr. Walker resides in Westerville, Ohio with his loving wife and biggest fan, Evelyn.
"My intent is to produce work that provides a peaceful getaway from the hectic events of everyday life," said Mr. Walker. "Sometimes the only thing that keeps a person's spirits up from day to day is seeing the sun break through the clouds after a storm. I'd like to think of my paintings as the break in the sky."
On Sunday, August 5 Missy Gaido Allen offers a free introduction to nature photography class for kids ages eight to sixteen. From 9:30 to 11:00 a.m. Ms. Allen will teach kids basic photographic techniques and will lead them on a short hike through part of the prairie to the Isaac Miles Farmstead. Participants are encouraged to bring a digital camera with a viewing screen for feedback, but film cameras are acceptable. Please wear closed-toe shoes, a hat and sunscreen, and remember to bring water as the prairie has little shade. The class will begin at the Herbert Hoover Presidential Library and Museum at 9:30 and will return from the hike to the same place.
Born in Houston, Texas in 1968, Missy Gaido Allen studied studio art and art history in the United States and Italy. She holds a Master's in Art History from Rice University and a Ph.D. in Art History from the University of Iowa. Ms. Allen's images are in the permanent collections of the Cedar Rapids Museum of Art, the University of Iowa Hospitals and Clinics, and multiple private collections. She has exhibited her work widely in solo and group exhibitions and has licensed images to Sony and Hasselblad. Ms. Allen lives in Iowa with her family.
"I am interested in showing changes in the landscape over time, such as through the passing of seasons," Ms. Allen said of her photography. "Herbert Hoover National Historic Site would provide me the environment to create meaningful, intensely rich works that connect the viewer to the natural world."
Herbert Hoover National Historic Site and the Herbert Hoover Presidential Library and Museum are in West Branch, Iowa at exit 254 off I-80. Both are open daily from 9 a.m. to 5 p.m. Central Time. Parking is limited so please allow extra time to find a parking space. For more information go online at www.nps.gov/heho or call (319) 643-2541.