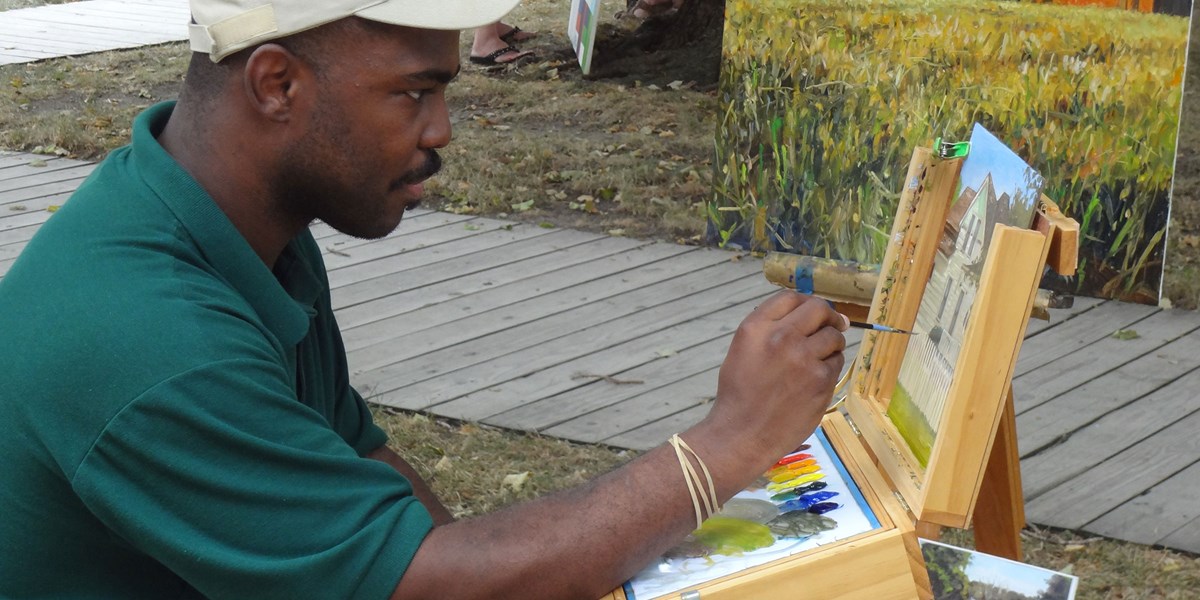 The National Park Artist-in-Residence Program at Herbert Hoover National Historic Site promotes creative means of communicating the park's national significance and its relevance to park visitors. Selected artists live at the historic site and share its stories through visual arts, performing arts, or writing.
2018 Artist-in-Residence Program
Herbert Hoover NHS offers a residency of eight weeks during the months of June, July and August. The National Historic Site provides lodging and a secure place for equipment and supplies at no cost to the artist. During the residency, the artist interacts informally with the public, presents public interpretive programs, and contributes a piece or pieces of work for the site to utilize.
Who May Apply
Professional American visual and performing artists, writers, composers, and other artists.
Goals for the 2018 Residency
This year, the park is looking for an artist who will create content that can be used for a variety of purposes, such as materials teachers can use before site visits, social media and/or promotional materials.
Artists will be asked to use their work answer an essential question about the site. Examples of a question might include: When does a positive personality trait become a tragic flaw? In the face of adversity, what causes some individuals to prevail while others fail? How do our values and beliefs shape who we are as individuals and influence our behavior?
Subject matter will entail using the park's historic buildings to tell the Hoover story.
Plans and leads at least one public workshop, demonstration, lecture, exploratory walk, performance, or other artist-led experience for park visitors.
Provides one such public presentation in the artist's home community about the artist's work and experience during the residency.
How to Apply
Send a cover letter stating your preferred period of residence (eight weeks within the available time period) along with the following:
A resume/CV and summary of creative work (exhibitions, collections and publications where your work has appeared).
A statement of no more than one (1) page explaining how your artwork will meet the residency's goal.
Samples of recent works. All samples must be submitted via email or on a compact disk:
Visual artists provide six (6) JPEG files of at least 200 pixels per inch;
Videographers provide 2-3 short clips of video;
Writers submit ten (10) double-spaced, typewritten pages of a manuscript in a PDF file;
Composers or performing artists provide five (5) to seven (7) minutes of audio or video recording on a compact disc.
Applications must be emailed, post-marked or delivered in person by Monday, March 26, 2018. Mail your application to:
Herbert Hoover National Historic Site
Artist-in-Residence Program
110 Parkside Drive
P.O. Box 607
West Branch, Iowa 52358
Or email your application too:
heho_information@nps.gov, Subject line: AIR Application
If you have any questions please contact Byrony Forbes at 319-643-2541 or heho_information@nps.gov
Selections will be made based on merit and how the artists' work can communicate the park's national significance and its relevance to park visitors. The selection will be made by the first week of April.