Wesleyan Chapel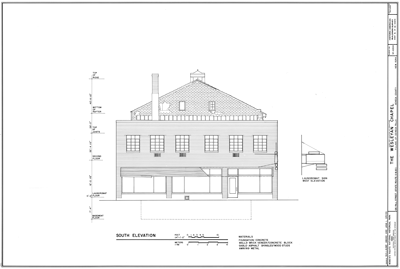 HABS NY-6304
Seneca Falls, New York
Women's Rights National Historical Park
Located in Seneca Falls, New York, the Wesleyan Chapel was built in 1843 and served as an important structure for social reform in the second half of the nineteenth century. The Chapel was the first place of worship for the Wesleyan Methodist Church following the split from the Methodist Episcopal Church. Conflicting opinions on slavery and social activism drove the split. The Wesleyans took the then radical approach of advocating for equality between men and women. The Chapel was routinely available to for events as well as becoming a platform for reform speakers, such as Elizabeth Cady Stanton and Susan B. Anthony.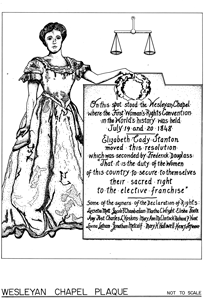 On July 19 and 20, 1848, the "Great Light House of Seneca Falls" housed the First Women's Rights Convention ever held in the United States. Here began the formal struggle of U.S. women for their equal rights. One hundred men and women signed a manifesto for change: The Declaration of Sentiments.
The original red brick Wesleyan Methodist Church was sold by the congregation in 1871. Subsequent owners extensively altered the Chapel building. It became, in turn, an opera house, movie theater, grocery store, furniture store, roller-skating rink, a Laundromat, an apartment building, a telephone office building and a Ford dealership and garage.
For the 60th Anniversary of the 1848 First Woman's Rights Convention in 1908, the event planners and community leaders placed a commemorative plaque on the existing structure. The New York State Education Department recognized the corner as the site of the Convention with a blue and yellow marker in 1932. The chapel was listed in the National Register of Historic Places in 1980. In the 1988, the Historic American Buildings Survey documented the chapel and recorded the various changes it underwent. In 1985 the National Park Service purchased the property as part of the Women's Rights National Historical Park. Rehabilitation planning continues for the preservation of the Chapel.