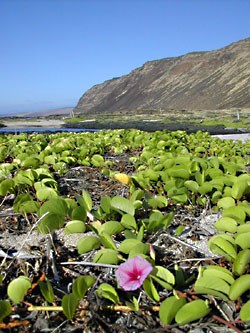 Descending 2,700 feet from Mau Loa o Mauna Ulu trailhead, on the Chain of Craters Road, to the coast is a backcountry trip for intermediate to advanced level hikers with terrain ranging from smooth pahoehoe flows and level trails of cinder, to some fairly steep slopes of rugged 'a'a.
Beginning at the Mau Loa o Mauna Ulu trailhead, a series of ahu leads across pahoehoe flows from the 1969-74 eruption of Mauna Ulu. The flows have a fresh appearance, with an almost infinite variety of ropey waves that swirl and twist into eddys. A smooth ribbon path bridges the flow, resembling thick black varnish applied with a brush.
The edge of the flow empties onto sparse woodland of 'ohi'a trees and bushes of pukiawe and 'a'ali'i on ancient flows of pahoehoe and 'a'a. In the crevices of the 'a'a are deposits of green reticulite, a very light, inflated "foam" of lava, thrown onto the older flows by fountains in the more recent Mauna Ulu eruptions. The trail takes a more marked descent through Ainahou Ranch land, and soon the shoreline comes into view, with Hilina Pali and Pu'u Kapukapu with Halape at its foot.