Day Hike - Crater Rim Trail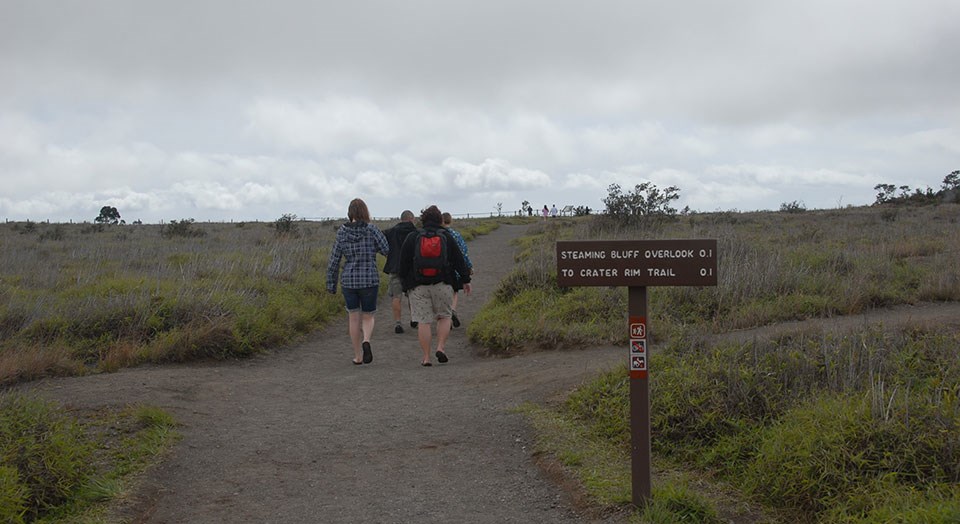 Crater Rim Trail
The Trail circles Kilauea's summit caldera. Hiking here is an awe inspiring journey through an active volcano. The breath of gasses and steam bear witness that Pelehonuamea (Pele of the sacred land) still resides here. Rich with native plant and animal life, active volcanism, and Hawaiian deities of a living culture, hikers will marvel at diverse scenic vistas, desert terrain, and lush rain forest.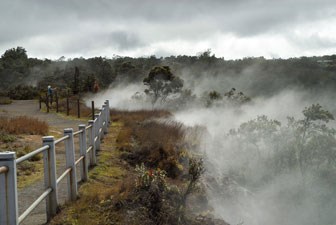 Of interest: Plants, birds, insects, desert, rain forest, steam vents, caldera, craters.
Difficulty: Easy
Elevation: 4,000'
Hikers may access the trail from many several locations along Crater Rim Drive.
Bring water and food. Be prepared for hot and dry, and wet and windy weather. Scorching sun, biting winds and pelting rain can occur in the same hour.
STAY ON MARKED TRAILS
Cliffs, earthcracks, and steam vents have unstable and slippery edges. Keep well back for your safety.
Hiking over cracks and holes, loose rock, and thin lava crust greatly increases your risk of getting hurt. Falling on lava can result in severe wounds.
Last updated: November 7, 2019