News Release
Safe viewing tips for new eruption in Hawai'i Volcanoes National Park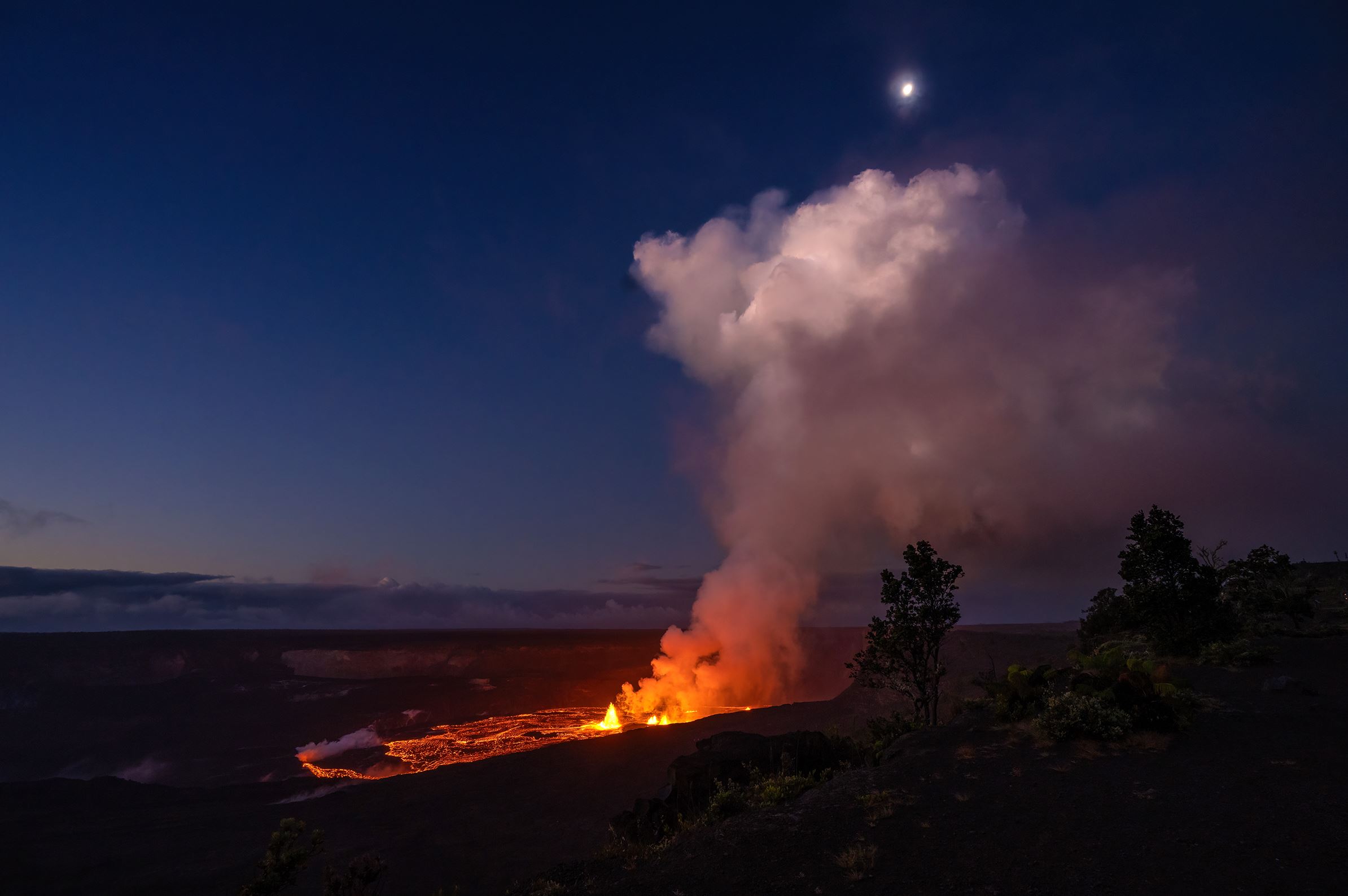 News Release Date:
June 7, 2023
Contact: Jessica Ferracane, 808-985-6018
HAWAII NATIONAL PARK, Hawaiʻi –
A magnificent new eruption that started before sunrise within Kīlauea volcano's summit is expected to draw thousands of visitors to Hawaiʻi Volcanoes National Park. While the park is open 24 hours a day, the public is urged to stay safe and follow these precautions: 
•  Volcanic eruptions can be hazardous and can change at any time. Stay on marked trails and overlooks. Do not enter closed areas. Avoid cliff edges and earth cracks. 
•  Hazardous volcanic gases present a danger to everyone, especially people with heart or respiratory problems, infants, young children and pregnant women. 
•  Slow down and drive safely. Expect long waits for parking spaces at popular vantage points like Kīlauea Overlook and Devastation parking lot. 
•  Avoid the crowds and visit after 9 p.m. and before 5 a.m. The park continues to be open 24 hours a day.  
•  At 4,000 feet (1,219 meters), the summit of Kīlauea can be chilly at any time. Bring a rain jacket, wear long pants and closed-toe shoes.
•  Check the park website for eruption viewing information, hazard and closure updates,
www.nps.gov/hawaiivolcanoes
. 
Around 4:44 a.m. HST on Wednesday, June 7, the USGS Hawaiian Volcano Observatory (HVO) detected glow within Halmemaʻumaʻu crater at the summit of Kīlauea signaling a new eruption, following a swarm of small earthquakes below the volcano. Multiple fissures opened on the crater reestablishing a molten lava lake and lava fountains several hundred feet high were observed. HVO elevated the Kīlauea volcano alert level to WARNING and its aviation color code to RED. There is a temporary flight restriction above Kīlauea caldera of 5,000 feet AGL. 
Spectacular views
were seen on foot from almost every vantage point along Crater Rim Trail this morning including Wahinekapu, Kīlauea Overlook, Keanakākoʻi, Kūpinaʻi Pali, and Uēkahuna.  
###
Last updated: June 7, 2023