History of Kahuku
The Kahuku Unit, in the district of Kaʻū, sits on the southern slopes of Mauna Loa and has a varied and dynamic human history.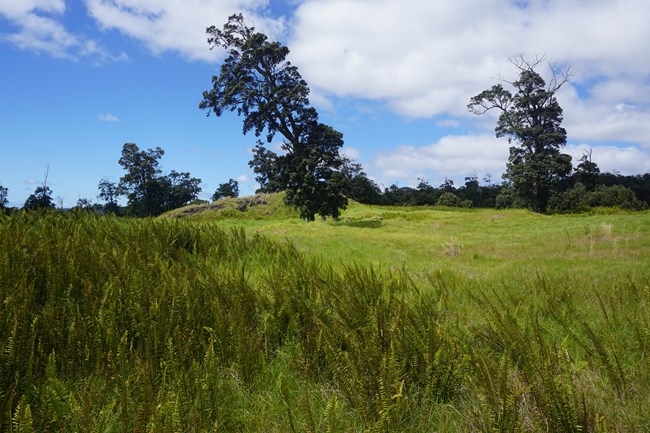 Pre-Western Contact To The 1790's
Kahuku is the largest of the 1300
ahupuaʻa
(traditional land divisions) in Hawaiʻi. Located in the vast Kaʻū district, the ahupuaʻa of Kahuku originally extended from the summit caldera of Mauna Loa to the sea. Except for large parcels sold to residential developers and all lands south of Highway 11, most it is now in Hawaiʻi Volcanoes National Park. Although lava has buried many Kahuku archeological sites, numerous petroglyphs, trails, religious features, ahu (rock cairns), and post-Western contact ranching sites remain.
The most recent evidence places Polynesian arrival and settlement in the Hawaiian Islands between 1000 to 1200 AD. The oldest dated feature within Kahuku is from about 1400 AD, though older evidence has been found nearby near Ka Lae (South Point).
Widespread settlement in this dry, volcanic area came later than in most parts of Hawai'i. By the mid-1400's, Ka'ū (and perhaps Kahuku) had intensively managed agricultural fields in mid-elevation land with adequate rain and soil. Food crops included sugar cane, ʻuala, and maiʻa (bananas).
Before Western contact, coastal settlements west of the dramatic Kahuku fault (Pali o Kulani) were homes of chiefs. Waioʻahukini village was the main residence of Kalaniʻopuʻu, a mighty war chief. As a youth, his nephew Kamehameha the Great learned the skills of combat there. After the death Kalaniʻopuʻu, a decade of power struggles ensued between his son, Keōua Ku'ahu'ula and Kamehameha. Kamehameha prevailed after many battles and the loss of part of the army of Keōua in the
1790 explosions of Kīlauea
. In 1791, Keōua went to his death at Kamehameha's war heiau (temple) at
Pu'ukoholā
. Kaʻū lands then became the domain of the Kamehameha family. Some loyal supporters of Keōua sought refuge in the mauka (upland) region of Kahuku.
Traditionally, Hawaiians made regular use of Kahuku's extensive uplands for a variety of purposes including gathering resources, warfare and visits to religious sites. Detailed knowledge of boundaries was critical because resources were controlled by the chiefs and people of each ahupuaʻa. In testimony before the 1873 Boundary Commission, elderly residents described features delineating boundaries of Kahuku—specific coastal points, lava flows, hills, craters, caves and ahu (rock cairns). Along its western edge, Kahuku borders South Kona. Traditionally, Kaʻū and Kona people were rivals. To the east, people from the Puna district were considered to be one extended family with Kaʻū families. According to an old saying: "Kaʻū trusts Puna; Puna trusts Kaʻū".
With their immense mauka lands and harsh coastline, Kahuku people were known as bird hunters rather than fishermen. Birds (ʻua'u, nēnē, mamo, ʻōʻō, ʻiʻiwi) were taken for food and feathers. Famous for its koa forests, Kahuku was a likely big source of logs for canoe hulls. From the late 1700s to modern times, Hawaiians have traveled upslope in Kahuku to catch wild cattle, pigs and goats for household use and for market. During the mid-1800s, they also collected pulu (tree fern fibers) and sandalwood for international trade.
Post-1778 Western Travelers
Captain James Cook rounded Ka Lae (South Point) in January 1779 but stayed offshore due to storms. He secured food from local residents who were able to negotiate the rough seas and strong currents by canoe. Dismayed by the extensive lava flows of Kaʻū, James King of Cook's crew reported the land was "as barren a waste as can be conceived to exist."
In 1794, Captain George Vancouver's surgeon and naturalist Archibald Menzies visited Ka Lae, climbing Pali o Kulani (Kahuku Fault). He was the first to estimate Mauna Loa's height. He reported visiting "a fine plantation belonging to Kamehameha, called Kahuku." During a later visit, Kamehameha took Vancouver from Hilo to Pōhue Bay to view sunken anchors with English lettering.
In 1823, Rev. William Ellis passed through Kaʻū on his way from Kona to Hilo. He wrote, "the Pacific dashed its mighty waves against the rocky shore, and the kuahivi (mountain ridges) of Kaʻū, and snow-top'd Mauna Loa, rose in the interior, with lofty grandeur."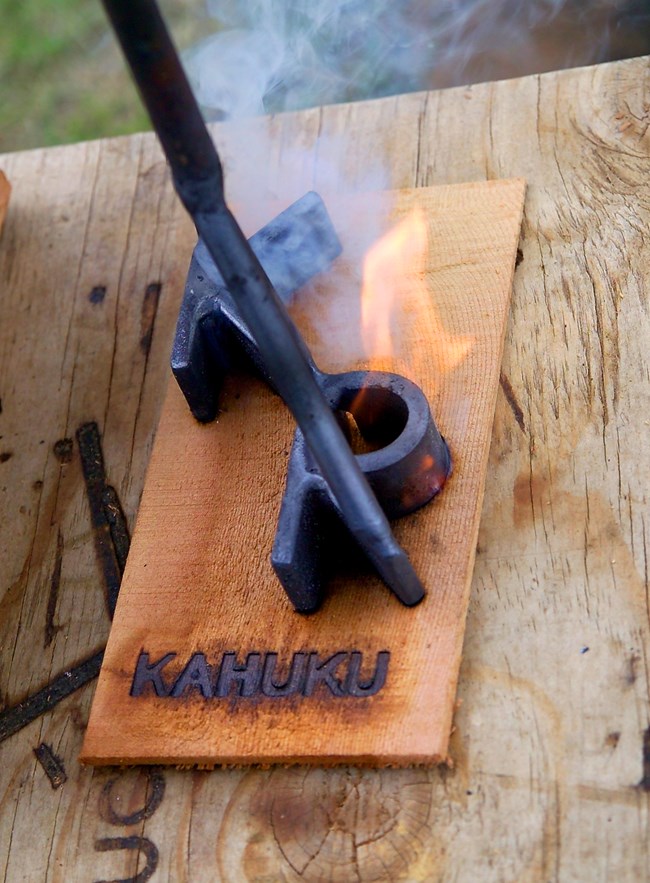 The Dawn of Ranching
In 1793, Captain George Vancouver brought cattle to Hawai'i Island as a gift to Kamehameha, who ordered that the animals roam free. Soon, cattle multiplied and became a dangerous nuisance. To control them, the first Mexican vaqueros were brought to Hawai'i i about 1830. Soon, the term "
paniolo
" (cowboy, from the word "Espaniol") entered the Hawaiian language. Ranching drastically altered the natural environment of Hawaiian ecosystems. Kahuku was one of the oldest ranches in the islands, but its remote location, lack of water, rough terrain, volcanic eruptions and uncertain markets made ranching here a difficult venture.
Post-Western Contact Land Owners
After 1790, the ahupuaʻa of Kahuku became the domain of the ruling Kamehameha and his family. In 1848, Kahuku, along with other Kaʻū lands, were granted to William Pitt Leleiohoku. He later passed it back to the Hawaiian government in order to retain other land grants. By the 1850s, privatization of property and other legal changes allowed sale of land to non-Hawaiians.
In 1861, Kahuku passed into private ownership. Pulu dealer Charles Harris acquired Kahuku (then 184,298 acres) for $3100. Kahuku's pulu, timber and thousands of wild cattle and goats were attractive resources. Mark Twain once characterized Harris as "greedy".
Harris sold the property in 1866 to Robert Brown and his brother for $5250. By then, Kahuku was already known as "a large cattle ranch." Capt. Brown lived at Kahuku with his family until April 1868, when earthquakes and lava flows during the
1868 eruption of Mauna Loa
destroyed their home. Brown tried raising sugar cane in Kaʻū but further economic losses led him to leave Hawaiʻi, "heaping maledictions on the islands."
In 1871, Brown sold Kahuku and its livestock to Kaʻū entrepreneurs
George Jones
, Charles E. Richardson, William H. Reed, and L. Kaina, who established the name "Kahuku Ranch Co." Richardson and Jones had built the Volcano House hotel in 1866.
The Parker Ranch acquired Kahuku in 1912, by then 159,000 acres, for $100,000. In 1918, 5700 acres at the summit of Mauna Loa became part of the new Hawaii National Park. In the mid-1920s, Dr. Thomas Jaggar hoped to build an observatory in Kahuku but it did not materialize. About 20,000 acres were sold to neighboring Kona ranches throughout the 1930s and 1940s. In the 1940s, the U.S. military built the secret Kahuku Radar Station, with a tower atop Puʻu o Lokuana and support buildings at its base. The radar tower was decommissioned in 1947 and its cement footings remain in the cinder quarry.
In 1947, James Glover bought Kahuku from Parker Ranch for $436,200. Glover built roads, fences and a water system. The Damon Estate then bought the ranch from Glover in 1958 for $1,313,630. Fluctuating markets, water shortages and invasive species continued to present challenges while extraction and dramatic alteration practices continued. The current rotating paddock system was developed with pasture improvements (including herbicides, fertilizers, bulldozing, burning and re-seeding). An airstrip was built on the1868 lava field for "crop dusters." To add revenues, the ranch logged koa and mined cinders. In the late 1950s to 1960s, over 30,000 "scrubland" acres were sold to developers of residential subdivisons. Mouflon sheep, game birds and other animals were introduced for commercial hunting.
Kahuku Becomes Part of The National Park
On July 3, 2003, Kahuku Ranch became public land, part of Hawai'i Volcanoes National Park. The Nature Conservancy helped bridge the $22 million purchase price. As part of the National Park system, Kahuku is managed to "...conserve the scenery and natural and historic objects and the wildlife therein and to provide for the enjoyment of the same in such manner and by such means as will leave them unimpaired for the enjoyment of future generations." (National Park Service Organic Act, August 25, 1916)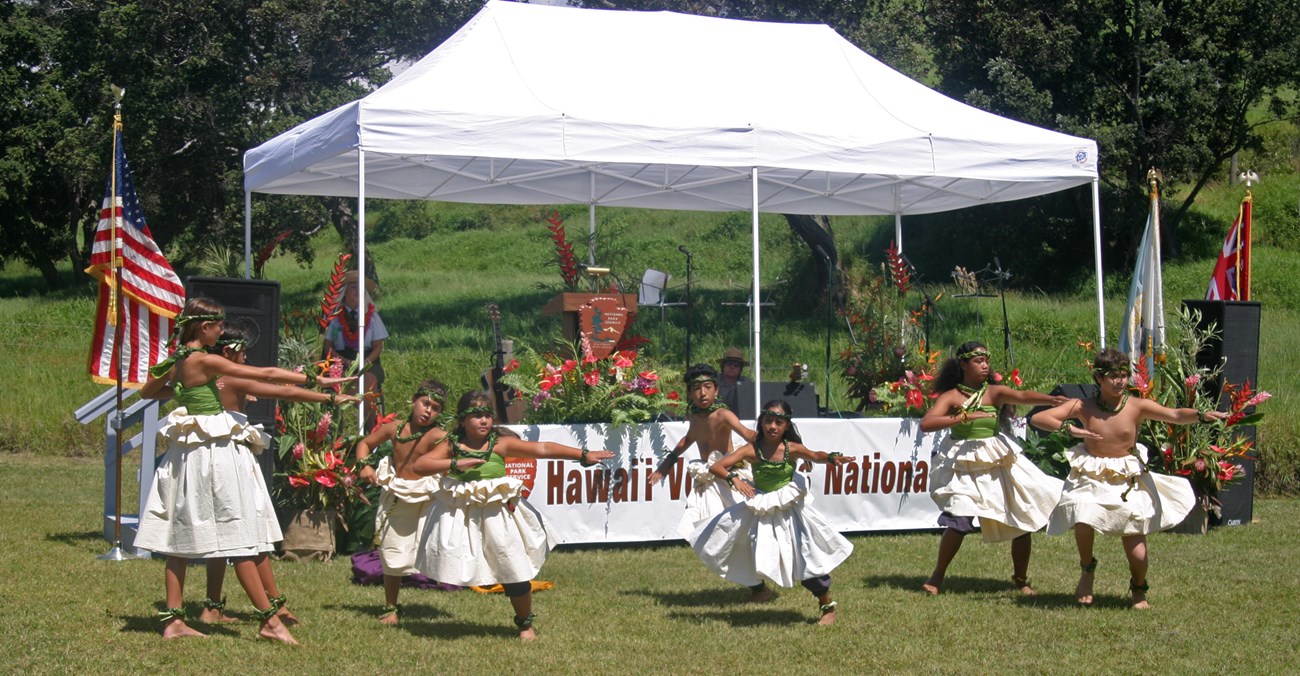 Last updated: March 12, 2021