Clothing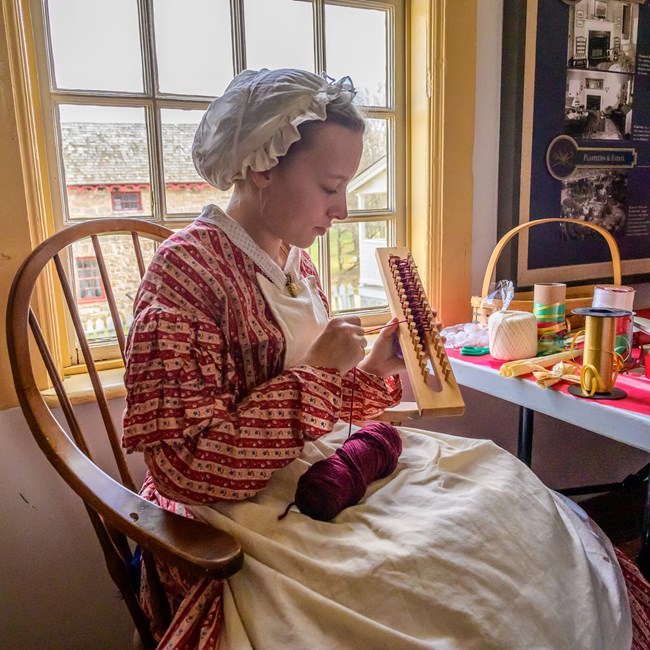 The census of Hampton servants in the 1770's contains an informal listing of clothing taken away from those workers, apparently when they arrived at the site. The idea seemed to have been to standardize attire for Hampton servants and the next document in that same collection is a listing of clothing and shoes given out to both white and black "servants." The Ridgelys typically referred to enslaved persons as servants and in these early days the treatment of both groups was often similar in terms of assignment of tasks, food, lodgings, payment for "overtime" and punishments.

Provisions of indenture contracts included "meat, drink, apparel, washing and lodging." Men at the furnace received one of each of the following per year: jacket, breeches, shirt, stockings, shoes, hat and blanket, plus one-half of a bed tick per person. Women received almost the same, although some records indicate different bedding allotments for women. The work of the furnace was very heavy physical labor that certainly took a toll on clothing and shoes were particularly vulnerable.

With a growing body of indenturedservants and enslaved workers, there was always a shoemaker present at Hampton/Northampton. In time, he came to make shoes for the whole community, with shoes for the 'free people' of the community significantly more costly than those of laborers. Shoes were an indicator of status: many indentured servants ordered fine shoes to be paid for out of their freedom dues as soon as their terms were over.

Wives of servants, enslaved persons and paid workers did much of the sewing work to make clothing at the Furnace, typically receiving some form of payment for the work. Two types of material appear again and again in the accounts, osnaburg and ticklenberg, which were heavy linen cloths used for such work clothes or for sacks and bags. Some fabric was woven from locally grown flax.

Much of this information is taken from "Almost Chattel" The Lives of Indentured Servants at Hampton-Northampton, Baltimore County," by Dr. R. Kent Lancaster
Last updated: July 9, 2020