History & Culture
Hamilton Grange National Memorial preserves the country home of Alexander Hamilton and Elizabeth Schuyler Hamilton. In 1801, Hamilton commissioned architect John McComb Jr. to design the Federal-style country home on a 32-acre estate in upper Manhattan. The building was completed in 1802 and named "The Grange" after his father's ancestral home in Scotland. Unfortunately, Hamilton was only able to enjoy his home for two years. On July 11, 1804, Hamilton was fatally wounded in a duel with his personal and political rival Vice President Aaron Burr. Elizabeth, however, continued using the home for 30 years after his death. Today, The Grange provides visitors a glimpse into Hamilton's personal life, role in establishing the United States, and his contributions to developing New York City.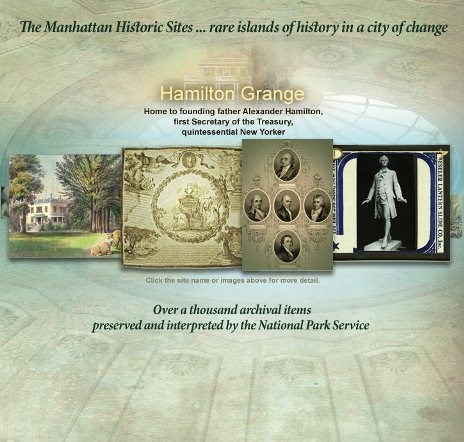 Manhattan Historic Sites Archive
Learn more about Hamilton Grange National Memorial, and other National Park Service sites in Manhattan, at the Manhattan Historic Sites Archive!
This archive is comprised of items related to the important individuals and events associated with six National Park Service historic sites in Manhattan (Hamilton Grange N. Mem., Theodore Roosevelt Birthplace N.H.S., Federal Hall N. Mem., Castle Clinton N.M.,General Grant N. Mem., and Saint Paul's Church N.H.S.) and to the creation and preservation of these sites. The materials are diverse in type, ranging from photographs, to letters, to maps and prints. This three-year project to catalog, reorganize, and digitize the collections was funded by the National Parks of New York Harbor Conservancy through a grant from the Leon Levy Foundation. Materials were chosen for digitization based on a variety of factors, including both informational and visual content, fragility, and aesthetic qualities. To visit the website and explore this archive, please click here.

Last updated: January 21, 2022