History & Culture
Hamilton Grange National Memorial preserves the home of founding father Alexander Hamilton. Born and raised in the West Indies, Hamilton was orphaned in his early teens. Taken in as an apprentice to an international shipping company based on his home island, his talents were recognized by local benefactors who created a fund to provide him with a formal education. Hamilton came to New York in 1772 at age 17 to study at King's College (now Columbia University).
During this period, he was exposed to American Patriots and became a supporter of their cause. As a student, he wrote defenses of the revolutionary cause and published in local newspapers. Soon there after, Hamilton was commissioned as a Captain of Artillery at the beginning of the Revolutionary War; and later his abilities were again recognized and he was invited to become an aide-de-camp to General George Washington.
After the war, as a member of Congress, Hamilton was instrumental in creating the new Constitution. As co-author of the Federalist Papers, he was indispensable in the effort to get the Constitution adopted. As the first Secretary of the Treasury (1789-95), he devised plans for funding the national debt, securing federal credit, encouraging expansion of manufacturing, and organizing the federal bank. As an integral member of Washington's cabinet, he developed the concept of "implied powers," which allowed the federal government to do things in support of the Constitution, that were not specifically spelled out in it.
Hamilton commissioned architect John McComb Jr. to design a Federal-style country home on a 32-acre estate in upper Manhattan. This house was completed in 1802 and named "The Grange" after his father's ancestral home in Scotland.
Unfortunately, Hamilton was only able to enjoy his home for only two years. On July 11, 1804, Hamilton was fatally wounded in a duel with his personal and political rival Vice President Aaron Burr.
Paterson Great Falls National Historic Park
During the late 18th century, Alexander Hamilton's vision for industry and manufacturing prompted him to set his sights on Paterson New Jersey. And in so doing, Alexander Hamilton utilized his prodigious insight to fuel industry, manufacturing and promote the financial growth of America.
While serving as the U.S. Secretary of the Treasury, he decided to puts his full support behind an organization called the Society for the Establishment of Useful Manufacturing (or S.U.M.). Through this organization, Alexander Hamilton had an ambitious plan to stimulate the American economic system through mass manufacturing.
His plans provided partial startup funding to S.U.M. through the use of government funded debt. This undertaking would ultimately lead to the production of goods such as paper, cotton and linens, hats and blankets, as well as provide work for laborers.
He envisioned the Great Fall of the Passaic River providing the power necessary to run not a single mill but a manufacturing town. The rivers of the Passaic could spin large turbine blades and water wheels that would in turn run large manufacturing machinery. His ideas would ultimately grow the little town of Passaic New Jersey into the hub for the production of much needed goods.
Alexander Hamilton's connection to Paterson Great Falls National Historic Park is significant to the history of America. It further documents and displays his brilliance and foresight as it relates to building America into a strong nation. And it provides inside into how one of the most influential founding fathers built
Which makes Paterson Great Falls National Historic Park welcomed edition to the National Park Service.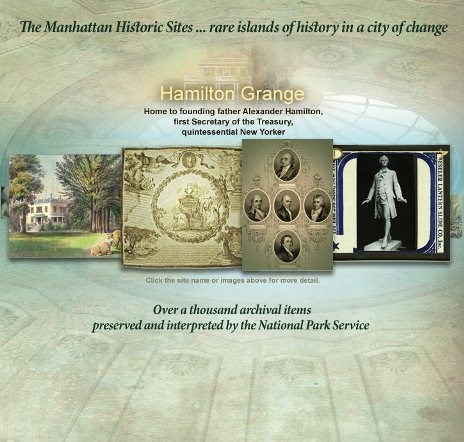 Manhattan Historic Sites Archive
Learn more about Hamilton Grange National Memorial, and other National Park Service sites in Manhattan, at the Manhattan Historic Sites Archive!
This archive is comprised of items related to the important individuals and events associated with six National Park Service historic sites in Manhattan (Hamilton Grange N. Mem., Theodore Roosevelt Birthplace N.H.S., Federal Hall N. Mem., Castle Clinton N.M.,General Grant N. Mem., and Saint Paul's Church N.H.S.) and to the creation and preservation of these sites. The materials are diverse in type, ranging from photographs, to letters, to maps and prints. This three-year project to catalog, reorganize, and digitize the collections was funded by the National Parks of New York Harbor Conservancy through a grant from the Leon Levy Foundation. Materials were chosen for digitization based on a variety of factors, including both informational and visual content, fragility, and aesthetic qualities. To visit the website and explore this archive, please click here.

Last updated: November 16, 2016