Article
Federal Style Architecture
In 1801, Alexander Hamilton commissioned architect John McComb Jr. to design a Federal style country home in Upper Manhattan. Hamilton named his home "The Grange" after his ancestors' estate in Scotland. Today, The Grange is a rare example of McComb's domestic architecture.
The Federal style was prominent in the United States and Britain between the 1780s and ca.1840s. It was created by British architect, Robert Adams, who was influenced by archeological studies in Rome. The new style was an alternative to Georgian style (named after British Monarchs) and contained less decorative details than previous designs. While the Federal style was embraced by people in Britain, it has been largely associated with the early government of the United States. Explore examples of the character defining features below!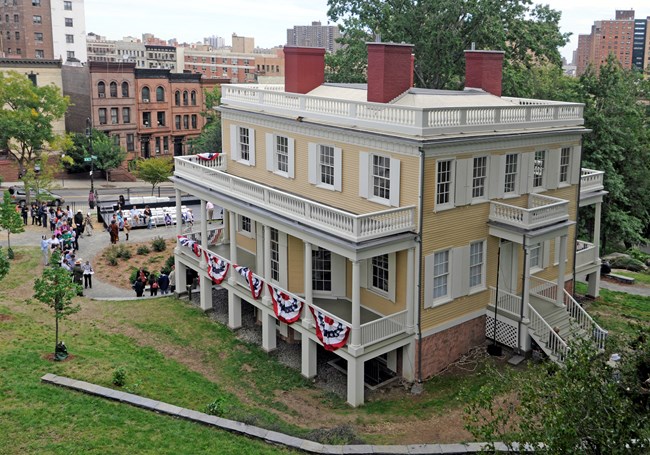 Symmetry
The design of the Federal style emphasizes balance and symmetry. This may be seen in the arrangement of windows, chimneys, doors, porches, and balustrades.

Visitors to The Grange may notice four chimney stacks protruding above the home. This is purely for design's sake, as two of the home's four chimney stacks are not functional. Two false chimneys were constructed to maintain the symmetry of the home.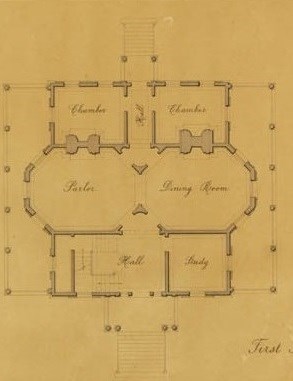 Shape
A structure designed in the Federal style was usually square or rectangle-shaped with a hipped roof. Contrary to the exterior of the building, the interior rooms were often shaped octagonally.

In the case of The Grange, the two octagonal rooms, which served as the parlor and dining rooms, are filled with windows on one side each. With the ability to open the doors between the rooms, and open the windows to the outdoors, these rooms would have created a pleasing open-air feeling in the home.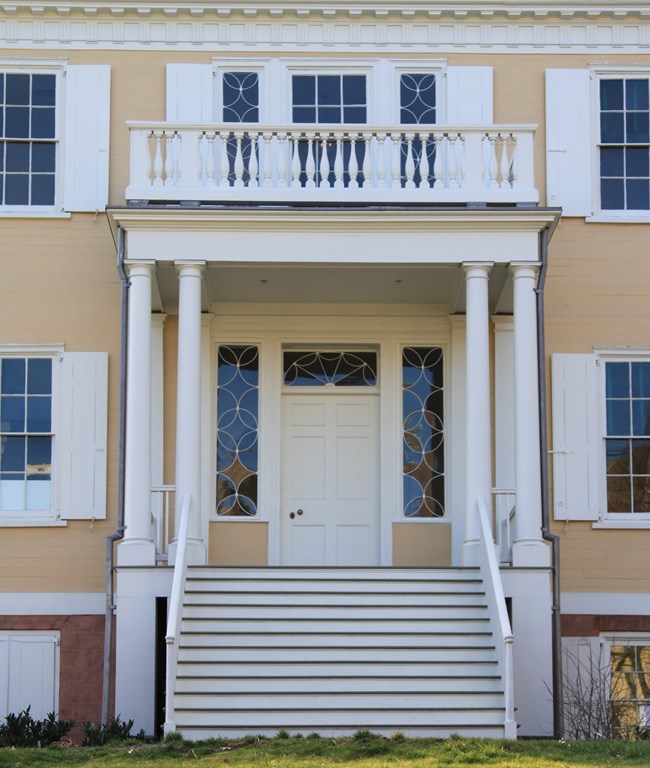 Entrance
The Federal style does not contain an abundance of ornate designs. However, decoration could be found at the entrance. For example, The Grange's entrance contains a leaded fanlight, leaded sidelight, and Doric columns. Altogether, these features would indicate the residence of an important person.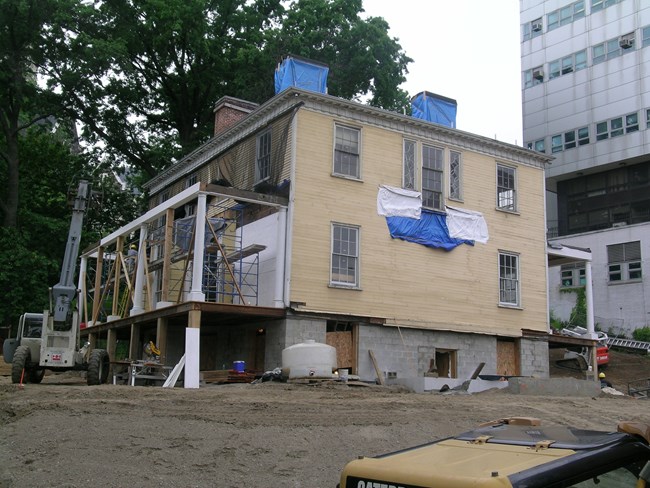 Restoration
In 1889, The Grange was moved to make way for the Manhattan Street Grid. As a result, the home was repositioned at a new angle and many changes were made including the creation of an entrance through a side window. In subsequent years, the building was even sandwiched between an apartment building and church. To restore The Grange, the National Park Service moved the home to St. Nicholas Park in 2008. After a lengthy restoration process, the home was reopened in 2011.
References:
Howard, Hugh and Roger Straus III. Houses of the Founding Fathers: The Men Who Made America And The Way They Lived. Artisan, New York. 2007.
Mongin, Alfred and Anne D. Whidden. Hamilton Grange: Manhattan Sites, Historic Structure Report. North Atlantic Historic Preservation Center. 1980.
"Pennsylvania Architectural Field Guide". Federal Style 1780 -1820. Accessed 1/16/2022: www.phmc.state.pa.us/portal/communities/architecture/styles/federal.html.
Last updated: May 14, 2022