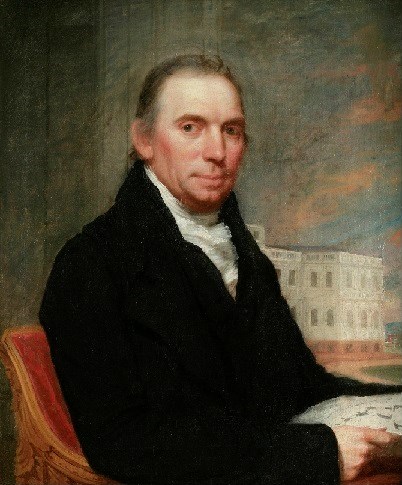 John McComb, Jr.
(Oct. 17, 1763 - May 25, 1853)
New York City architect John McComb Jr. was, like Alexander Hamilton, of Scottish ancestry. McComb first started working for his father, a prominent local architect, builder and surveyor, in 1783.2 He began to work independently around 1790 and likely made Hamilton's acquaintance shortly thereafter. When the federal government was seeking contractors for the erection of a lighthouse at Cape Henry in Virginia, John Jay wrote a letter to Hamilton recommending McComb as "an intelligent sober & industrious young Mechanic."1 McComb would go on to become a well-known and respected architect of Federal Style, especially among the citizens of New York City, where he was later made a Street Commissioner and a City Surveyor.2 He has even been referred to as the "Architect Royal to the Federalist Party of New York."3
In 1802, McComb won a contest for the design of a new New York City Hall and was named chief architect and superintendent of construction. Castle Clinton, and Gracie Mansion (Fig. 1) have been attributed to him as well, though the extent of his involvement in the creation of those buildings is not fully known at this time. He also designed many churches and lighthouses, including the one located on Long Island's Montauk Point, as well as a home for Hamilton's friend and colleague, Rufus King.2 His interest in unique designs and shapes that is displayed in the front hall of The Grange (Fig. 2), is also particularly evident in one of his earlier projects, the James Watson house at 7 State Street in New York City. (Fig. 3)
None of the architectural drawings McComb created during his work on The Grange have been located, but floor plans that were created prior to its first move offer some clues to its original configuration. He may have been influenced by English design books, particularly James Paine's 1767 work, Plans, Elevations and Sections, of Noblemen and Gentlemen's Houses. In completing Hamilton's "sweet project," McComb had designed and overseen the construction of a unique country home that would come to symbolize the founding father's significant accomplishments.
McComb lived to be 90 years old, and is interred in Brooklyn's Greenwood Cemetery.
1. "To Alexander Hamilton from John Jay, 21 December 1790," Founders Online, National Archives, last modified October 5, 2016, https://founders.archives.gov/documents/Hamilton/01-07-02-0250. [Original source: The Papers of Alexander Hamilton, vol. 7, September 1790 – January 1791, ed. Harold C. Syrett. New York: Columbia University Press, 1963, p. 376.]
2. "Guide to the John McComb Architectural Drawings Finding Aid," November 03, 2015. Finding aid at the New-York Historical Society Museum & Library. http://dlib.nyu.edu/findingaids/html/nyhs/mccomb/bioghist.html
3. Samuel Damie Stillman, "Artistry and Skill in the Architecture of John McComb, Jr." (MA Thesis, University of Delaware, 1956), 95-96, quoted in Alfred Mongin and Anne D. Whidden, Historic Structures Report: Hamilton Grange National Memorial, Manhattan Sites, New York City (Boston, MA: North Atlantic Historic Preservation Center, 1980), 28.