Top 10 Rare and Endangered Artifacts
We are featuring 100 artifacts to celebrate the 100th anniversary of the National Park Service by sharing monthly Top10 lists!

Our list for March is the
Top 10 Rare and Endangered Artifacts
.
The park museum collection contains over 1.2 million artifacts. Among this large group of American treasures, there are rare artifacts not known to exist in another museum collection. Objects also require constant monitoring and preventative conservation (cleaning and environmental management). A few of the artifacts featured in this list are considered "endangered" because they require conservation to repair and stabilize active deterioration. As we prepare some of the endangered artifacts for conservation treatment, we are able to share "before treatment" images here with you!
#1: John Wager Jr. Painting, ca. 1790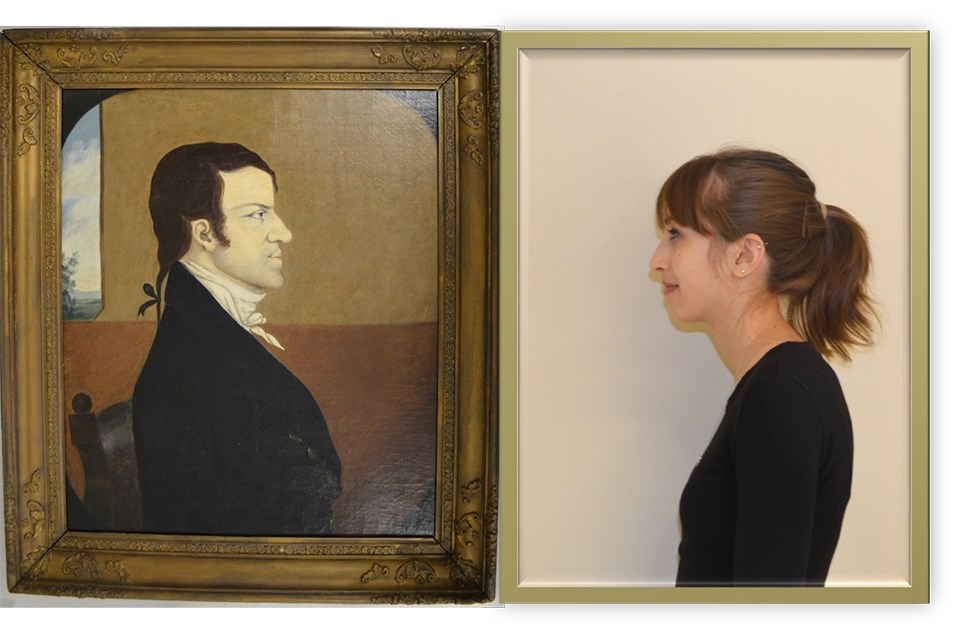 John Wager, Jr. was the great-nephew of Robert Harper, founder of Harpers Ferry. Wager was born in Phila., Pa., Sept. 23, 1772, and he died at the Harper House on Oct. 22, 1812. He was a son of John Wager and Sarah Harper Wager, a niece of Robert Harper. He was survived by his wife Catherine and four children.
Our research on this type of painting indicates that it is very likely Catherine, his wife, had a matching profile portrait painting commissioned. In order to interpret this possibility, Museum Management Program intern Caitlin poses in profile to exhibit a "double" portrait.
The painting's ca. 1790 date is determined by the approximate age of the subject. Though the painting is unsigned, it's attributed to John Fredrick Kemmelmeyer, itinerant portrait painter working the Baltimore/Philadelphia circuit ca.1800. In 1925, this portrait was presented to the Women's Club of Harpers Ferry by Mrs. Bessie Schilling Dunlap, great- granddaughter of John Wager Jr. The park acquired it in 1998.
This painting is the only image, we are aware of, of a closely related Robert Harper descendent. It is quite possible that John Wager, Jr. resembles his great uncle Robert Harper. John Wager, Jr. and his siblings were largely responsible for the continued progress and development of the historic Lower Town area of Harpers Ferry that the National Park interprets today.
Object Details: Catalog #HAFE 168578
#2: Pattern Model 1841 Rifle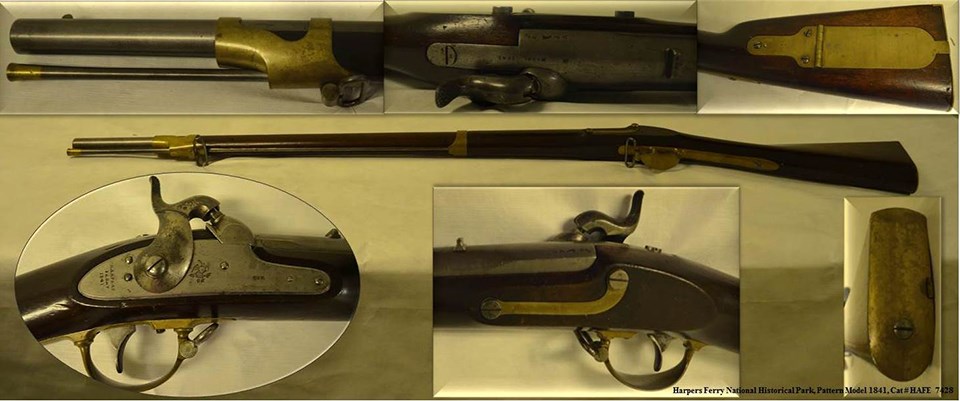 The Armory only originally made two pattern/prototype Model 1841 Rifles, and one of them would have been sent to the Springfield Armory. We are proud to feature this beautiful and rare firearm, also known as the "Mississippi Rifle." The images showcase the detail and craftsmanship of the pattern firearm. Pattern arms, along with measuring gauges and machinery upgrade designs, were sent to other armories and contract gunsmiths so they produce weapons, or weapon parts, for the government. Eli Whitney and Samuel Colt are two recognizable gunsmiths who made money by taking government arms contracts.
Object Details: Catalog #HAFE 7428
#3: Theodore Roosevelt Bust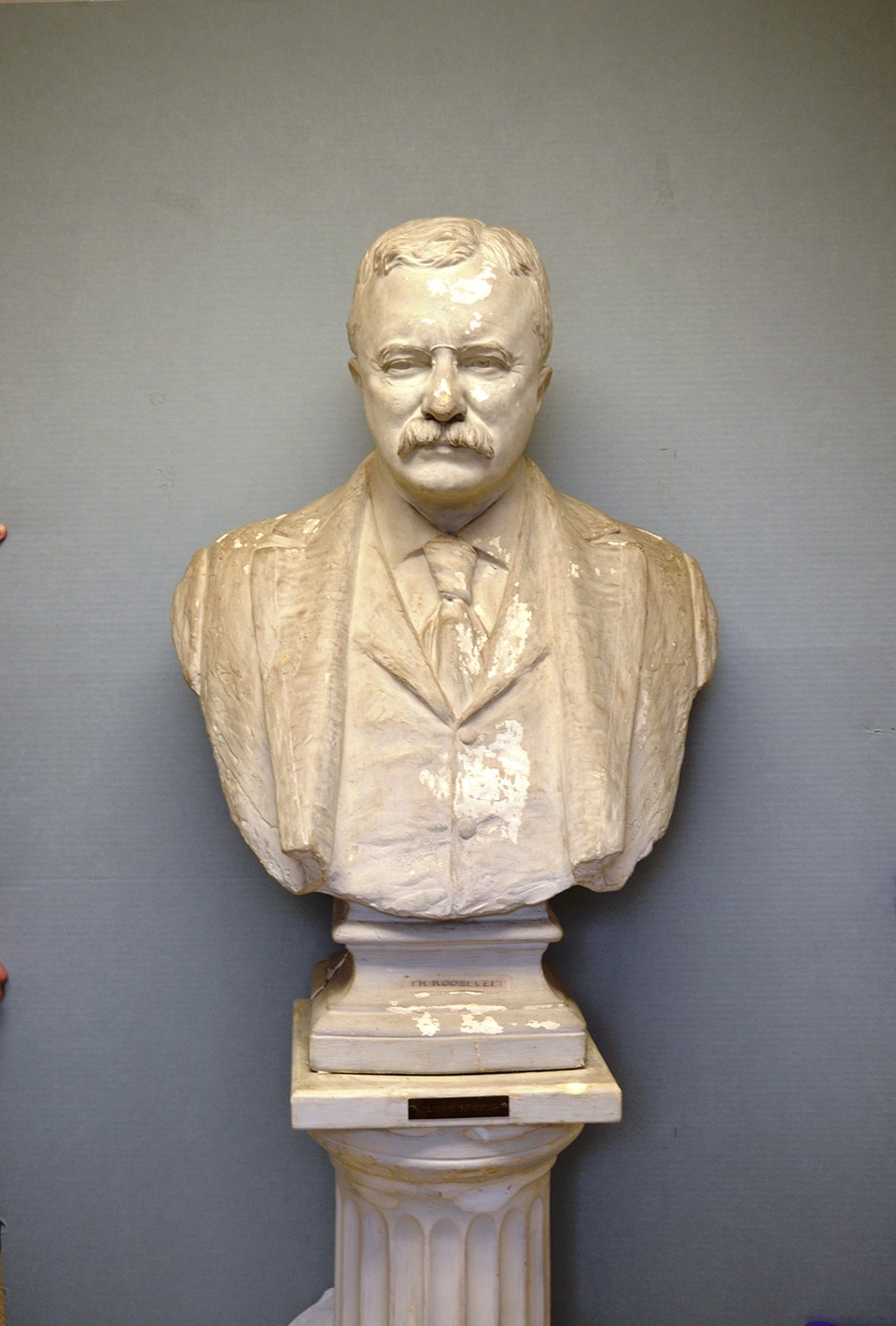 In this National Park Service Centennial year, we honor founders of the Park system. Teddy Roosevelt is considered the most recognized public figure associated with the early American conservation of public lands movement, which is at the heart of the National Park Service idea. This bust is believed to be a class gift, given by Storer College students to their beloved school (we're researching which year the bust was received by Storer College). It's inscribed with the year "1919," and the signature of the original sculptor, Bryant Baker, a famous freemason and sculptor from London who emigrated to America. We're preparing the bust for conservation treatment to repair plaster cracks and surface paint loss.
Object Details: Catalog #HAFE 9550
#4: U.S. Signal Corps Camp on Maryland Heights, 1864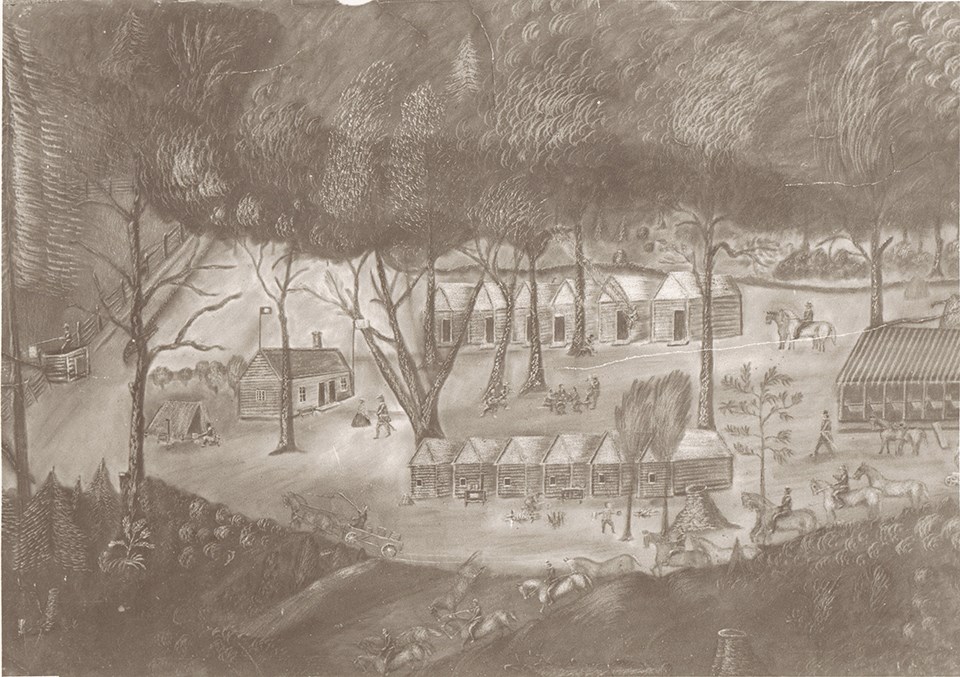 On top of Maryland Heights in 1864, a group of soldiers rested, cooked meals, built a swing, listened to music, read, tended to their horses, and visited with some ladies. This rare charcoal drawing is believed to be signal corps detachment of the department of the Susquehanna, which was stationed on Maryland Heights between June 29 and August 10, 1864.
For more information and images of the Signal Corps members stationed at Harpers Ferry in 1864, check out our museum collection feature.
Object Details: Catalog #HAFE 12689
#5: Frederick Roeder's Bundt Pan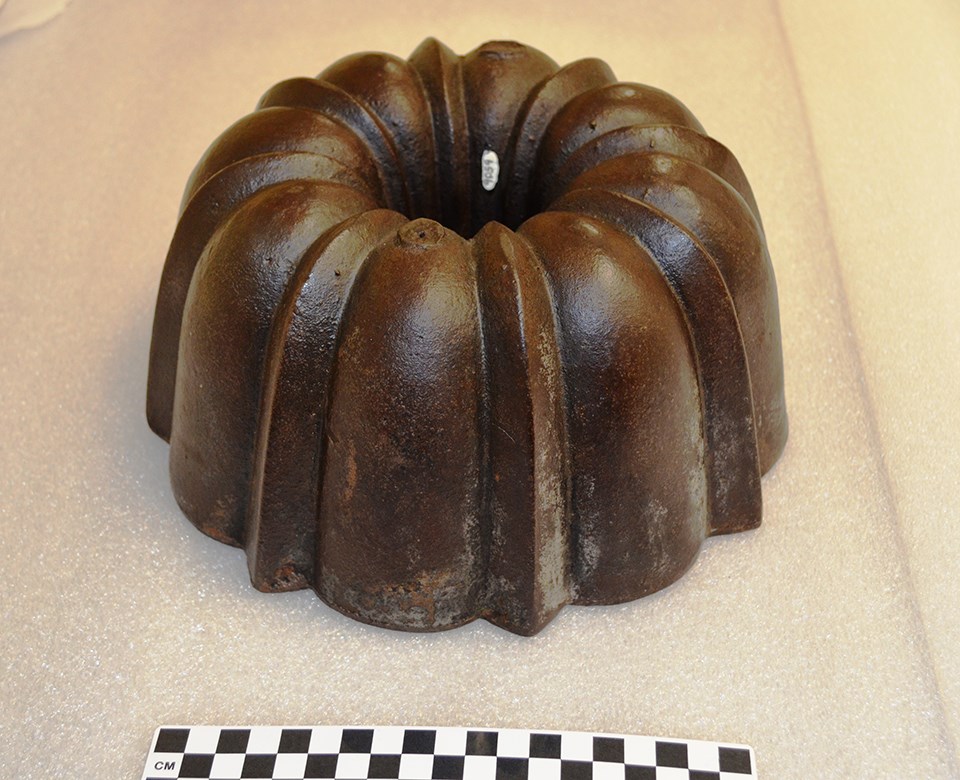 Frederick Roeder operated a bakery in Harpers Ferry, filling the air with sweet goodness until he was fatally shot at the start of the Civil War. In fact, he was the first Harpers Ferry civilian casualty in 1861. Citizens mourned the loss of their dear neighbor, who regularly advertised his confectionary delights. Today, you can see our confectionary exhibit in the park to get a 'taste' of what the shop looked like.
One of Roeder's ancestors donated some family treasures to the park museum collection, including this cast iron bundt cake pan. Family lore claims that he brought it over on the boat when he emigrated from Germany to America. We're investigating the concept of 3D scanning this mold, so we can make an accurate edible replica of the very cake Mr. Roeder baked in his homeland!
Object Details: Catalog #HAFE 9059
#6: Photograph of Potomac River and Hilltop House Hotel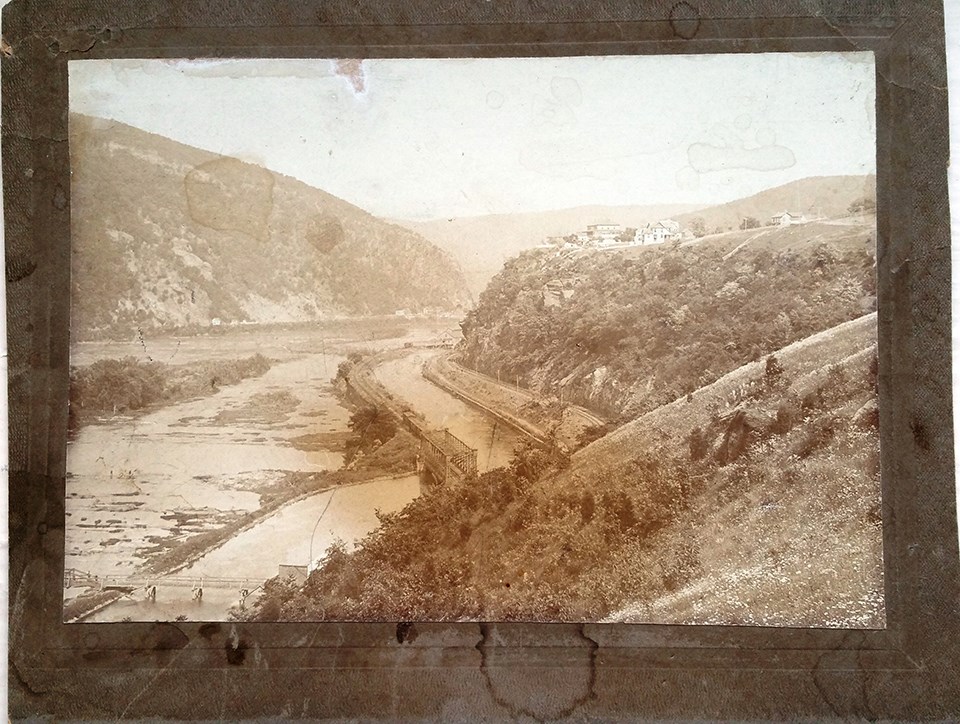 Photographs like this one are rare: the view looking towards the river confluence from upstream on the Potomac, and showing the Hilltop House Hotel plus the foot bridge to Island Park, and the upper portion of the old Armory Canal. We estimate the date to be ca.1890, based on the design of the Hilltop House and other features. The staining, fading, and warping of the backing board were condition issues when the Park purchased this treasure, so we have it on our "endangered" list. While it awaits conservation treatment, we have cleaned and properly stored the photograph to prevent further deterioration. If you wish to learn more about how to care for historic photos, check these National Park Service Conserve-o-Grams (PDF1, 698kb; PDF2, 717kb)
Object Details: Catalog #HAFE 151333
#7: John Brown Painting by African American Artist David Bowser, 1858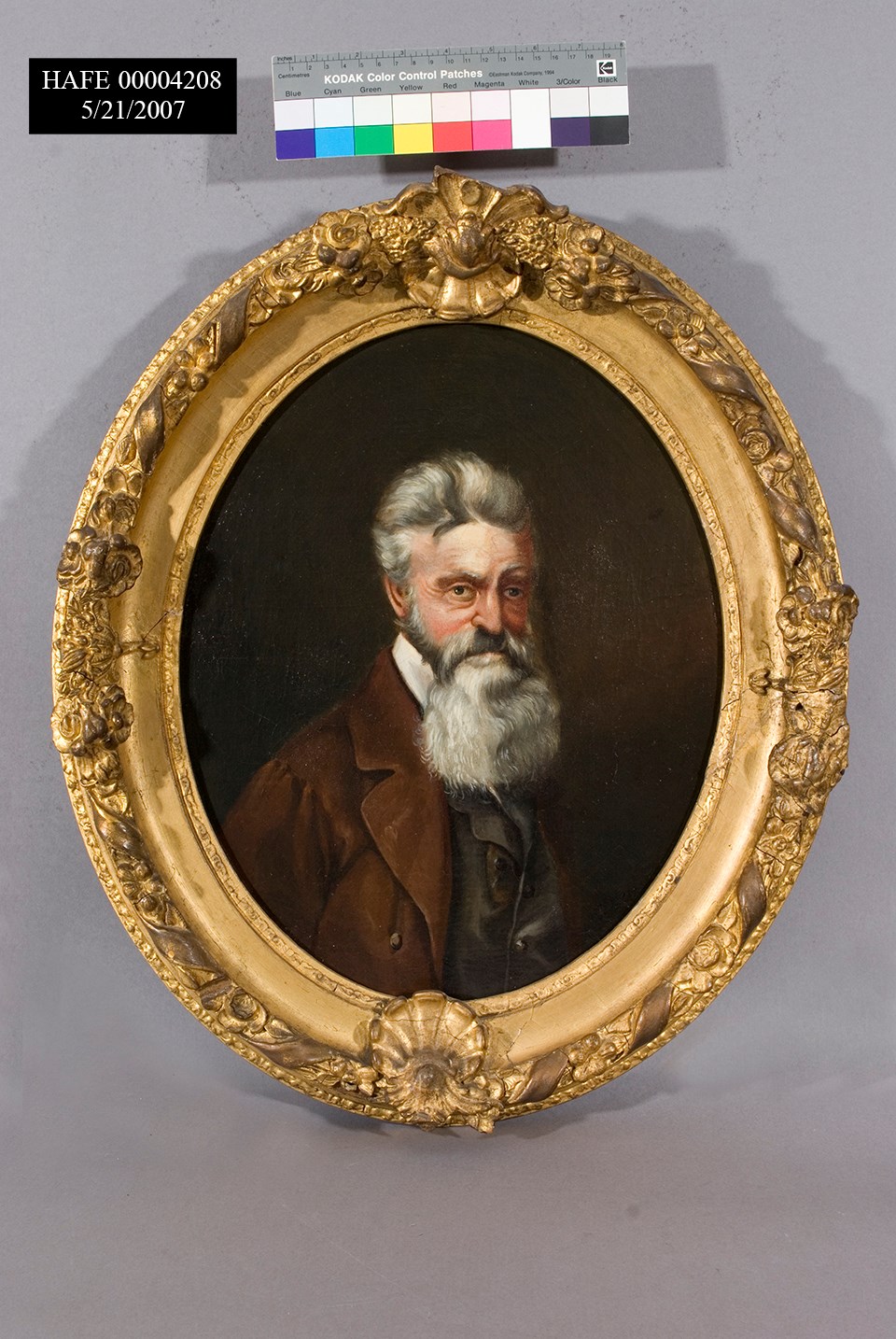 "Rather Die Freemen, Than Live To Be Slaves." (Quote on a battle flag designed by Bowser)
David Bustill Bowser was a African American painter born in Pennsylvania in 1820, and the cousin of famed abolitionist Frederick Douglass. He studied art with his cousin Robert Douglass Jr., and he was well known locally as a self-taught amateur artist. Secondary source material claims that Brown sat for the portrait in Bowser's home, which may have been an Underground Railroad stop. We are continuing research to gather more primary evidence of his life and works.
This painting is one of two known Bowser paintings of John Brown. His other works include the emblem for a volunteer firemen's brigade and the regalia for several fraternities in Philadelphia. He also designed for the Grand United Order of Odd Fellows, of which he was a member. Today, he is most frequently remembered for his portraits of John Brown, Abraham Lincoln, and his Civil War Pictorial Banners for the U.S. Colored Troops.
Learn more about David Bustill Bowser from this Historical Marker in Philadelphia.
Object Details: Catalog #HAFE 4208
#8: 1848 Map of Harpers Ferry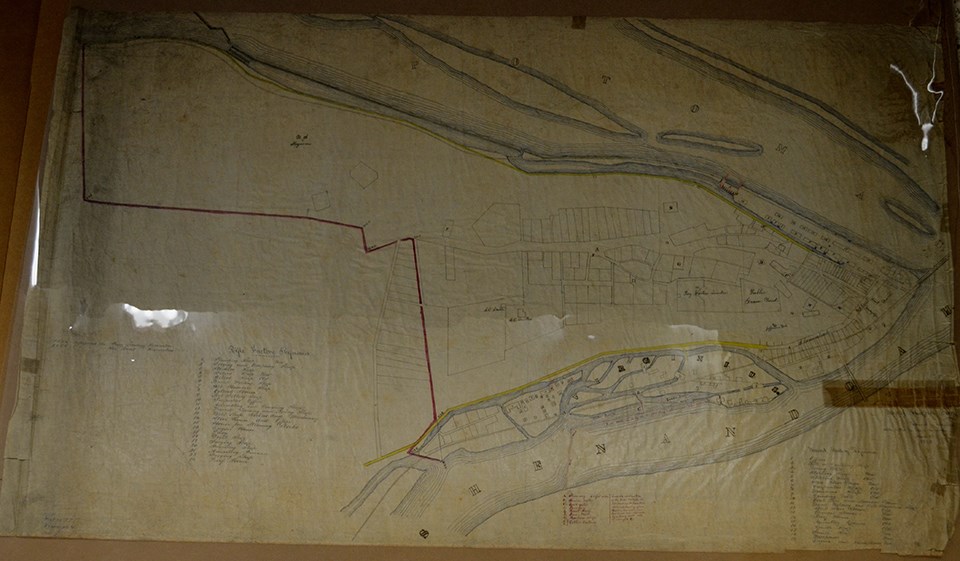 Made of linen tracing paper, this 1848 map of government lands in Harpers Ferry is one-of-a-kind. Drawn by the local celebrity surveyor S. Howell Brown, and including 1851 revisions by The U.S. Armory's very own Superintendent Maj. John Symington, this supersized map measures 30"x50". Here we are giving you a low-resolution image of the map as we prepare it for conservation treatment. Once the map is more stable, we can get better images. The park archives contains "base maps" created by modern historians that combine knowledge from various historic maps to help identify the buildings and landscape features in town, and show how the area has changed over time.
Object Details: Catalog #HAFE 253
#9: German World War I Helmet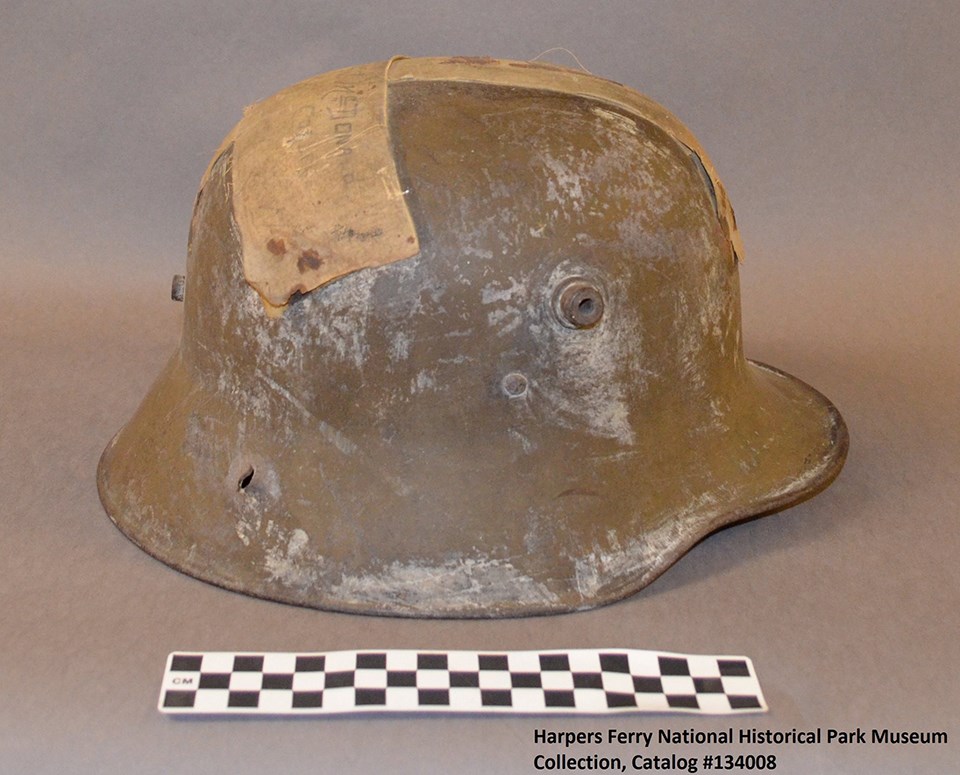 This helmet was donated to the park by a relative of Storer College president Henry T. McDonald. It was mailed to McDonald from a former Storer student, Pvt. R.G. Green, 807 Pioneer Inf. The name of a German soldier appears to have been written on inside of helmet. McDonald added it to the college museum located inside the John Brown Fort. Students sent letters and pictures to their beloved president, and he maintained a scrapbook to record the students who sacrificed for their country. Today, the helmet needs conservation treatment to stabilize the loose postage stamps, fabric, and straps.
Object Details: Catalog #HAFE 134008
#10: Minie Ball Engineer Drawings by James H. Burton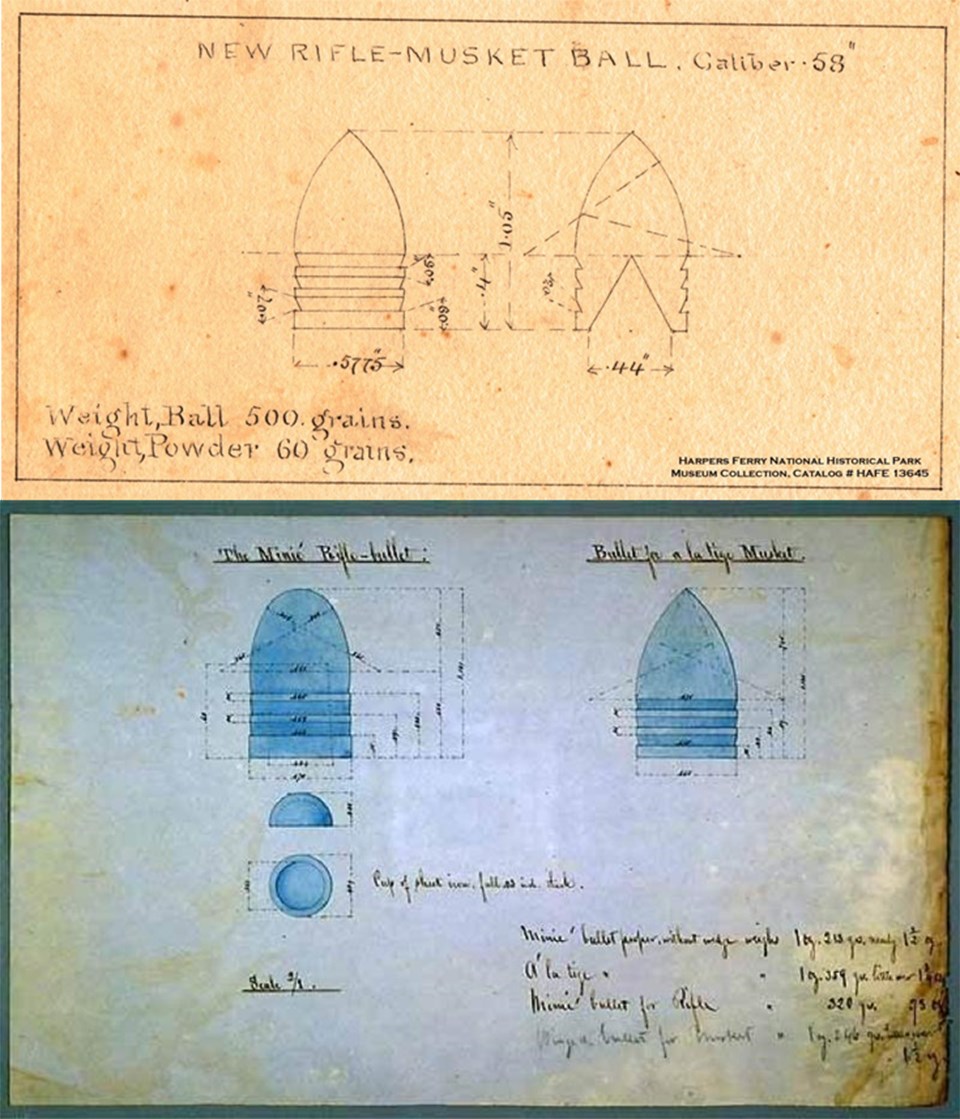 These two drawings depict the evolution of the Civil War bullet. From 1849 until 1855, the original conical bullet, the Minie Ball designed in France, was improved upon by machinist and inventor James H. Burton at the U.S. Armory in Harpers Ferry. Burton's bullet and the new Rifle-Musket that could fire it were officially adopted by the U.S. Army in 1855. Burton and his fellow innovators successfully tweaked the original French design to create a cheap and easily mass produced bullet that would travel farther, load faster, and hit the target. They changed the factory landscape, invented the new machinery that would make their guns, and travelled to other armories to revolutionize their process. The new powerful weapon would indeed cause mass destruction as bones were shattered on the battlefield. But it began here in Harpers Ferry, in the mind and through the hands of one brilliant inventor.
Check out more Armory engineer drawings in our museum collection highlight.
Object Details: Catalog #HAFE 13645 (Top, .58cal. Minie Ball, final 1855 design) and HAFE 13643 (Bottom, the original French Minie Ball and "a la tige" conical bullet). Note the difference between the three designs.
Last updated: July 20, 2016