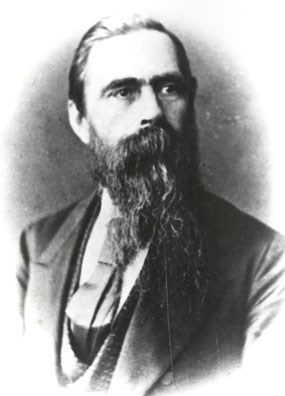 James H. Burton was born in Shenandoah Spring, Virginia, on August 17, 1823. Educated at the Westchester Academy in Pennsylvania, Burton entered a Baltimore machine shop at age 16. In April 1844, he went to work at the Harpers Ferry Armory, serving as a machinist. He subsequently served as Foreman of the Rifle Factory Machine Shop, where he gained a considerable amount of knowledge and respect for the work of John H. Hall. Hall pioneered mechanized arms production and interchangeable manufacture at Harpers Ferry between 1820-1840. According to Burton, Hall's Rifle Works housed "not an occasional machine, but a plant of milling machinery by which the system and economy of the manufacture was materially altered." During the next three decades, Burton followed Hall's example by furthering the mechanization of arms production. [Learn more about John H. Hall].
The Minié Bullet
In 1849, Burton was promoted to Acting Master Armorer. During the next four years, Burton experimented with improved designs for the Minié bullet at Harpers Ferry. The Minié bullet, introduced in 1848 by Captain Claude Etienne Minié of the French Army, was a conical slug of lead slightly more than half an inch in diameter and about an inch long, with a hollow base which expanded when the rifle was fired. This prevented leakage of the powder gases, and served to expand the base of the bullet outward into the riflings of the gun barrel. Its effective range was from 200 to 250 yards - a significant improvement over previous bullets.
Burton carefully documented his work in a set a detailed drawings. These drawings show that he was experimenting with several different Minié bullet designs. According to Colonel Benjamin Huger of the Ordnance Department, Burton was studying the "tige" and Minié principles (the "tige" bullet had a steel stem designed to expand the bullet into the weapon's rifling). Burton designed a barrel which used a hard metal plug to expand the bullet into the rifling, and developed a hollow-base bullet design that worked even better. In 1855, Burton's modified design for the Minié bullet was adopted by the U.S. Army.
Burton's drawings were uncovered in a basement crawl space during a home restoration project in Winchester, Virginia, in 1986. The Burton Drawings at Harpers Ferry, as the collection is now known, tell us a great deal about the evolution of firearm technology during the decade leading up to the Civil War.
View the Burton Drawings in the photo gallery element below.