Don Redman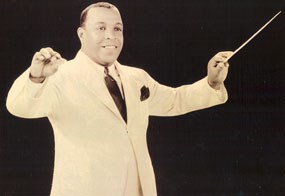 Known as "The Little Giant of Jazz", Donald Matthew Redman attended Storer College between 1916 and 1920. During his years here he was one of Storer's most active and energetic students.
After graduation in 1920 he went on to compose and arrange music for radio, television and many big bands, including his own. He is considered the first great jazz arranger as well as a leading figure in the development of the swing and big band style. [Learn more about Don Redman]
The Don Redman Heritage Award is presented annually by the Harpers Ferry Historical Association, the Jefferson County NAACP and the Don Redman Heritage Society to legends of jazz whose musicianship, humanity and dignity serve as an asset to jazz in the tradition of Don Redman, and whose work in music and education illuminate his spirit.
Last updated: September 23, 2019