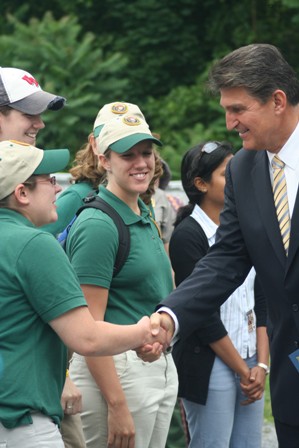 A Great Place to Share Your Time and Talents
Harpers Ferry is a hidden treasure in the national park system! The park includes a combination of natural and cultural resources unparalleled in the National Park System. Harpers Ferry National Historical Park is located at the confluence of the Potomac and Shenandoah rivers in the states of West Virginia, Maryland and Virginia. The park consists of almost 4,000 acres, 20 museums and exhibits and 20+ miles of hiking trails. The Appalachian National Scenic Trail, Potomac Heritage National Scenic Trail, and the Chesapeake and Ohio National Historical Park intersect here.
Some of the primary topics of interest at Harpers Ferry are the revealing connections between history and landscape, the influence of the Industrial Revolution on the human experience, the impact of John Brown's raid and the Civil War on the community and the nation, and the continuing struggle to achieve the American ideal of freedom and equality. It is truly a park like no other.
Get in Touch!
For general information contact us at
Phone: 304-535-5017
Email: e-mail us;
Mail: Samantha Zurbuch, Volunteer Program Manager, Harpers Ferry NHP, P.O. Box 65, Harpers Ferry, WV 25425