Vanessa Smiley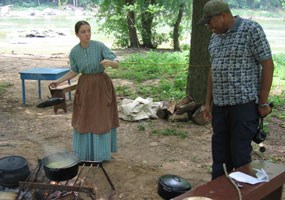 The general definition of an intern is a student undergoing supervised practical training. But I know that being an intern here at the park is so much more than that. Yes, it is true we get supervised training in all different aspects of the National Park Service. And yes, it is very practical, especially for someone like me who hopes to continue serving the public through the National Park Service, and more specifically, here at Harpers Ferry. But the experience I have had while working here, is far more worthwhile than I had ever imagined or hoped for. I have not only learned about interpreting to the public and interacting with visitors, but I have also learned about interacting with co-workers and supervisors to a professional degree – and that is useful in any field of work.
Looking outside the business aspect of it all, I truly enjoyed working at the park. Firstly, my fellow interns and other staff members were all different calibers of personalities and interests. There was always something to be learned from someone else and everyone soaked up that information. Secondly, I have been in love with public service, public history, and interpretation for a long time and to spend my summer immersed in them has brighten my mind to what may lay in store for me in the future.
The definition of an intern merely grazes the ideals that being an intern embodies. Through that practical training, a student can prepare themselves for a variety of qualities needed in a variety of jobs. For me, the experience of being an intern in the Living History at Harpers Ferry National Historical Park is immeasurable because of the new possibilities that have opened up for my future.
Last updated: April 10, 2015