Tristan Hernandez Intern Testimonial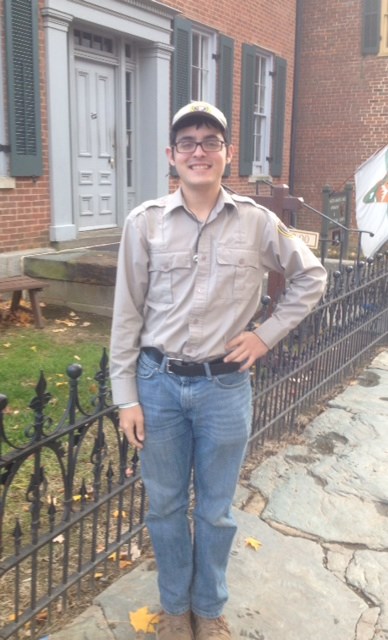 Tristan Hernandez Intern Testimonial
The Volunteer Program for Harpers Ferry National Historical Park provided me an outlet to expand my horizons. As a Volunteer Management Intern, my duties ranged from going out in the field with volunteers, making sure they were safe and on task, to going into lower town and performing roving interpretation in old-timey period clothes. I also had the opportunity to work with entities outside of the NPS, like the Appalachian Trail Center and Harpers Ferry Middle School, also expanding the breadth of knowledge I gained during my time here.
This internship position really fine-tuned and sharpened my goals and intentions, leaving nothing to disappoint. My goals were to further my passions in interpretation, natural history, tour guiding, visitor services, hiking and public service. Not only were these goals met and accomplished, but I was also instilled with new passion- learning about American History. Before now, I was never really passionate about history and the context of location with its predisposition. But now, I can say that I've not only become well-versed in civil war history, but also more willing to delve into its essence.
I really enjoyed my time here, and I just can't believe it's over already! I had the amazing opportunity to get close with the townspeople, park staff and the store owners. All of my experiences here will be deeply sewn into my personality, and I can't wait to see what's in store for the future!
Last updated: April 10, 2015