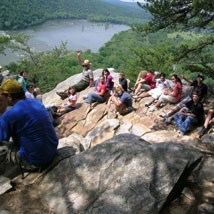 This volunteer position falls under the Education Branch at Harpers Ferry National Historical Park (NHP). Hike Leaders will work specifically with the "Tiger on the Trail" Program. This is a new park and community-based program which seeks to reconnect students with nature in hopes of creating a lifestyle of environmental conservation and physical activity to help fight obesity in youth today.
Created as a community partnership between Harpers Ferry Middle School, Harpers Ferry Family Medicine and Harpers Ferry NHP, this field tested program has become quite successful receiving national attention. Because of that success, Harpers Ferry NHP is teaming up with local community leaders to extend the program to all four Jefferson County Middle Schools. Today's youth are tomorrow's preservationists. By instilling a sense of activism and responsibility in youth now, America's natural and historical treasures will be preserved for future generations.
Responsibilities of hike leaders include: being familiar with Harpers Ferry NHP and the National Park Service; park and local area nature trails; park policy, safety regulations and procedures. Hike audiences will consist of students, teachers and chaperones. Leaders can choose the topic of their program (health and fitness, history, environment, safety, etc.) provided the program is appropriate for the age of the students. Hike leaders are requested to lead a minimum of two hikes a semester.
All hike leaders are required to provide current contact information (address, telephone number, emergency contact, etc) and two character references. Leaders must to sign a volunteer services agreement.
For more information or to sign up as a hike leader call 304-535-4063 or email us.