Skye Montgomery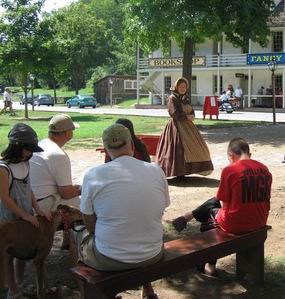 When I told my friends that I was going to be an interpreter at Harpers Ferry this summer, I was met with varying degrees of skepticism. They assumed that I referred to interpretation as it relates to translating a foreign language, an idea I initially laughed off, but as my internship draws to a close, I am beginning to realize just how closely they envisioned the true nature of my work.
Being a living history intern is not merely about spouting historical facts while dressed in period clothing, it requires the interpreter to become a living conduit to the past, becoming a voice for people who can no longer tell their own stories. I discovered that a complex interaction exists among the artifacts of the past, the visitors, and the interpreters. All of these groups are mutually dependent upon one another. Remove the interpreter and visitors can only admire the bare bones of the past, unaware of the rich stories which reverberate through the buildings and objects they view. Take away the visitors, and the interpreters lose their worth, for history must be continually transmitted and cannot exist for long in a vacuum. Subtract the historical artifacts from this equation, and the connection forged between visitors and interpreters loses all meaning; the past loses its immediacy and the deeds of those who came before us seems as insubstantial as a dimly recollected fairy tale.
This internship represents a unique opportunity, not only to live and work in a crossroads of American history, but to put your passion for past to the service of the future. Each visitor contact is an opportunity to promote a lifelong love of history, and when you are able to kindle their curiosity about the stories of people who lived long ago, you will be reminded of your own enthusiasm for the past.
I learned a wide variety of skills over the course of my internship, from the safe operation of period firearms to the use of 19th century cook stoves, the development of visitor programs to the handling and conservation of artifacts. Although these will be of varying utility to my future career, the memories and friendships I forged over the course of this summer will be with me for the rest of my life.
Last updated: April 10, 2015