Scott Huffard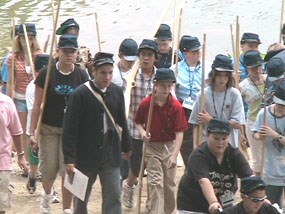 My name is Scott Huffard and I was an education intern at Harpers Ferry National Historical Park during the summer of 2006. I am a senior at Pennsylvania State University and I will be graduating in May 2007 with a double major in History and Political Science. I was put in contact with the education office through my school's Civil War Studies center. This internship was a huge learning experience for me since most of my training is on the academic side of history. In my classes at Penn State I have had many opportunities to write papers, read and discuss books and do research. However, prior to this summer I had never had a chance to work in the field of public history. It was neat to see a completely new aspect of history this summer. I have now begun to consider a career in public history as a result of my internship this summer.
The bulk of my summer was spent working with the Jr. National Young Leaders Conference, a group that brought hundreds of students to the park twice a week. I presented an educational program on the John Brown story and in doing so learned much about interpretation and how to effectively teach history to students. A lot of my time was also spent overhauling the civil war activities for the Jr. NYLC students. I was in charge of devising and implementing new activities for the group of kids that wanted to learn about military life. Being responsible for designing a program for hundred of students was scary at first, but the final product worked out well.
In all, my internship at Harpers Ferry was a wonderful experience. I had the chance to meet some amazing people and learn much about not only the history of the park but about my own abilities as well. More importantly the job was a fun one. Not everyone gets to spend their summer dressing up as a union soldier, hauling around fake bodies and leading armies of 7th graders into battle! I am glad to have had the opportunity to intern at Harpers Ferry and I highly recommend the experience to anyone with an interest in history or education.
Last updated: April 10, 2015