Kristin Zimmerman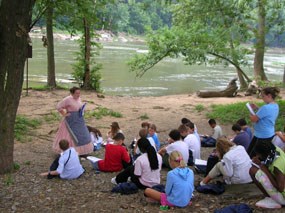 My summer was a fantastic experience! I never thought that I would have so much fun while interpreting history. My background is in Recreation, Park and Tourism Administration and I have always had an appreciation for the environment and the outdoors. While working with the education office my passion increased for history and I am becoming even more knowledgeable about the Civil War and John Brown. Even though Harpers Ferry is a National Historical Park, it is a lot more than history. One of the first things that I noticed in the park is how beautiful it is. The rivers, canals, and mountains create this place where tremendous things happened throughout time. The people are so nice here and they really will go out of their way to help you, which makes Harpers Ferry a very friendly place to work.
Working in Education you really have first hand experience in dealing with other facets of the park. Catherine Bragaw, Education Supervisor, did an outstanding job incorporating the interns' individual strengths to better the already existing programs. What really made this internship wonderful is that Catherine asked what the interns wanted to accomplish while they were here and she adapted to make this internship useful. She allowed me to attend training at the National Conservation Training Center about how to incorporate schools in the area with the Appalachian Trail Systems and with the National Parks. When the students come to the park you really get to see what the Education department really does. We give programs to kids and sometimes it maybe hectic with 250 kids coming out of charter buses waiting to hear why John Brown would have chosen Harpers Ferry as the site of his raid. At the end of that day the kids look at you and will say the most astounding things.
With the constant changing of programs and curriculum there is never really a slow time in the office. Overall, my experience at Harpers Ferry National Historical Park was very rewarding and exciting.
Last updated: April 10, 2015