John Rudy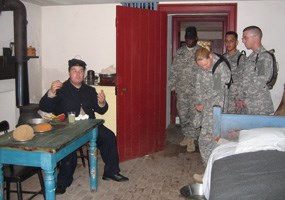 Speaking on topics in history and interacting with the public should never be termed a "job." Getting up in the morning to face the day for every job I've ever had during the summer before this year has been a struggle. Not with living history. Each day, the staff posed new questions of both visitors and each other, passing on history that is close to the cutting edge. As a trained Civil War and EarlyRepublic historian, Harpers Ferry offered an opportunity to hone my skills, not necessarily in knowledge, but in effectively passing history on to a general audience.
One of the best ways to accomplish this communication was through the training we received throughout the summer, allowing us to ascribe meaning to everyday objects. By the end of the summer, it becomes easy to use a simple looking spear or a military firearm to touch upon history ranging from America's founding through modern industrial methods.
It is also a great opportunity to work with other students who have a similar passion for the period as I do. In a college history department setting, you often find a wide variety of different focuses, from Modern American history to the development of Ancient Greece. With an internship such as this one, everyone has a passion for the one topic, Early American History, and each member of the staff often could be counted on to cover a certain, detailed aspect of the period in great detail. I've learned more from my fellow workers and supervisors this summer, both methodological and factual, than any other "summer job," could have taught me. This internship is the perfect choice for anyone contemplating Public History or whose historical focus is Early America.
Last updated: April 10, 2015