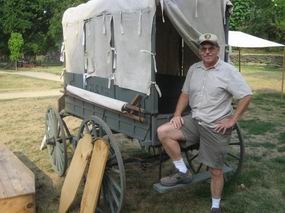 National Capital Regional Director, Joseph Lawler, recently announced the recipient of the 2006 National Capital Region Park Volunteer of the Year.
The Volunteer of the Year Award was presented to Jim Koenig for his outstanding contributions to Harpers Ferry Park.

Koenig's service to the park included interpretive exhibit projects, such as the fabrication of the 19th century African American residence exhibit; restoration of at 19th century farm wagon, lending his time and talent as an exhibit specialist, trail monitor, maintenance and information specialist. He gave additional support to Visitor Services, Living History, Curatorial Offices, and Maintenance.

His efforts saved the federal government thousands of dollars, made work easier for park staff, and enhanced the experiences of park visitors in untold ways.

The park thanks Jim for his dedicated service to Harpers Ferry NHP and to the many visitors who benefit from his devotion to a job well done.