Jessica Dawson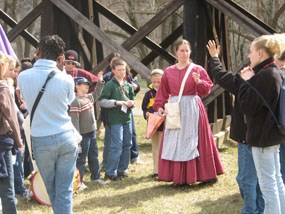 I first heard about the Education Internship opportunity through Kristin Zimmerman, a fellow Recreation, Park and Tourism Administration major at Western Illinois University. Kristin told me that if I wanted to go into the National Park Service this was the internship I needed to do! I looked into it and it sounded perfect. I could not wait to teach school groups about our nation's history inside of a National Park.
Even with all my college courses and extracurricular activities I was not prepared for the first few days at Harpers Ferry. I was immediately assigned projects and tasks yet I had no idea where anything was or who to call, or even how to make a phone call for that matter. Everything worked out, however, and with a little help and patience from Catherine, Autumn, and Stan I quickly settled into the fast paced office style. In the course of one day I might make 500 copies, laminate photos of John Brown's raiders, contact prospective interns, and develop my interpretive skills before researching civil war drum music.
While very challenging, it was one of the most rewarding semesters of my college career. Working for the Education Office forced me to be more assertive, patient and self assured. At times I would be solely responsible for projects while at other times I would work in groups to get a task completed. The praise I received from Catherine for a job well done was a great self esteem boost and it was a lesson I carried into my programs.
The programs were exciting and challenging all in themselves. It was sometimes hard to get the students excited in history, especially in the morning or when the prospects of frozen custard hung in the distance. Yet once the students were engaged in the materials and I could see them learning and interacting with each other and even better, teaching each other, there was no greater feeling at that moment. I also enjoyed delivering programs together with other interns. It took some of the anxiety away because we could laugh at each other with our mishaps like when Miranda said the Potomac was actually the Mississippi (we covered it by saying we are from the Midwest) or when Meghan's petticoat came undone during a Journey to Freedom Program. But working in teams also caused us to feed off of the other persons' energy and passion of history which I hope was passed onto the students
I would recommend an Education Internship to anyone. Whether you want to pursue a career with the National Park Service, develop your teaching skills, or learn a thing or two about yourself in a challenging environment, this internship is wonderful and worth the trip across the country.
Last updated: April 10, 2015