Erin Anderson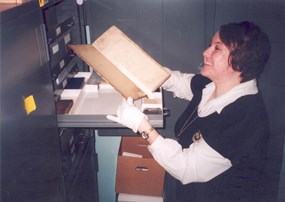 I took this Curatorial internship as the final step towards receiving my Masters Degree in Museum Science. I was not sure what to expect before coming here but I knew that it would be a great opportunity to work within the National Park Service. Throughout these last six months it has indeed proved to be a wonderful experience. I have worked with a number of people including Richard Raymond, my supervisor, and his co-worker Nancy Hatcher. Working with them I have learned much about the National Park Service system and about working in a Curatorial Office within a museum context.
Rich and Nancy have both been focused on giving me a varied and meaningful internship. I have been given the opportunity to work independently on major projects such as packing up some of the collections in the basement of Lockwood House. I have also been able to be involved in creating removal instructions for the priority items listed in the Emergency Operations Plan. Along with these projects I have worked with the archives, the library, and other everyday activities such as monitoring the humidity and temperature within buildings. Each task has added to my knowledge and skills all the while preparing me for a job in the museum field.
I feel that I have been encouraged to try new things and to see the potential in myself. I still have a long way to go to feeling confident that I can do things on my own as a professional but this internship has been an important step toward that end. Along with the professional knowledge and skills that I have gained I have been immersed in a History that I previously have not experienced in the Midwest and Southwest—being from Chicago and going to graduate school in Texas. I feel that I have learned more about American History here than I ever did in school. Overall, I believe this internship has been a great opportunity and I am very thankful to have been given the chance to have had such a great experience.
Last updated: April 10, 2015