Alexandra Barbee Intern Testimonial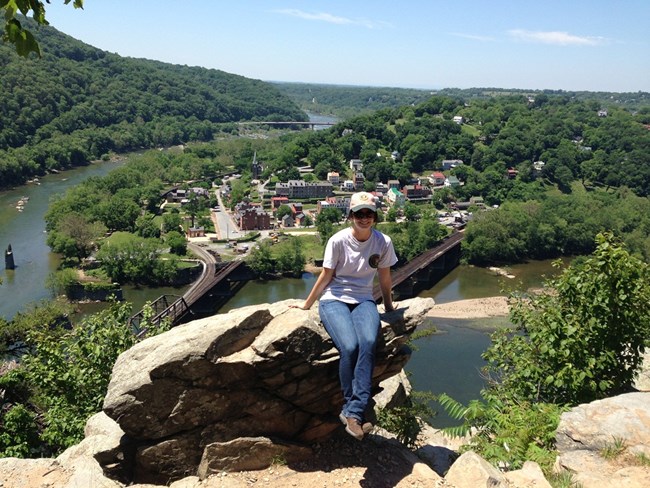 Alexandra "Alex" Barbee, Volunteer Program Management Intern Testimonial
When I was first offered an internship at Harpers Ferry National Historical Park with the Volunteer Intern and Outreach Program I did not know what to expect. I had visited Harpers Ferry numerous times before but had no idea about what this internship entailed. I barely even knew anything about the National Park Service, except for the fact that I am related to John Wesley Powell, and my parents would take me to these parks all the time as a kid. All I knew was that I love the American Civil War and the John Brown story at Harpers Ferry so I thought this would be the perfect internship for me.
I am a senior at the University of Arizona and am highly involved in my sorority, student government, and the honorary system and have lived in Tucson, Arizona for most of my life so I was very excited to road trip across the country to embark on the adventure of a college lifetime. When I first arrived in Harpers Ferry I did not know what to expect but after meeting with my supervisor Sam (the Volunteer Program Manager) I began to grasp what my internship would entail. Within the first week she introduced me to an enormous amount of people in the park as well as help me lead my first volunteer project. Even though I jumped right into my internship very quickly it was all very new and exciting and it never scared me for one bit because Sam was always willing to clarify over and over what needed to be accomplished.
Through my summer I completed an array of different projects. These ranged from leading volunteer groups in cleaning John Brown's Fort or the artillery on School House Ridge North and South to learning how gmail works in order to send out the daily in-park newsletter every morning. I enjoyed every single thing I completed this summer and now intend to pursue a career with the National Park Service. I learned an immense amount about how the NPS operates and why the Volunteer Program is so crucial in the National Park Service. There honestly aren't enough words to describe everything I completed this summer because there were so many different aspects of this internship, which created a fun, and changing environment that I was able to learn from.
Overall I had one of the most phenomenal internships I could have ever asked for. I made so many new friends through living in Park housing and learned so much under Sam's supervision as well as interacting with other rangers in Harpers Ferry. I recommend this internship to anyone considering applying because it is an absolutely phenomenal experience that will show you so many wonderful different aspects of the National Park Service!
Update: Alex went on to work as a Seasonal Park Ranger at Harpers Ferry during Summer 2014.
Last updated: June 25, 2015