Park Watch Program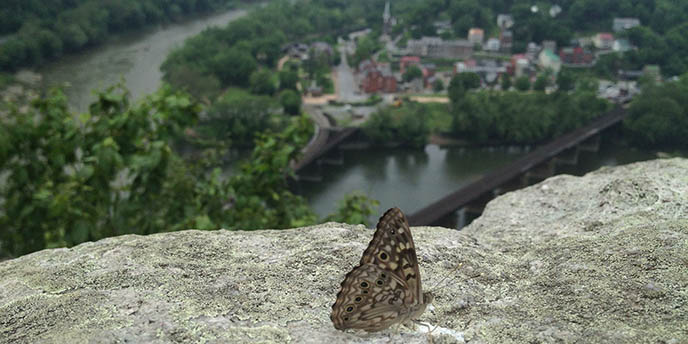 Introduction
The Park Watch Program was designed in the Spring of 2015 at Harpers Ferry National Historical Park as a way to meet the growing needs and address many of the issues on the park's trails and surrounding lands and buildings. Several division representatives of Harpers Ferry National Historical Park identified the Maryland Heights Trail as a problem area in the park, and the need for a Park Watch Program was discussed at the 2015 Volunteers in Parks Meeting. The consensus amongst park staff was that the growing popularity of the Maryland Heights Trail has become too high for park staff to properly and efficiently patrol on their own. The issues that were affecting the trail and its resources could not be allowed to continue. The Maryland Heights Park Watch Program addressed these issues.
In January 2016, due to the success of the program and volunteer interest in other areas, the Maryland Heights Park Watch Program shortened its name to Park Watch Program and expanded to include all areas of the park.

Program Goal and Philosophy
The Park Watch Program is a National Park Service sponsored program designed to utilize volunteers to reduce vandalism, looting and destruction of natural and cultural resources, visitor violations, and trail hazards. The volunteers will be the "eyes and ears" for Harpers Ferry National Historical Park Law Enforcement and Maintenance staff. Volunteers also enhance visitor services and will work closely with Interpretation, Education and Public Outreach staff. Trained Park Watch volunteers will patrol the park using a randomized patrol method of their choosing, but will still be at the discretion of the Program Managers or the on-duty Ranger. Park Watch volunteers will also be able to assist park visitors with wayfinding and answering general questions and questions about the history of the park.
The primary operating philosophy of the Park Watch Program is for members to
observe and report
to the Program Managers or the on-duty Ranger. It is
not
to confront or approach suspects or violators. Park Watch Program volunteers have no police or Park authority.
Park Watch Program volunteers carry out assignments with a high degree of public trust. Respect for the Park, visitors, staff and other Park Watch Program volunteers is required, and is essential to the program's success.
Apply to Volunteer
Read the

Vacancy Announcement

for this volunteer position.

Download the application, fill it out, and send it to the following address:
Harpers Ferry National Historical Park
ATTN: Volunteer Coordinator
P.O. Box 65, Harpers Ferry, WV 25425
You may also email your application to the addresses noted at the top of the application form.
If you have questions about the program, please email us.
Last updated: April 14, 2017