Artist in Residence
Artists have had a long-standing relationship with the national parks, beginning in the nineteenth century. Painters captured the majestic western landscapes of the parks, making these remote areas better known to citizens back east. Since then, artists of all disciplines have joined in those efforts to raise awareness and create connections to national parks. Their work encouraged the preservation and stewardship of public lands and helped to shape the history and future of the National Park Service.

Today the arts thrive in Harpers Ferry National Historical Park's Artist-in-Residence (AIR) program. Professional artists are selected to pursue their artistic discipline using the abundant natural, cultural, and historical resources in Harpers Ferry as inspiration. The Artists-in-Residence at Harpers Ferry use their unique talents to deepen engagement with the public and further the mission of the National Park Service.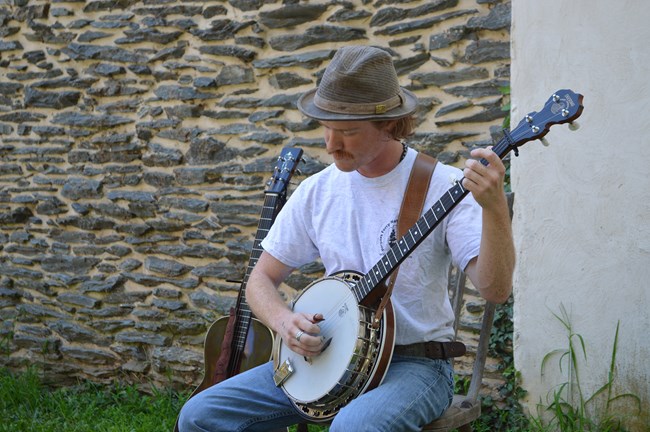 About the Program
The Artist-in-Residence program is open to a wide range of artists, including:
Professional composers and songwriters;

Writers;

Performers, including musical performing artists and storytellers;

Craftspeople; and

Visual artists, including painters, sculptors, photographers, videographers, and graphic designers.
Resident artists are provided the opportunity to submerse themselves in the rich history and scenery of Harpers Ferry, using it as inspiration for their work.
Artist residencies are typically one month in length, although there is some flexibility in time commitment on a case-by-case basis.
Artists may be provided lodging in our historic lower town area during their stay at the park.
Harpers Ferry will offer two distinct AIR programs per year: one in spring, one in fall.

NOTE: Harpers Ferry NHP's Artist in Residence program will be on hold in 2023. We hope to resume in spring 2024. Please check this website for updates.
Expectations
Artwork donation - Each artist donates a mutually agreed upon piece of original work, representative of their stay in Harpers Ferry National Historical Park within one year of completion of the residency. The artwork is donated to park partner, Harpers Ferry Park Association, a non-profit organization that supports the park by raising funds and awareness. HFPA may offer the piece for consideration in the park's permanent museum collection or sell it to raise funds supporting the Artist-in-Residence Program or other park needs. Artists agree to share all copyrights for artwork donated to Harpers Ferry Park Association, giving HFPA shared ownership and rights to reproduce it. The artist retains a non-exclusive use license and may make use of the artwork for personal and professional promotion using the language, "Produced under Artist-in-Residence Program at Harpers Ferry National Historical Park".
Similarly, the park would require one-time publication rights to a portion of a literary or musical work produced during a residency.
Artist participation as a Volunteer-in-Park – Selected artists will facilitate three public programs tailored to their individual medium, experience, and interests. These programs enable the artist to interact with park staff and visitors and share their knowledge and expertise. These may be in the form of participatory workshops, hands-on learning, demonstration, performances, exploratory walks, outreach in classrooms and community, or another means of engagement that aligns with park protocol.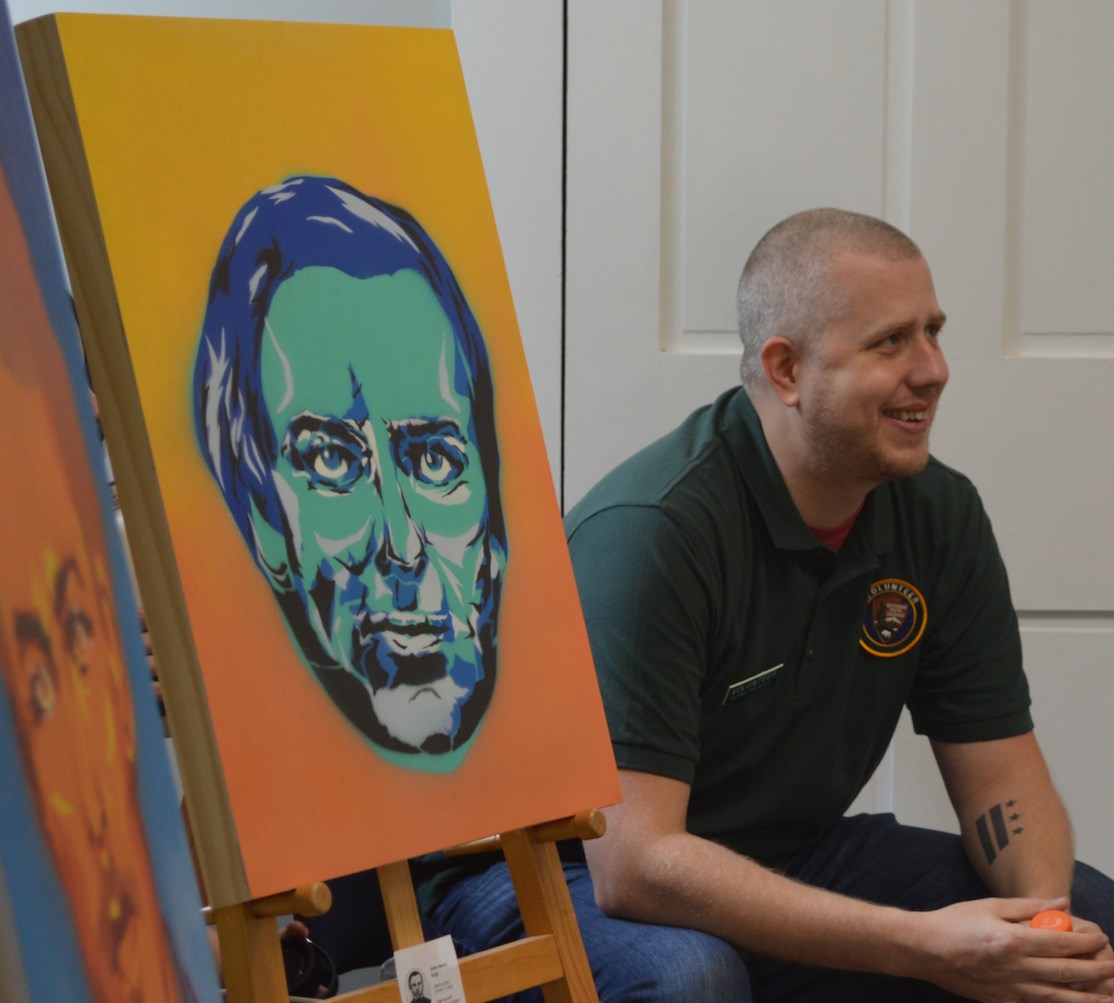 2022 Artist-in-Residence Theme
Harpers Ferry Imagined as a Site of Conscience
Both the spring and fall residencies will focus on the park AIR theme for 2022: Harpers Ferry Imagined as a Site of Conscience. According to the International Coalition of Sites of Conscience, a Site of Conscience:
Interprets history through the site;

Engages the public in programs that stimulate dialogue on pressing social issues;

Shares opportunities for public involvement and positive action on the issues raised at the site; and

Promotes justice and universal cultures of human rights.
How can the power of art enable Harpers Ferry National Historical Park to embrace the ideals of a Site of Conscience? How can art move the park toward embracing its role as a place where sometimes-difficult history lives, where visitors can contemplate their identity as individuals and Americans?
Accomodations
There are a variety of fully furnished apartments within the park that may be provided, depending on the Artist in Residence's needs and time of residence. Studio space also may be provided on a case-by-case basis, depending on the artist's specific needs. Access to washer/dryer is available inside of the park. A personal vehicle is not essential but recommended.
Selection Process
Professional artists of all backgrounds are encouraged to apply for the Harpers Ferry AIR program. Artist will be selected by a jury of park staff and local subject matter experts. Selections will be based solely on the artist's merit, how their artistic work can advance the mission of the National Park Service, and how well their work aligns with the 2022 AIR program theme, "Harpers Ferry Imagined as a Site of Conscience." The artist selection jury does not discriminate based on race, creed, religion, age, sex, sexual orientation, national origin, or disability.
How to Apply
Email us** to express your interest in the Harpers Ferry AIR Program, including:
Name
Artistic Medium

Address

Telephone

Email

Website

Social media

Statement of Purpose: A statement of what you hope to gain through your experience at Harpers Ferry National Historical Park, a description of how you intend to explore the 2022 AIR theme, "Harpers Ferry Imagined as a Site of Conscience", and how you will engage the public while in the AIR program in .doc or PDF format

Links to other resources (Articles, Blogs, etc.)

Indication if you are applying for the spring or fall residence
** Please provide the above information in the "Your Message" field of the email us pop-up window.

If selected for the next step in the application process, you will receive an email requesting:
Completed and signed application

Resume: 2 page maximum in .doc or PDF format

Samples of Work:

Musician/Composers: 3 digital samples of the artist's work not exceeding 10 minutes each
Visual Artists (Photographers, sculptors, painters, etc.): 6 images in .jpg or .tif format. Each picture should not exceed 3MB in size
Writers: A brief (6-page maximum) manuscript excerpt, short story, essay, poem or other work in .doc or PDF format
Performing Artists: A demonstration in a digital audio or video file
Multi-Discipline Artists: Send appropriate sample combinations based on the above
Submissions including ALL of the above listed information and supporting documents may also be mailed to:

Harpers Ferry National Historical Park
Artist-in-Residence Program
Attn: Chief of Interpretation
PO Box 65
Harpers Ferry, WV 25425

Learn more about the National Park Service's Artist-in-Residence Program.
Last updated: July 13, 2023