Artist in Residence
Artists have had a long-standing relationship with the National Parks. In the nineteenth century, painters captured the majestic western landscapes of the parks, making these remote areas better known to citizens back east. The artist's works encouraged the preservation and stewardship of public lands and helped to shape the history of the National Park Service.

Today the arts are thriving in Harpers Ferry National Historical Park's Artist-in-Residence (AIR) program. Working professional artists are selected to pursue their artistic discipline using the abundant natural, cultural, and historical resources in Harpers Ferry as inspiration. The Artists-in-Residence at Harpers Ferry use their unique talents to deepen engagement with the public and further the mission of the National Park Service.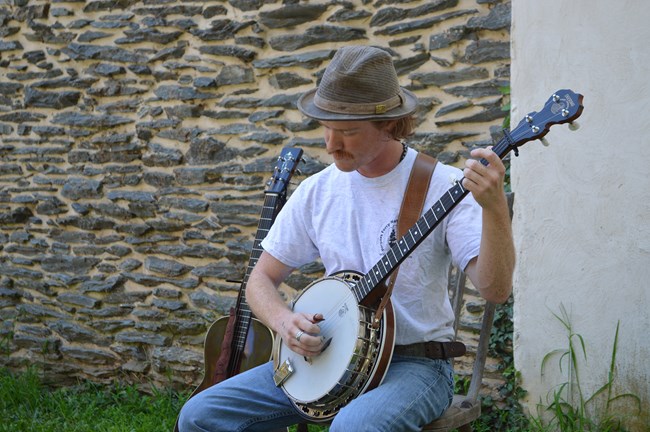 About the Program
The Artist-in-Residence program is open to professional composers, writers, performing, and visual artists. Resident artists are provided the opportunity to submerse themselves in the rich history and scenery of Harpers Ferry, using it as inspiration for their work. Through public programs or workshops, the artist is asked to interact with park visitors and share their knowledge and expertise. Artists may be provided lodging in our historic lower town area during their stay at the park. Harpers Ferry will offer two distinct AIR programs per year.
Musician Residence
The first program is limited to musical performing artists, from traditional American songwriters to modern composers, and takes place in the spring. During the spring musician's residence, the selectee is asked to complete a weekly interpretive presentation to engage park guests, as well as a final public performance of their AIR work. The artist is asked to complete at least three original works during their residency.
Submission Deadline: February 15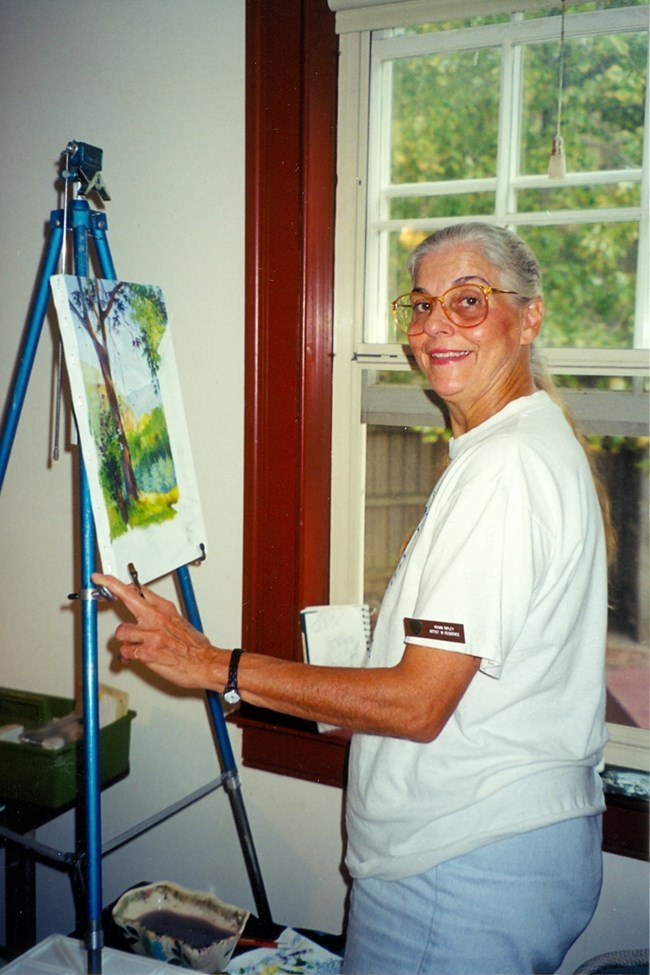 Artist Residence
The second residence is open to most other artistic mediums such as painters, sculptors, photographers, writers, craftspeople, storytellers, and videographers. This residence is in the fall. During this time, the fall AIR will be asked to complete at least one public outreach activity, such as a workshop or interpretative presentation. The artist will also be asked to donate one work, selected by the park, completed during their residency.
Submission Deadline: July 15
Accommodations
There are a variety of fully furnished apartments within the park that may be provided, depending on the Artist in Residence's needs and time of residence. Studio space also may be provided on a case-by-case basis, depending on the artist's specific needs. Access to washer/dryer are available inside of the park. A personal vehicle is not essential, but recommended.
Selection Process
Professional artists of all backgrounds are encouraged to apply for the Harpers Ferry AIR program. Artist will be selected by a jury of park staff and local subject matter experts. Selections will be based solely on the artist's merit, how their artistic work can advance the mission of the National Park Service, and how well their work aligns with the interpretive goals of Harpers Ferry National Historical Park. The artist selection jury does not discriminate on the basis of race, creed, religion, age, sex, sexual orientation, national origin, or disability.
How to Apply
Email us
** to express your interest in the Harpers Ferry AIR Program, including:
Name
Artistic Medium
Address
Telephone
Email
Website
Social media
Links to other resources (Articles, Blogs, etc.)
Indication if you are applying for the spring or fall residence
** Please provide the above information in the "Your Message" field of the email us pop-up window.
If selected for the next step in the application process, you will receive an email requesting:
Completed and signed application
Resume: 2 page maximum in .doc format
Statement of Purpose: A statement of what you hope to gain through your experience at Harpers Ferry National Historical Park, and a description of how you intend to engage the public while in the AIR program in .doc format
Samples of Work:

Musician/Composers: 3 digital samples of the artist's work not exceeding 10 minutes each
Visual Artists (Photographers, sculptors, painters, etc.): 6 images in .jpg or .tif format. Each picture should not exceed 3MB in size
Writers: A brief (6-page maximum) manuscript excerpt, short story, essay, poem or other work in .doc format
Performing Artists: A demonstration in a digital audio or video file
Multi-Discipline Artists: Send appropriate sample combinations based on the above
Submissions including
ALL
of the above listed information and supporting documents may also be mailed to:
Harpers Ferry National Historical Park
Artist-in-Residence Program
Attn: Volunteer Coordinator
PO Box 65
Harpers Ferry, WV 25425
Learn more about the
National Park Service's Artist-in-Residence Program
.
Last updated: August 9, 2021