Curriculum Materials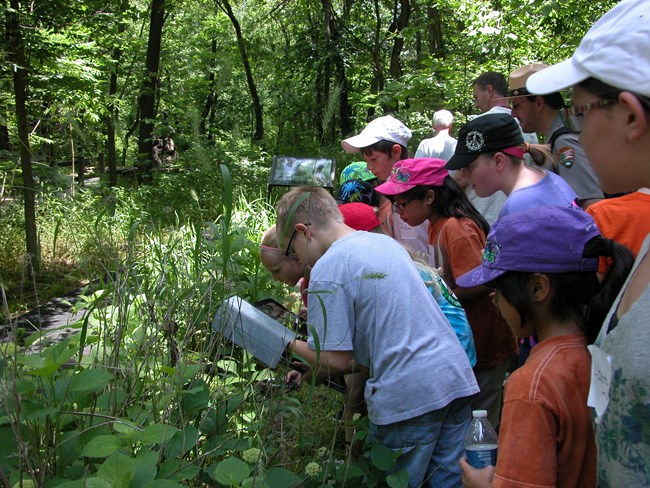 George Washington Carver said, " The thoughtful educator realizes that a very large part of the child's education must be gotten outside of the four walls designated as classroom."
A variety of education materials have been combined in an education packet for teachers and homeschool parents. "Click" education packet to download packet.
Each of the following packets has curriculum to help prepare students for a field trip to George Washington Carver National Monument. Man of Character curriculum (4th Grade) is now available.




Character Education Lesson Plans (2nd-6th)
Discovering George Washington Carver- A Man of Character lesson plans are offered at three grade levels but may be adapted for grades Kindergarten through 8th grade. Lessons include fun activities exploring George Washington Carver's character.
Carver the Artist (2nd-4th)
Did you know that George Washington Carver created hundreds of tints, dyes, and shades from Alabama clay? These lessons combine social studies with art activities as students learn about George Washington Carver's artistic expressions and how he encouraged each person to beautify their surroundings.

FIRE ECOLOGY LESSON "To Burn or Not To Burn" (High school biology & ecology)
In these lessons, students examine prairie land management techniques, interpret and analyze data relative to prairie land, and describe ecosystem processes such as fire, grazing, and climatic conditions. This lesson is designed for classroom use but also includes a road trip option to a local tallgrass prairie, such as the one at George Washington Carver National Monument!


In 2011, the George Washington Carver Web Quest was written by a classroom teacher and designed for use on an interactive whiteboard. Using primary documents, students will explore the life of George Washington Carver through photographs and his letters. Click here for the Web Quest.
Additional Man of Character (4th Grade) curriculum materials:
The People in George Washington Carver's life

Lesson Plans & Standards

Biography Cards




Last updated: January 25, 2021