Floating the Snake River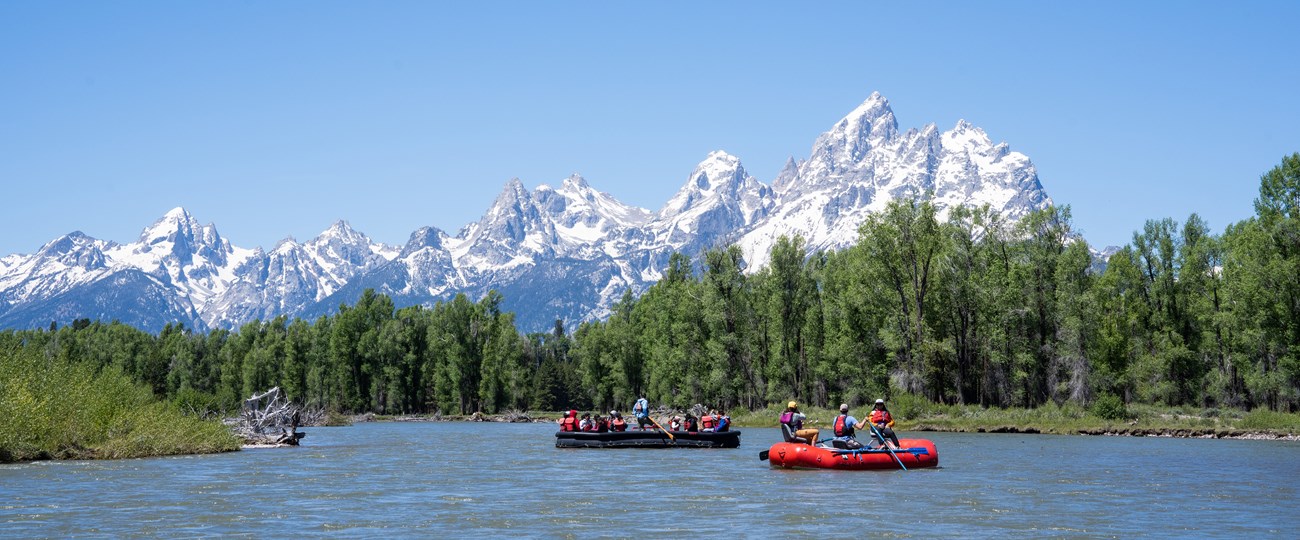 The Snake River winds though the valley floor carrying snowmelt from the mountains westward towards the Pacific Ocean. This river is an artery of the park that offers stunning veiws of the Tetons. Many species of wildlife use the river, from the browsing moose to the industrious beaver. Whether your are
fishing
, viewing wildlife, or enjoying the scenery, floating on this river is an unforgettable experience.
The course this river follows is not straightforward. It travels in and out of numerous channels that change every year. This is a powerful river that requires river reading and navigation skills. Before you float, know what skills you need to float the river, where you are going, and what things you need.
River Map
Floating the river is complex. A tangle of channels and constantly shifting logjams require boaters to anticipate their routes well in advance. Check the
advanced river map
for known Snake River features before launching.
Stretches of River
Beginner
Jackson Lake Dam to Pacific Creek
5 miles
This stretch features scenic views, calmer water and few obstructions. At Pacific Creek landing the water is swift, boaters should scout this landing prior to launching.
Intermediate
Pacific Creek to Deadmans Bar
10 miles
his section drops significantly creating swift water and braided channels requiring careful route-finding.
Flagg Ranch to Lizard Creek Campground
10 miles
The braided channels make route-finding a challenge. The river winds for 6 miles before reaching Jackson Lake. Depending on the lake level, the trip is another 4 miles to Lizard Creek Campground. Strenuous rowing or paddling may be required. Afternoon thunderstorms and winds produce waves that may swamp canoes. Motors may be used on Jackson Lake.
Advanced
Deadmans Bar to Moose Landing
10 mies
This is the most challenging stretch of river in the park, many accidents occur here. The river drops more steeply and the current increases. Complex braiding may obscure the main channel and strong currents can sweep boaters into side channels blocked by logjams.
Moose to Wilson
14 miles
This section of the river is as difficult as the preceding section. Advanced boating skills are required due to fast current, braided channels and logjams. The park extends 5 miles downstream from Moose on the west bank and 2 miles downstream on the east bank. There is no take out or access to the river at the park boundary. The next take-out is at the Snake River Bridge east of Wilson, WY, 14 miles downstream from Moose.
Southgate to Flagg Ranch (Flagg Canyon) Southgate Launch
3 miles
This section is a half-mile south of the South Entrance to Yellowstone National Park. Flagg Canyon is steep and narrow with challenging white water for rafts and kayaks. Heavy spring water flows create standing waves, haystacks, laterals, and large holes capable of flipping rafts. Scout the river by walking the Flagg Canyon Trail on the west bank of the river. At over 4000 cfs flow the rapids are Class III (not recommended for canoes). Below 4000 cfs, canoeing requires advanced white water skills.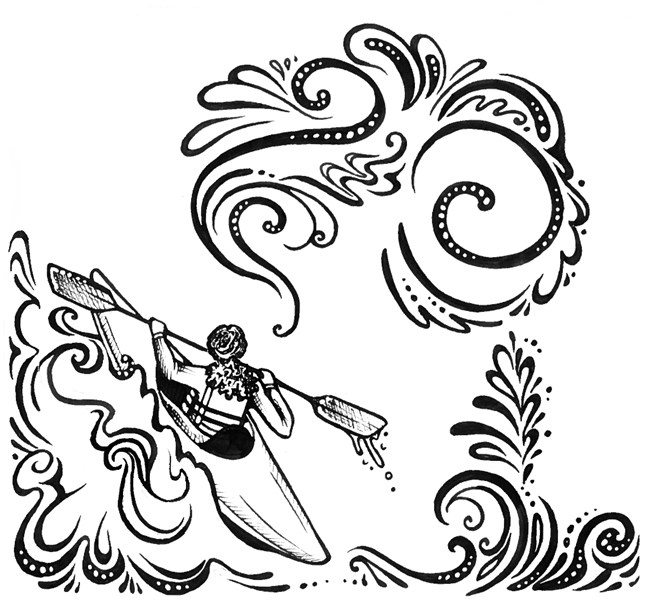 River Etiquette
Prepare boats away from launch ramps to reduce congestion at landings Launch when other boats are out of sight, and maintain this interval throughout your trip.
Avoid playing loud music. Excessive noise disrupts the river experiencefor other boaters and disturbs wildlife.
Steer clear of other boaters and anglers,including fishing lines.
Flow Rates
Check flows before each trip. Flow rates vary greatly throughout the year. They are posted at river landings and permit offices weekly or when there is a significant change.
Spring flows are very cold, fast and muddy making the river more difficult. As snowmelt diminishes, volume decreases and water clears. In spite of reduced flow, the current remains deceptively powerful. Strong, upstream afternoon winds may slow your pace.
United States Geological Society Flow Rates by location
Moose
Moran
Flagg Ranch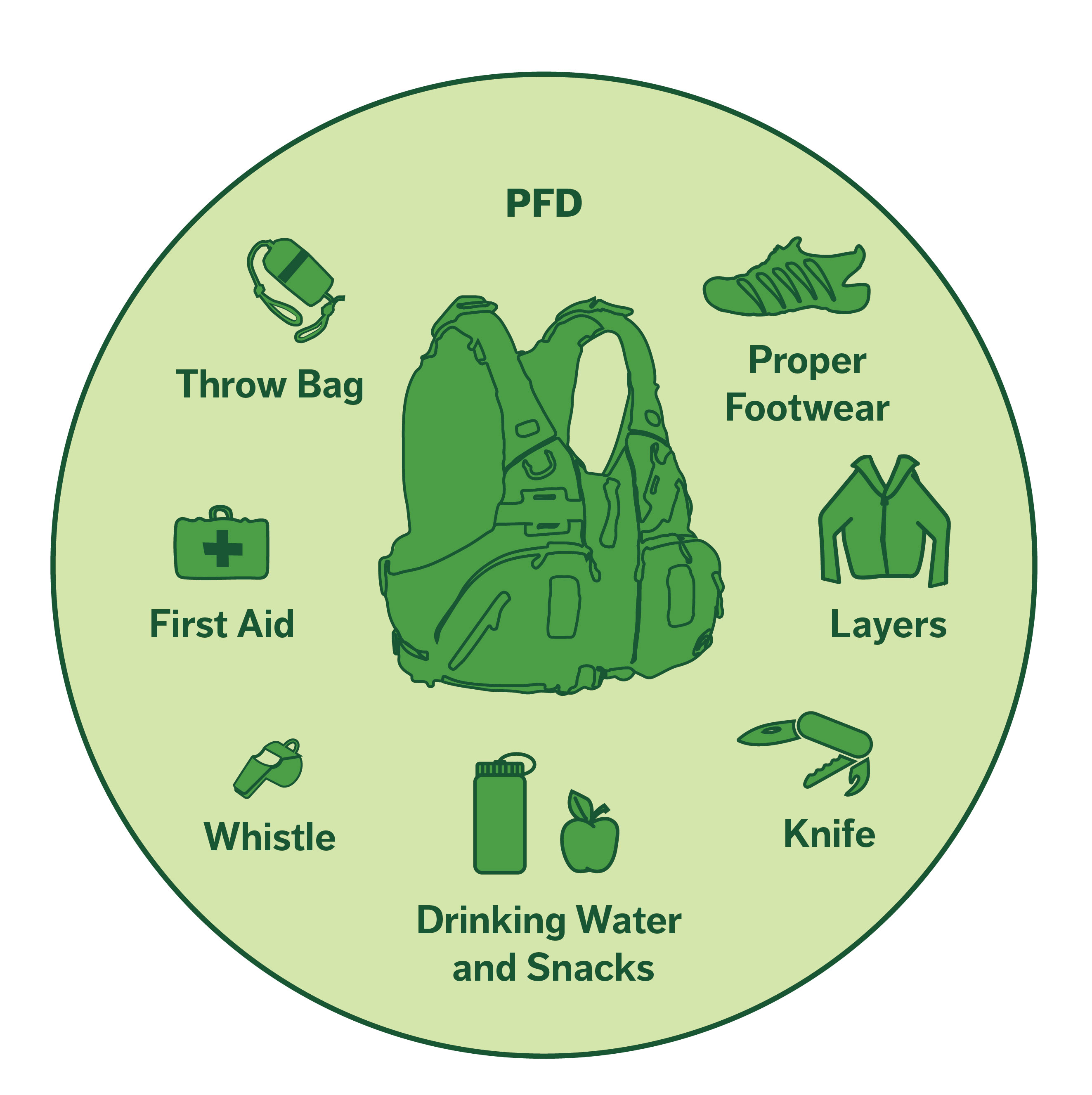 Do you have what you need?
In addition to your permit and decals, special equipment is useful for floating the Snake. Make sure you carry these things before launching:
Personal floatation device - All vessels must carry a United States Coast Guard approved personal flotation device (PFD) of the appropriate size for each person on board. PFDs must be accessible and in good working condition. PFDs should be worn while boating. All passengers under 13 years old must wear a PFD.
Proper footwear
Layers
Knife
Drinking water and snacks
Whistle
First Aid
Thow Bag
Additional Grand Teton Information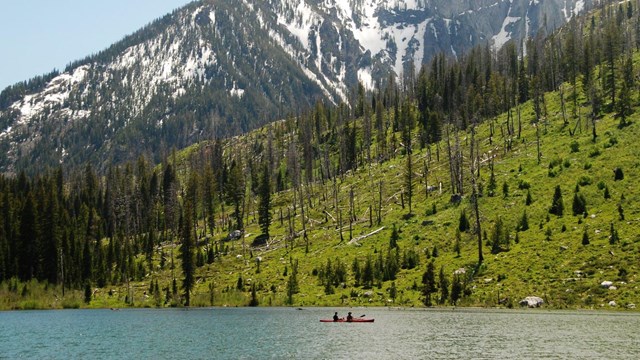 Boat on a Lake
Learn what you need to go boating on one of the many lakes in the park.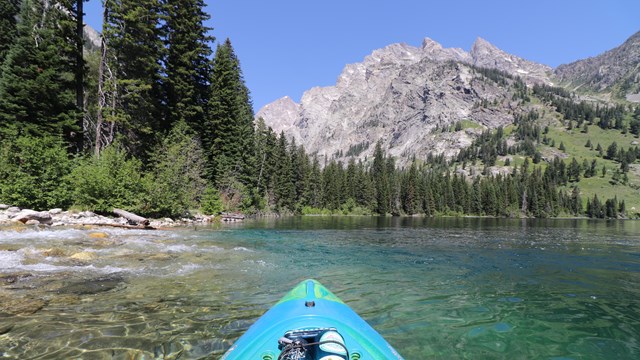 Get on the Water
Learn about boating and floating regulations in the park.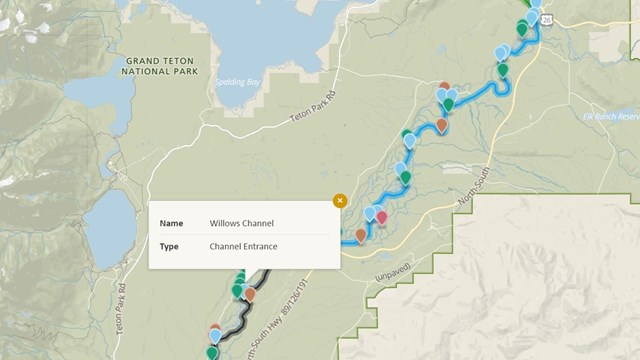 Advanced River Map
Map of known river features on the Snake River within the park.
Last updated: September 26, 2023