Pets
Pets are prohibited on trails, pathways, beaches, in buildings, and swimming in any park waters.
Pets and owners have a special bond. But a national park is not always the best place for pets. Grand Teton National Park is a designated natural area, and its purpose is to preserve and protect the park's natural conditions, scenic beauty, and wildlife.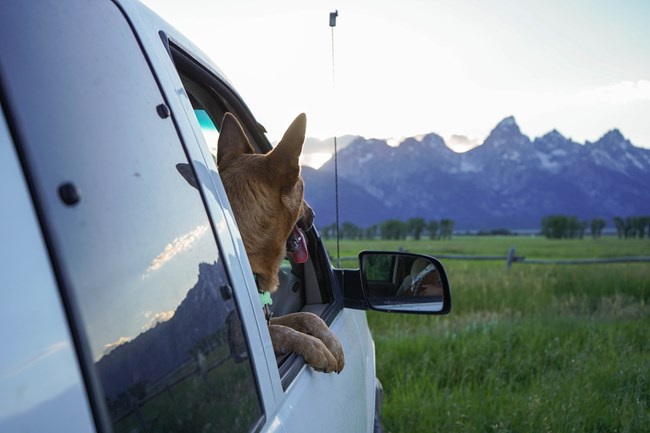 Pet Safety & Regulations
To ensure that you and your pet enjoy a safe visit, follow all pet regulations while in the park. Wildlife may be drawn to pets and their owners. Pets can wander away and may never be found. The park is a wild place.These regulations are enforced to protect you, your pet, park resources and other visitors.
Pets are allowed in Grand Teton National Park, but they must be restrained at all times and are not permitted on hiking trails, inside visitor centers or other facilities. A good rule of thumb is that a pet may go anywhere a car may go: roads and road shoulders, campgrounds and picnic areas, parking lots, etc. Pets must be on a leash (six feet or less), under physical restraint, and within 30 feet of the roadway. Pets are not permitted on any park trails or in the backcountry. Pets are not considered pack animals.
Regulations
You are responsible for clean-up and disposal of all pet waste.
Pets must be kept under physical control at all times - caged, crated, or restrained on a leash not to exceed six feet in length.
Pets are prohibited in the backcountry and on park trails.
Pets are prohibited from public buildings and swimming beaches.
Pets are prohibited from riding in boats on park waters, except for Jackson Lake.
Pets must stay within 30 feet of any roadway.
Pets must not be left unattended and/or tied to an object.
Pets are prohibited from making unreasonable noise or frightening wildlife.
Pets running-at-large may be impounded and their owner charged for the care and feeding.
Dog sledding and ski-jorring is prohibited.
Pets are not allowed on the park's multi-use pathway.
Service animals used for the sole purpose of aiding a person with a disability are permitted, but should be clearly marked as a working animal. Dogs whose sole function is to provide comfort or emotional support do not qualify as service animals under the Americans with Disabilities Act (ADA).
Places to go with your pet
Pets may accompany you in developed campgrounds, turnouts, and picnic areas. Pets may be walked along any roads that cars are permitted on, but must yield to traffic. Pets are allowed in the surrounding Bridger-Teton National Forest trails and backcountry, unless otherwise posted.
In Winter
Every year, from November 1 through April 30, the park closes portions of the Teton Park Road to traffic, allowing for public recreation. You may walk your pet in the designated pet walking lane. Do not allow your pet to destroy the groomed cross-country ski track. Pick up after your pet and dispose of pet waste in garbage cans. Pets may not be farther than 30 feet from the roadway.
Kennels and Pet Sitters
If you are planning on exploring areas of the park that are closed to pets, we recommend that you contact a local pet care provider. Commercial kennels and pet sitters are available in surrounding communities. Please check local listings. Reservations are strongly advised and may be required.
Service Animals
Service Animals are allowed in the park subject to regulations of the ADA.


Last updated: March 15, 2023