Temporary Closure Scheduled for Jenny Lake Area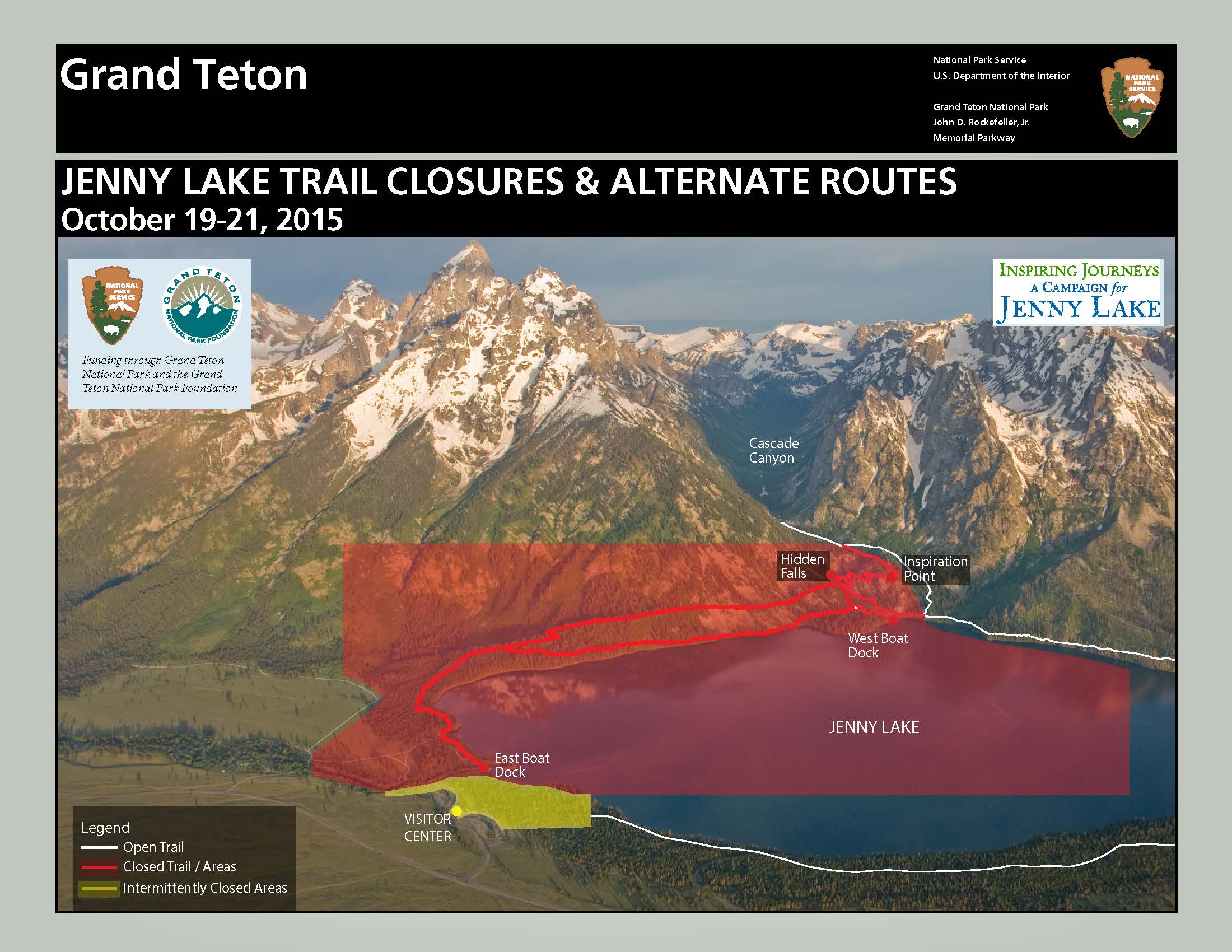 News Release Date:
October 7, 2015
Contact: Public Affairs Office, 307.739.3393
MOOSE, WY —Starting Tuesday, October 20, a temporary area closure will be in effect for several trails and walkways within the Jenny Lake area of Grand Teton National Park. The temporary public closures are necessary to ensure public safety during construction activities involving helicopter transport of heavy material to the Hidden Falls and Inspiration Point areas on the west side of Jenny Lake as well as the paved walking paths on the east shore of the lake. The public closure is scheduled for October 20 through 22, though it may be postponed or prolonged due to weather conditions or other circumstances.
For safety during the staging and hauling of several loads of rock and construction materials, trails leading from the Jenny Lake east shore boat dock area and the Moose Ponds trailhead to Hidden Falls and Inspiration Point will be closed to all public access. There will also be intermittent closures of the walking paths in the vicinity of the Jenny Lake Visitor Center. Lake access from the public boat launch will not be allowed. 
All visitor services in the Jenny Lake area, including the visitor center, are closed for the season. Signs will be posted throughout this closure area, and park staff will be positioned to provide suggestions for alternate routes for anyone visiting this area of the park. Areas not affected by this temporary public closure include: the Teton Park Road; Jenny Lake scenic loop road; access to Cascade Canyon via the Horse Trail; access to Jenny Lake via the String Lake parking lot and trailhead; and access to the Lupine Meadows trailhead.
This slight and temporary inconvenience will be short-term in nature. Park managers appreciate the public's cooperation in observing all posted closure notices in the Jenny Lake area. 
This rehabilitation and construction work is part of the Jenny Lake Renewal project. Work on the backcountry trail system on the west shore of Jenny Lake will continue next summer, while work on the front country visitor area on the east shore of the lake is beginning this fall and will continue next summer. The project is funded through a public-private partnership initiative with the Grand Teton National Park Foundation. 
—NPS— 
Last updated: October 19, 2015