Special Activities on MLK Fee-Free Weekend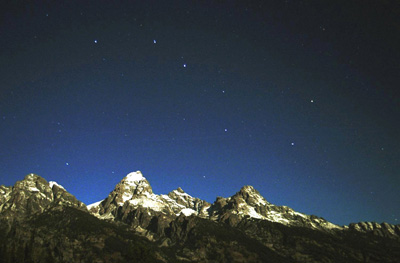 News Release Date:
January 10, 2011
Contact: Jackie Skaggs, (307) 739-3393
January 10, 2011
11-03
Grand Teton National Park—along with the 394 units of the national park system—will waive entrance fees during the upcoming Martin Luther King holiday weekend (January 15-17) as part of a nationwide initiative to encourage people to visit and experience the many wonders of national parks across America. To highlight the first entry-free weekend of 2011, Grand Teton ranger naturalists invite visitors and local residents to attend an Evening of Astronomy program at the Craig Thomas Discovery and Visitor Center in Moose, and join an early evening snowshoe excursion on the Teton Park Road. Both activities will take place on Saturday, January 15.
The Evening of Astronomy program begins Saturday afternoon at 5 p.m. in the Discovery Center's auditorium with a 45-minute interactive presentation titled: Rangers of the Lost Dark. Ranger naturalists will introduce visitors to the incredible dark skies of Grand Teton National Park and provide tips on viewing the night sky during winter. No reservations are required for this program.
The Evening of Astronomy will continue with a twilight ranger-led snowshoe walk beginning at 6:15 p.m. from the Taggart Lake trailhead, located four miles north of the Discovery Center. The snowshoe walk will offer a chance to explore Grand Teton's magical winter landscape by twilight and learn about the unique characteristics that make this season so remarkable. For centuries, people have used snowshoes as a means of winter travel, and ranger-led snowshoe excursions are designed to introduce beginning and casual snowshoe walkers to the experience of a winter trek in the company of others. The snowshoe walk will traverse a level, three-mile roundtrip distance along the snow-covered Teton Park Road. The two-hour long activity does not require previous snowshoeing experience, and snowshoes are provided for anyone without their own. Reservations are required for this outdoor activity; please call 307.739.3399 to reserve a spot.
Those attending the twilight snowshoe walk should wear warm layered clothing, sturdy insulated boots, and a face scarf or ski mask, plus bring along an energy snack and water or hot beverage in a thermos. Headlamps and flashlights are required as essential safety equipment for any outdoor trek.
For a complete list of wintertime ranger-led activities and programs, please refer to the park's newspaper, Teewinot, online at www.nps.gov/grte, or call the Craig Thomas Discovery and Visitor Center at 307.739.3399.
Last updated: February 24, 2015