Jackson Resident Rescued From Teewinot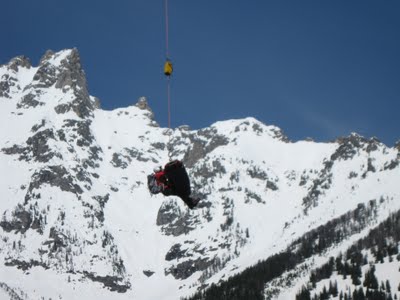 News Release Date:
June 4, 2011
Contact: Jackie Skaggs, 307.739.3393
June 4, 2011
11-39
Grand Teton National Park rangers enlisted the help of Teton County Search and Rescue (TCSAR) and their contract helicopter to rescue a backcountry hiker/skier who was seriously injured after taking a tumbling fall about 8:30 a.m. Saturday, June 4, while ascending Teewinot Mountain (elevation 12,325 feet) with two companions. Jesse Stover, age 39, of Jackson, Wyoming slipped and fell approximately 2,000 feet. Stover and his partners were well equipped with helmets, ice axes, and crampons, and were wearing avalanche beacons at the time of the accident. Stover also had a whippet (a ski pole with an ice axe style head): a commonly used tool when skiing on hard and steep snow.
Stover and his two companions left the valley at 4:00 a.m. Saturday morning with the intention of summiting Teewinot and skiing down its east face. About 500 feet below the summit, Stover slipped on the snow and took a tumbling fall.
Teton Interagency Dispatch Center received a 911 call at 8:32 a.m. Saturday morning from a skier who witnessed Stover's fall. The witness, who is a wilderness emergency medical technician (W-EMT), skied down to where Stover came to rest and provided him with emergency medical care until help arrived. Two Grand Teton National Park rangers hiked up to Stover and reached the scene at 11:20 a.m. Rangers then prepared a site for TCSAR to insert one of their members, Dr. AJ Wheeler, to the patient's location on the mountain.
TCSAR's  rescue team reached Stover at 11:36 a.m. and prepared him for a short-haul evacuation to the valley floor at Lupine Meadows where a park ambulance then transported Stover to St. John's Medical Center in Jackson for further treatment.
While attending to Stover on Teewinot, TCSAR members and Grand Teton rangers avoided a small wet avalanche that came down the gully where Stover was located. The team was able to move Stover and themselves from harm's way with the help of two avalanche spotters higher up on the peak.
The Bridger-Teton National Forest avalanche report rated the avalanche danger on Saturday as "moderate" to "considerable" as warmer afternoon temperatures create unstable snowpack. For up-to-date avalanche forecasts, visit http://www.jhavalanche.org , or call the avalanche center at 307.733.2664.
Backcountry users are advised to stop in or call a visitor center or ranger station the day of travel to obtain the most current trail, route, and snow conditions. Hikers should also note that many injuries are a result of a slip on snow or ice and often occur on the descent.
Last updated: February 24, 2015