Rangers Rescue Climber from Guides' Wall
Date:
June 26, 2011
Contact:
Jenny Anzelmo-Sarles, 307.739.3431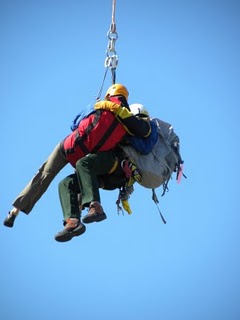 June 26, 2011
11-50
Grand Teton National Park rangers short-hauled a 47-year-old injured climber off of Guides' Wall in Cascade Canyon on Saturday, June 25. Dagmar Rapp of Farmington, Connecticut was on a guided trip with Exum Mountain Guides when she fell about 15 feet on the Flake pitch, the fifth pitch of six on the route.
The Exum guide notified Teton Interagency Dispatch Center of the injured climber at 2:40 p.m. Battling gusty winds and maneuvering cautiously with minimal clearance from the rock face, a Teton Interagency contract helicopter inserted one ranger at Rapp's location; the ranger then prepared Rapp for a short-haul extrication using an aerial evacuation suit, a soft harness-like body suit. Three other rangers, who were in the vicinity, hiked to the base of Guides' Wall and staged there, in case winds prevented a short-haul operation from being possible.
Rapp, with a ranger attending, reached the valley floor just after 5 p.m. A park ambulance then transported her to St. John's Medical Center in Jackson for further treatment.
Last updated: February 24, 2015