Temporary Closure Slated for Park Pathway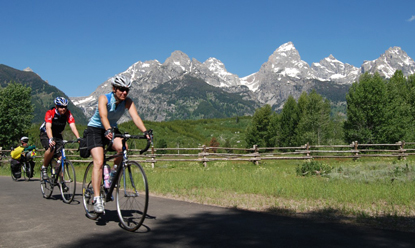 News Release Date:
September 9, 2011
Contact: Jackie Skaggs, 307.739.3393
September 9, 2011
11-82
The multi-use paved pathway that extends from the Snake River Bridge at Moose to South Jenny Lake in Grand Teton National Park will be closed to all public use for several days next week. This closure is necessary to facilitate the application of a protective sealant and new striping. The temporary closure will take place from Tuesday, September 13 through Friday, September 16; however, rainy weather may delay the planned closure or require it to be rescheduled for the following week.
The protective sealant is an oil-based product that needs to dry completely before striping can be applied; therefore, this project may require three to four days to complete. The pathway closure will be lifted by Saturday, September 17 to allow for weekend use.
Bicyclists may choose to ride on the shoulder of the Teton Park Road during the pathway closure. Those wishing to walk or rollerblade are advised to wait until the pathway reopens.
Efforts will be made to complete the sealant and striping project in the shortest time possible to lessen the inconvenience this necessary closure may cause for park visitors and local residents who want to enjoy the eight-mile pathway from Moose to Jenny Lake.
Last updated: February 24, 2015