Rangers Rescue Injured Climber from Nez Perce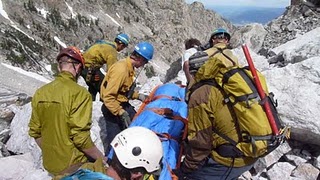 News Release Date:
August 11, 2011
Contact: Jackie Skaggs, 307.739.3393
August 11, 2011
11-71
Grand Teton National Park rangers performed a 1,200-foot technical lowering operation on the north side of Nez Perce Peak to rescue a 21-year-old climber who fell about 100 feet and suffered injuries that made it impossible for her to hike further. Laura Mason of Royal Oak, Michigan was glissading a snowfield to the west of the Hourglass Couloirs when she was unable to control her speed and ran into the rocks at the base of the snowfield.
Rangers, who were assisting another hiker with minor injuries, received notice of Mason's accident at 11 a.m. Once they reunited the hiker with his party, they hastily made their way to Mason's location on Nez Perce Peak and arrived on scene at 11:30 a.m. After reaching Mason, rangers determined that high winds were not favorable for a helicopter short-haul operation. Two other rangers on routine backcountry patrols (one on Disappointment Peak and another between the South and Middle Tetons) were summoned to assist with a ground-based rescue. An additional ranger and three Teton Interagency helitack personnel were flown up from the valley by the Teton Interagency contract helicopter into Garnet Canyon to also assist in the technical lowering operation.
Mason was placed in a rescue litter, and rangers rigged ropes to carefully lower her down the snowfield to the Garnet Canyon Meadows landing zone. Rangers lowered Mason 300 feet at a time in four separate sets. The last set placed her at a location near the landing zone at the Cave Couloir in the upper meadows of Garnet Canyon. From there, Mason was placed inside the helicopter for a short flight to the Lupine Meadows rescue cache where she was met by a park ambulance and transported to St. John's Medical Center in Jackson for further treatment.
Mason and her four climbing partners intended to summit the Middle Teton. Two of her partners turned around earlier in the day, while the rest of the group continued up but strayed off route. After realizing they were in the wrong location, Mason and her climbing partners started descending in an attempt to find the correct route. Although Mason was carrying an ice axe, rangers do not believe she was wearing a helmet or carrying crampons on her mountain trek.
This marks the third rescue this year involving a climber or hiker who received significant injuries while glissading down a snowfield. Rangers remind backcountry users that most accidents occur on snow or ice when people slip and fall, often into rocky terrain. Most backcountry accidents occur on the descent at the end of the day when people are tired and perhaps less attentive.
Last updated: February 24, 2015