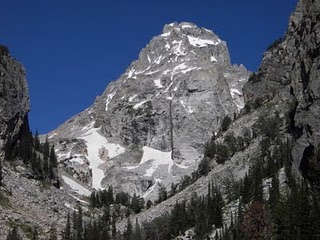 News Release Date:
August 9, 2011
Contact: Jackie Skaggs, 307.739.3393
August 9, 2011
11-69
A climber, attempting to scale the Middle Teton, required rescue by Grand Teton National Park rangers on Tuesday, August 9, after sustaining injuries from a fall. Steven Zaleski, 43, of Madison, Wisconsin and two companions were on the approach to the Buckingham Ridge, the southeast ridge of the Middle Teton, when Zaleski pulled off a loose block of rock and fell about 15 feet.
Teton Interagency Dispatch Center received an emergency phone call from a member of Zaleski's climbing party at 9:08 a.m. A Teton Interagency contract helicopter flew rangers to a backcountry landing zone in the South Fork of Garnet Canyon, and the rangers then hiked to Zaleski's location, arriving on scene at 11:10 a.m. Rangers determined that Zaleski would not be able to hike out of the canyon on his own due to the nature of his injuries, and they prepared him for a helicopter evacuation.
Rangers placed Zaleski in an aerial evacuation suite and flew him via short-haul to the South Fork landing zone. From there, Zaleski was loaded inside the ship for a short flight to Lupine Meadows rescue cache. An ambulance from Jackson Hole Fire and EMS transported Zaleski at 12:30 p.m. from the rescue cache to St. John's Medical Center in Jackson for further treatment.
Due to the technical nature of the terrain, combined with significant rockfall in the area, rangers determined it would be safer to also fly Zaleski's climbing partner off the ridge. The climber was also placed in an aerial evacuation suit and evacuated to the landing zone where he could then hike out of Garnet Canyon on his own.
Zaleski and his climbing companions were unroped on the approach and scrambling on fourth-class rock. Each of the climbers had appropriate climbing gear; they were all wearing helmets and carrying ice axes and crampons at the time of the accident. Zaleski, and his climbing partner who placed the emergency call, both have extensive climbing experience, including experience in the Teton Range.