Grand Teton Prepares for Potential Flooding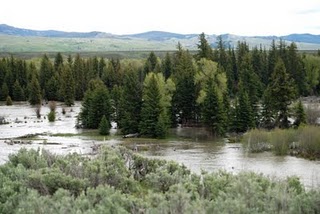 News Release Date:
June 9, 2011
Contact: Jackie Skaggs, 307.739.3393
June 9, 2011
11-42
As the record winter snowpack melts, Grand Teton National Park is making preparations for potential flooding along the Snake River and its tributaries. A high-water incident management team has been assembled to prepare for possible flooding and other weather-related damage throughout the park. This team will direct the response to situations that may arise as the snowpack recedes in the Tetons and melt-waters swell the creeks and streams.
As part of flood preparations, park staff will assemble a line of portable flood protection walls between the westbank of the Snake River and the Moose headquarters complex starting as early as Saturday, June 11. Temporary flood protection walls will also be place around the Craig Thomas Discovery and Visitor Center on the south side of the Teton Park Road. These temporary flood walls consist of a product called HESCO Bastion Concertainer® -named for the British company that developed the structures in the late 1980s. This product is a modern gabion: a cage, cylinder, or box filled with soil or sand used in civil engineering, road building and military applications. HESCOs consist of a collapsible wire mesh container and heavy duty fabric liner; they are installed, among other uses, as a temporary to semi-permanent dike or barrier against high water. The HESCO units can be quickly assembled using a forklift and front loader, which lessens the physical labor required for sandbag preparation. As an added precaution, park assets that can be moved prior to a high water event will be relocated to areas not prone to flooding.
To assess changing conditions, park personnel are monitoring on a daily basis Pacific Creek, the Buffalo Fork of the Snake River, Gros Ventre River, Cottonwood Creek, Lake Creek and other tributary streams. The high-water incident team is taking appropriate steps to deal with various scenarios that could occur until the runoff subsides. The team will assess the water levels in the front county and monitor the snowmelt and related damage in the backcountry as well. The team has already documented damage to trails and backcountry bridges from the heavy snow. A mudslide on the westshore of Jenny Lake, a new rockfall at the mouth of Death Canyon, and damage to bridges across Cascade Creek near Hidden Falls will require early season trail work once conditions stabilize.
The Snake River reached a high water mark of 15.2 feet and a flow of 25,000 cubic feet per second (cfs) at the Moose Bridge during the 1997 spring runoff-which was the last year that Jackson Hole experienced substantial flooding. Currently the Snake River stands at 13 feet at Moose.
Superintendent Mary Gibson Scott said, "We may 'dodge the bullet' on flood damage when all is said and done. However, it's important for us to take every deliberate step in anticipation of potential flooding and to be prepared for possibilities that may arise with the unique set of conditions this year." Superintendent Scott also stated, "Public safety and park employee safety will remain paramount throughout the flood response, and park employees will be vigilant in their daily activities as conditions change."
Communication about potential flooding and possible area closures due to flooding will be provided to the visiting public and area residents through the park visitor centers, entrance stations and the public affairs office.
Last updated: February 24, 2015