Plowing of Teton Park Road Begins March 14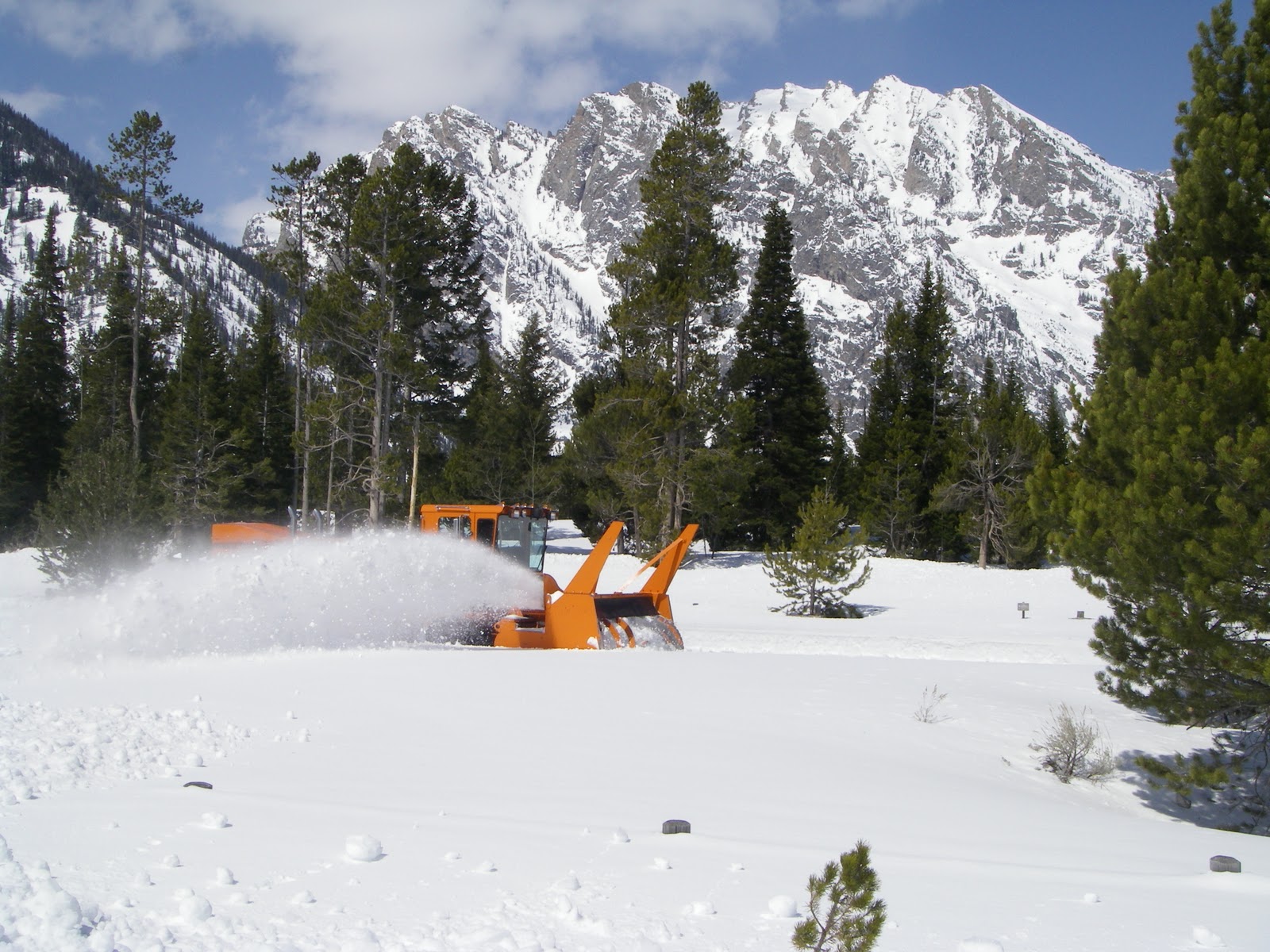 News Release Date:
March 3, 2011
Contact: Jackie Skaggs, 307.739.3393
March 3, 2011
11-09
The annual snow plowing of the Teton Park Road in Grand Teton National Park will begin on Monday, March 14, weather depending. As plowing operations get underway, recreation on the snow-packed trail will cease for the 2010/11 winter season. Park visitors may continue to use other winter trails—or areas adjacent to the Teton Park Road—for skate skiing, cross-country skiing, and snowshoeing until snow conditions are no longer favorable for such activities.
For safety reasons, visitors may NOT access the Teton Park Road while rotary snow removal equipment and plows are working; the roadway is closed to ALL users during this period of time.
Skiers and snowshoers using areas adjacent to the Teton Park Road are cautioned to avoid the arc of snow being blown from the rotary equipment because pieces of ice and gravel can be mixed with the snow spray. Park rangers will enforce the temporary road closure to ensure safe conditions for plow operators and park visitors alike.
Depending on weather, snow conditions and plowing progress, the roadway should become accessible to traditional springtime, non-motorized activities in early April; the opening of the Teton Park Road to bikers, hikers and inline skaters will be announced once snow removal equipment is no longer operating.
The Grassy Lake Road in the John D. Rockefeller, Jr. Memorial Parkway is scheduled to close for the winter season on Tuesday morning, March 15, in conjunction with other winter closures in nearby Yellowstone National Park. This road remains closed to all motor vehicles from April 1 to May 31, due to springtime grizzly bear activity.
Depending upon snow conditions, ranger-led snowshoe hikes from the Craig Thomas Discovery and Visitor Center will continue through mid March and perhaps beyond. To make a reservation for this activity, or to inquire whether snowshoe hikes are still being offered, please phone 307.739.3399. The Discovery Center will be open daily from 9 a.m. to 5 p.m. throughout March, April and May.
Pet owners are reminded that dogs are not allowed in the park's backcountry, which includes all areas away from park roadways and turnouts. Pet owners are required to have their dogs on a maximum 6-foot leash whenever they are outside of a private vehicle. Pet owners must clean up their dog waste. A "mutt-mitt" station is conveniently located near the Teton Park Road closure gates to provide bags for this purpose.
The paved, multi-use pathway running from Dornan's to South Jenny Lake will not be open for public use until the snow recedes naturally.
The Teton Park Road will open to vehicle traffic for the 2011 summer season on Sunday, May 1.
Last updated: February 24, 2015