NATIONAL PARK FOUNDATION AWARDS 2012 IMPACT GRANT TO GRAND TETON NATIONAL PARK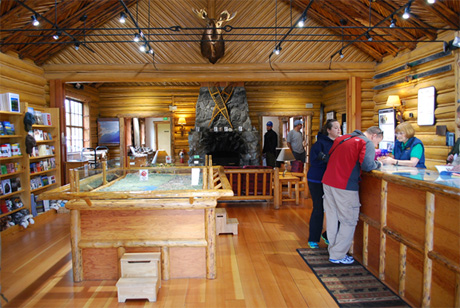 News Release Date:
May 30, 2012
Contact: Public Affairs Office, 307.739.3431
Grand Teton National Park Receives Grant from the National Park Foundation to Support Interactive and Engaging Projects That Will Strengthen Americans' Connection with Their National Parks
Moose, WY (May 30, 2012) - The National Park Foundation, the official charity of America's national parks, recently awarded Grand Teton National Park a 2012 Impact Grant to support the launch of an energy saving project to replace 60 halogen lamps with energy efficient LED lamps in the historic Crandall Studio near the eastshore of Jenny Lake. Replacement of inefficient 50-watt halogen lamps with 9.5-watt LED lamps will provide the same level of lighting, but result in a substantial savings in energy use and cost. The grant is part of the National Park Foundation's Impact Grant program which gives parks the critical financial support needed to transform innovative, yet underfunded ideas into successful in-park programs and initiatives.
The Crandall Studio, an historic log building, serves as the Jenny Lake Visitor Center with exhibits, a bookstore operated by the Grand Teton Association, and a sitting area near a stone fireplace. Strings of track lights provide illumination for interpretive exhibits, historic artwork and retail displays for the bookstore, as well as for general lighting throughout the building.
"The replacement of inefficient lamps with energy efficient LED lamps in the Jenny Lake Visitor Center complements other environmental stewardship and sustainability efforts at Grand Teton," said park spokeswoman Jackie Skaggs. "We're always looking for ways to reduce the amount of energy the park uses and reduce overall consumption as much as possible, and this project certainly furthers that goal."
This project will result in substantial savings in energy use and cost. Since LED lamps have a lamp life that may exceed 40,000 hrs. compared to 2,500 hrs. for a halogen lamp, the park will realize a cost savings in lamp replacement over time and produce less waste. Currently, trash collected in the park is hauled over 100 miles to a landfill in an adjacent county. The goal is to decrease the amount of trash generated and reduce the energy used in transporting trash to the landfill. By reducing the wattage used by each lamp, this project will also result in lower utility bills. This project will help reduce energy consumption and produce a more sustainable energy future. 
"With these strategic grants, we have been able to positively impact hundreds of national parks across the country," said Neil Mulholland, President and CEO of the National Park Foundation. "This unique program helps the parks enhance the visitor experience, capture people's interest and imagination and ultimately build a stronger community of park enthusiasts who share an appreciation and commitment for protecting 'America's Best Idea,' their national parks."   
The National Park Foundation, in partnership with ARAMARK through the Yawkey Foundation, The Fernandez Pave the Way Foundation and The HISTORY Channel, awarded Impact Grant grants to 62 national parks across the country totaling more than $500,000. A full list of grantees is available on the National Park Foundation website.
Last updated: February 24, 2015