Fourth Annual 'Plein Air for the Park' Attracts Professional Artists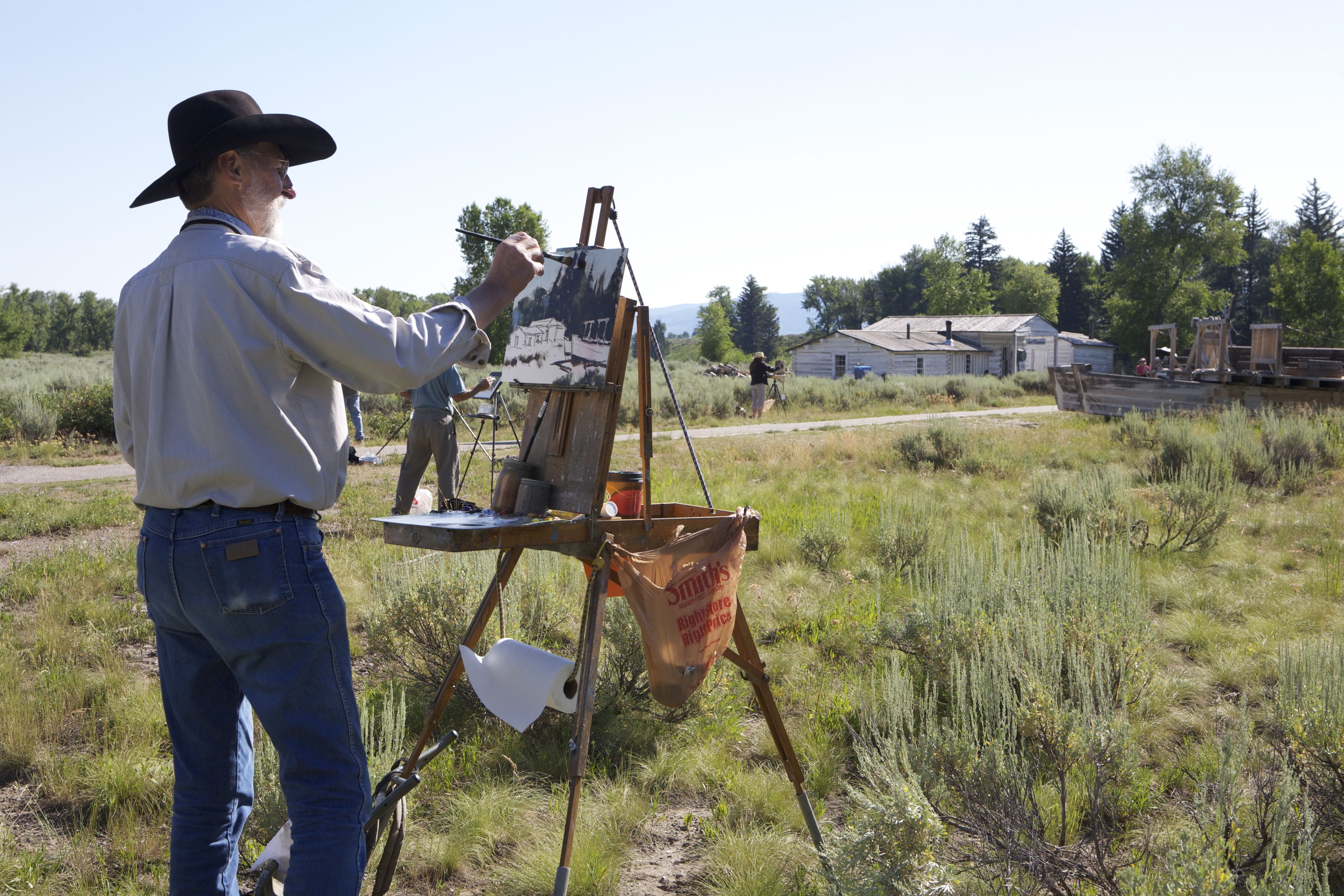 News Release Date:
July 1, 2015
Contact: Public Affairs Office, 307.739.3393
Over 40 professional artists from across the United States will spend two weeks (July 6-19) capturing on canvas the exceptional beauty of Grand Teton National Park during the annual 'Plein Air for the Park' fine art exhibition and sale. This marks the fourth 'Plein Air for the Park' gathering and each year, the event is co-hosted by Grand Teton Association (GTA) and the Rocky Mountain Plein Air Painters. All painting demonstrations and show events are free and open to the public.
The nationally recognized 'Plein Air for the Park' event includes demonstrations, exhibitions and art sales that culminate with a quick draw on Saturday, July 18, at the Craig Thomas Discovery and Visitor Center. The public is invited to watch artwork created from start-to-finish, and all paintings may be purchased for a fixed-price immediately following the quick draw, or during the gala and opening reception on July 15.
Forty percent of the proceeds from sales made during 'Plein Air for the Park' will benefit GTA and help fund ongoing educational, interpretive and scientific programs in support of Grand Teton National Park.
"This mid-summer event has grown each year as a result of the dedicated and enthusiastic support and sponsorship of our park partner, Grand Teton Association, and the Rocky Mountain Plein Air Painters," said Grand Teton National Park Superintendent David Vela. "Thanks to their combined efforts, visitors can experience the beauty of this incredible Teton landscape through the eyes of an artist. They may also purchase a piece of art that not only provides a lasting memory, but also benefits Grand Teton through the invaluable work of the GTA."
2015 EVENT SCHEDULE:
For complete information visit www.pleinairforthepark.org
JULY 6-19:  Artists paint in and around Grand Teton National Park and the greater Jackson Hole area.
SATURDAY, JULY 11: Artists in the Environment Demonstration
3:00 –6:00 p.m. at Schwabacher's Landing, west of Highway 26/89/191
TUESDAY, JULY 14: Artist Group Demonstration
3:30 –  6:30 p.m. on the Town Square, downtown Jackson, Wyoming
WEDNESDAY, JULY 15: Gala Opening Reception & Display of New Artwork
7:00 – 9:00 p.m. Gala Opening Reception at the Craig Thomas Discovery & Visitor Center
7:45 p.m.  Announcement of Awards
SATURDAY, JULY 18: Quick Draw & Sale
9:00 a.m. – 12 Noon at the Craig Thomas Discovery & Visitor Center
Last updated: July 1, 2015