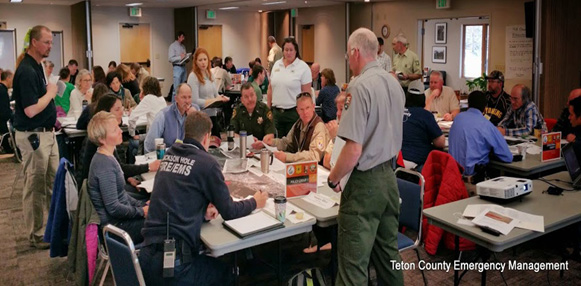 News Release Date:
May 4, 2015
Contact: Public Affairs Office, 307.739.3393
An assembly of local, state, and federal government officials and staff members, along with non-governmental organizations, recently completed an emergency response simulation exercise based upon a mock wildland fire scenario in the greater Jackson Hole area. Teton County Emergency Management took the lead in planning this exercise along with assistance from Jackson Hole Fire/EMS, and fire personnel from Bridger-Teton National Forest and Grand Teton National Park.Main objectives of the "Operation Broken Sword" exercise were two-fold: to test existing plans in a pre-fire season setting, and to facilitate communication among the various diverse groups and stakeholders.
Headed up by Teton County Emergency Management Coordinator Rich Ochs, the exercise included 28 agencies and 54 participants. The exercise, which was based on three wildfires and their impacts on the communities of Jackson, Teton Village, and areas of Grand Teton National Park, was designed to develop joint decision-making relationships between the various agencies. "Our community is fortunate to have such strong interagency relationships with our governmental and non-governmental partners," Ochs noted.He continued, "But these relationships must constantly be worked on to maintain this level of coordination.Exercises help to strengthen these relationships."
During the four-hour exercise, agency officials discussed basic strategies for managing these mock wildfires using the USFS Risk Management Decision Framework.Mock operations included:designation of unified commanders;the prioritization of critical assets at risk;development of methods for multiagency coordination;establishment of a joint information system;and identification of all stakeholders.
The emergency exercise also challenged participants to identify each agency's role and responsibility following an incident-within-an-incident which included fatalities, as well as multiple destroyed and/or affected homes. Non-Governmental Organizations (NGOs) participated in the exercise, which helped all agencies understand the role of NGOs in restoring basic health and social services following a disaster. Other instrumental players included utility providers, who helped identify critical infrastructure and the consequences of the destruction of such essential infrastructure.
Exercises such as these are regularly planned and executed prior to fire season to assess agencies and their readiness to deal with challenging multi-jurisdiction incidents and also build relationships among the various stakeholders.New to this 2015 exercise was an emphasis on community recovery following a significant incident.Upon completing "Operation Broken Sword," Grand Teton National Park Deputy Superintendent Kevin Schneider commented that it was one of the best wildfire-related training exercises in which he had participated. The scope of participants and agencies involved provided an opportunity to build effective working relationships, learn what resources are available and establish an understanding of roles and responsibilities before an incident occurs.