Economic Benefit to Local Communities Substantial Thanks to National Park Tourism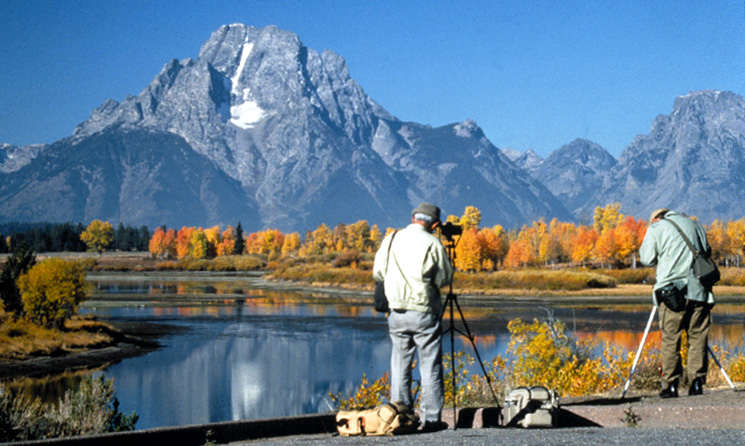 News Release Date:
April 23, 2015
Contact: Public Affairs Office, 307.739.3393
A new report on the economic benefits from national park tourism concluded that visitors to Grand Teton National Park and John D. Rockefeller, Jr. Memorial Parkway numbered well over four million in 2014 and those visitors spent more than $532 million in the gateway communities of northwestern Wyoming. That spending also supported 8,548 jobs in the communities of Jackson, Teton Village, and Dubois, Wyoming, and nearby towns of Driggs and Victor, Idaho. In the amount of visitor spending for 2014, Grand Teton ranked among the top five national park areas along with Blue Ridge Parkway, Great Smoky Mountains National Park, Denali National Park & Preserve, and Grand Canyon National Park.
According to the just released 2014 analysis and report, national park tourism had a cumulative benefit to the U.S. economy of $29.7 billion and supported 277,000 jobs across the country—with 235,600 of those occurring within gateway communities.
Information on the economic benefits of national park tourism comes from a peer-reviewed visitor spending analysis conducted for the National Park Service by U.S. Geological Survey economists. The 2014 report shows $15.7 billion of direct spending by 292.8 million park visitors in communities within 60 miles of a national park. Most spending was for lodging (30.6 percent) followed by food and beverages (20.3 percent), gas and oil (11.9 percent), admissions and fees (10.2 percent) and souvenirs and other expenses (9.9 percent).
To download the 2014 visitor spending report, visit https://www.nature.nps.gov/socialscience/economics.cfm
"The economic value to local communities from national park tourism is undeniable and significant," said David Vela, superintendent of Grand Teton National Park &the John D. Rockefeller, Jr. Memorial Parkway. "National parks are an integral part of a healthy and sustainable local economy, and it's important to note that park-based tourism is responsible for a 10-fold boost to our national economy, as well. For every $1 invested in the annual budget for the National Park Service, fully $10 is subsequently returned to our national economy."
"While national parks are primarily responsible for the preservation of America's natural and cultural resources, we also value and appreciate the partnerships forged with our gateway communities. We have shared interests in creating lasting and memorable experiences for travelers from near and far," added Superintendent Vela. "As we begin our NPS centennial celebration, we look forward to connecting the next generation of park visitors, supporters and advocates to the unique value of their national parks, and to strengthening alliances with our hometown communities that support these special places."
To learn more about national parks in Wyoming and how the National Park Service works with neighbor communities to preserve local history, conserve the environment, and provide recreation opportunities, go to www.nps.gov/Wyoming.
Last updated: April 23, 2015