Find Your Park Campaign Launched at Grand Teton on April 2nd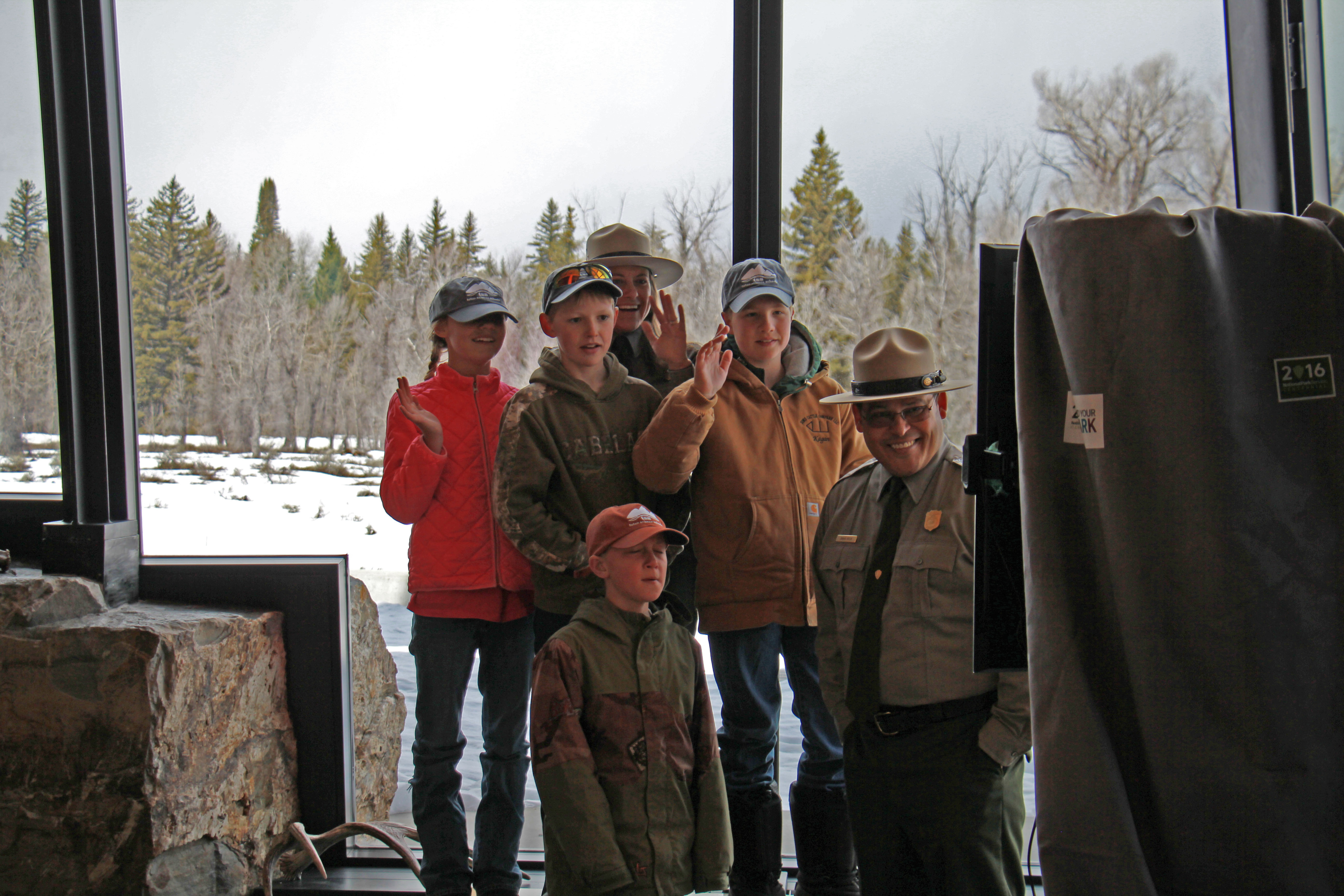 News Release Date:
April 6, 2015
Contact: Public Affairs Office, 307.739.3393
Grand Teton National Park joins other national parks, programs and partners across America this month to encourage people to find and visit a nearby national park area and share their stories online at FindYourPark.com. "Find Your Park" is a public awareness and education campaign designed to celebrate the approaching National Park Service's milestone centennial in 2016 and set the stage for a second century of dedicated service to U.S. citizens and international visitors from around the world. In addition, the upcoming 2015 National Park Week events will focus on the significance of national park areas as special places for education, inspiration, enjoyment, and family friendly activities.
Launched by the National Park Service and the National Park Foundation on April 2nd,a new social-media tool allows virtual visitation to Grand Teton National Park and other park sites in an effort to encourage people to learn about and connect with the 407 park units managed by the National Park Service. An interactive kiosk—with a digital monitor, live camera, and view of the park's iconic Teton Range—currently stands inside the Craig Thomas Discovery and Visitor Center at Moose. The kiosk will be active on Thursday and Friday April 9-10 and April 16-17, and local residents and park visitors are highly encouraged to stop by the Visitor Center to be a part of this fun opportunity to interact with other visitors at Golden Gate National Recreation Area, Martin Luther King Jr. National Historic Site and urban sites at Los Angeles and Washington, D.C. Local Pura Vida students will take part this week (April 9-10) in the interactive kiosk experience. Pura Vida is a Grand Teton program designed to introduce Latino students to the National Park System and help them experience the natural world found within their Teton home.
"When the National Park System was created in 1916, no one would have imagined that technology could someday enable schoolchildren in Los Angeles to explore parks thousands of miles away with the touch of a button," remarked Secretary of the Interior Sally Jewell. "While we never want a virtual experience to replace a genuine connection, we are hopeful these displays will provide a gateway that inspires people to visit their parks and fall in love with the beauty, history and culture that make up our national parks and public lands."
"Find Your Park" is also the theme for this year's National Park Week, April 18 –26. During National Park Week, entrance fees will be waived on Saturday, April 18 and Sunday, April 19 at Grand Teton, and a host of free, family-friendly activities are scheduled for National Junior Ranger Day during Saturday, April 25 at the Craig Thomas Discovery &Visitor Center. From 11 a.m. to 2 p.m. that day, families can explore rescue vehicles and equipment used in park operations such as ranger patrol cars, fire engines, snow plows, and a park ambulance;they can also dress up in a real ranger uniform. As part of this event, a new Junior Ranger booklet will be unveiled and park rangers will host a variety of games and activities that relate to the booklet's activities. Participants can "test drive" this new booklet and give feedback while earning their Junior Ranger badge or patch.
Junior Ranger Day is made possible in part with funding by the park's long-time partner Grand Teton Association, who will offer a 15 percent discount in the Discovery Center bookstore. Visitors can buy educational materials, books and other merchandise like videos, posters, and plush animals by using this special one-day discount. For more information about Junior Ranger Day activities, please call the Discovery Center at 307.739.3399.
Strutting grouse tours are just one of many opportunities to enjoy Grand Teton during the month of April. To celebrate the arrival of spring, park ranger naturalists will lead early-morning tours to observe strutting sage grouse as they perform their annual courtship dance on an historic lek (mating arena) located just off the Antelope Flats Road near Mormon Row. While participants view the antics of strutting grouse, rangers provide information about their natural history and various conservation efforts underway for sage grouse populations that have declined throughout much of the American West.
Strutting grouse tours will be offered on April 11–12, April 18–19, and April 25–26, 2015. Tours begin from the Craig Thomas Discovery and Visitor Center at 5:30 a.m. Reservations are required. To make a reservation and obtain information about what to wear and bring along on these free ranger-led trips, call 307.739.3399.
"At Grand Teton National Park, we are thrilled to be joining this national campaign to highlight the upcoming NPS centennial," said Superintendent David Vela. "We are excited to introduce new visitors—especially youngsters and diverse visitors—to the wonders of our national parks. We also hope to re-acquaint previous visitors and develop a greater understanding of the importance of national parks as the keepers of our great American heritage."
"I want to personally invite everyone to celebrate National Park Week with us and join in the fun activities we have planned for National Junior Ranger Day and throughout the month of April," added Superintendent Vela.
Visit www.NationalParkWeek.org to learn more about how you can join parks, programs, and partners in celebrating National Park Week across the country.
ABOUT THE NATIONAL PARK FOUNDATION: The official charity of America's national parks and nonprofit partner to the National Park Service was chartered by Congress in 1967 to raise private funds to help protect more than 84 million acres of national parklands, connect all Americans with their natural landscapes, culture and history, and inspirethe next generation of park stewards. Learn more at www.nationalparks.org
--NPS--
www.nps.gov/grte
­­­­­­­­­­­­­­­­­_________________________________________________
More than 20,000 National Park Service employees care for America's 407 national parks and work with communities across the nation to help preserve local history and create close-to-home recreational opportunities. Visit the NPS at www.nps.gov, on Facebook www.facebook.com/nationalparkservice, via Twitter www.twitter.com/natlparkservice, and on YouTube www.youtube.com/nationalparkservice.
Last updated: April 6, 2015