Grand Teton Receives Generous Donation of 2015 Subaru Outback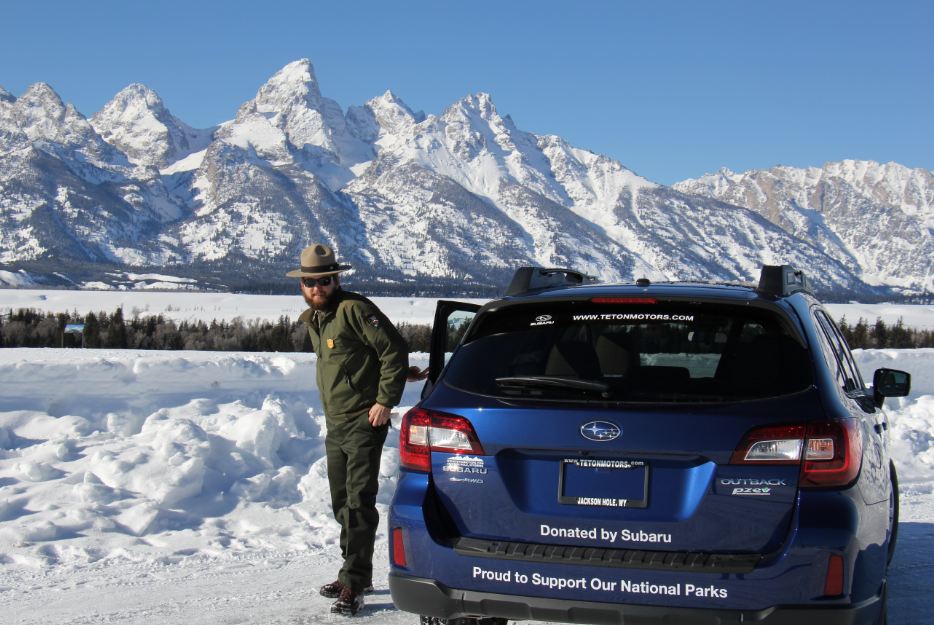 News Release Date:
March 3, 2015
Contact: Public Affairs Office, 307.739.3393
Grand Teton National Park is one of four national parks to receive a 2015 Subaru Outback thanks to a partnership between the National Park Foundation, the official charity of America's national parks, and Subaru of America, Inc. These four donated vehicles will help facilitate the operational needs at each of the selected national parks by supporting educational and resource management projects, traffic management, travel to gateway communities, and more.
Grand Teton National Park took possession of their donated Subaru in early January. From May through October, the new Subaru will be used by the Grand Teton's Wildlife Brigade, a cadre of park employees and volunteers that manages human-wildlife encounters along park roadways and patrols park campgrounds to ensure food storage compliance. During the off-season (November-May) the Subaru will be used for official travel by members of Grand Teton's management team as they attend meetings and events in gateway communities and neighboring towns.
"We greatly appreciate the support for national parks provided by Subaru of America," said Grand Teton National Park Superintendent David Vela. "Through Subaru's generosity and their great partnership with the National Park Foundation, we are better positioned to meet our operational needs and more effectively serve the visiting public through use of our new Subaru."
When the 2015 Outback was introduced last year, Subaru and the National Park Foundation teamed up to encourage more people to visit and volunteer at America's over 400 national parks. Since 2013, Subaru has donated more than $2.7 million to the National Park Foundation through its annual "Share the Love" campaign.
"Subaru is proud to expand its support of the National Park Foundation to include the donation of four all-new Subaru Outback vehicles," said Alan Bethke, vice president of marketing, Subaru of America, Inc. "With its all-wheel drive, ground clearance and rugged capability, the Outback is the perfect vehicle to safely transport national park staff throughout the year."
For more information on the National Park Foundation and how to support and protect America's national parks, please visit www.nationalparks.org.
 About Subaru of America, Inc.:
Subaru of America, Inc. is a wholly owned subsidiary of Fuji Heavy Industries Ltd. of Japan. Headquartered at a zero-landfill office in Cherry Hill, N.J., the company markets and distributes Subaru vehicles, parts and accessories through a network of more than 600 retailers across the United States. All Subaru products are manufactured in zero-landfill production plants and Subaru of Indiana Automotive Inc. is the only U.S. automobile production plant to be designated a backyard wildlife habitat by the National Wildlife Federation. For additional information, visit www.media.subaru.com.
ABOUT THE NATIONAL PARK FOUNDATION:
The National Park Foundation is the official charity of America's national parks and nonprofit partner to the National Park Service. Chartered by Congress in 1967, the National Park Foundation raises private funds to help PROTECT more than 84 million acres of national parks through critical conservation and preservation efforts, CONNECT all Americans with their incomparable natural landscapes, vibrant culture and rich history, and INSPIRE the next generation of park stewards. Find out more and become a part of the national park community at www.nationalparks.org.
ABOUT GRAND TETON NATIONAL PARK:
Located in northwestern Wyoming, Grand Teton National Park protects spectacular mountain scenery, a fascinating array of wildlife species and an impressive assembly of cultural and historic resources. The dramatic Teton Range—a central feature of the park—rises over 6,000 feet above the valley floor and includes the iconic 13,700-foot Grand Teton. The legendary Snake River and several glacial lakes add an aquatic dimension to the sage-covered valley of Jackson Hole. The park's world-renowned scenery attracts nearly four million visitors each year and offers an array of recreational activities for all ages and abilities. For further information about Grand Teton National Park, visit online atwww.nps.gov/grte.
Last updated: March 3, 2015