Snowdesk Webcasts Reach National & International Students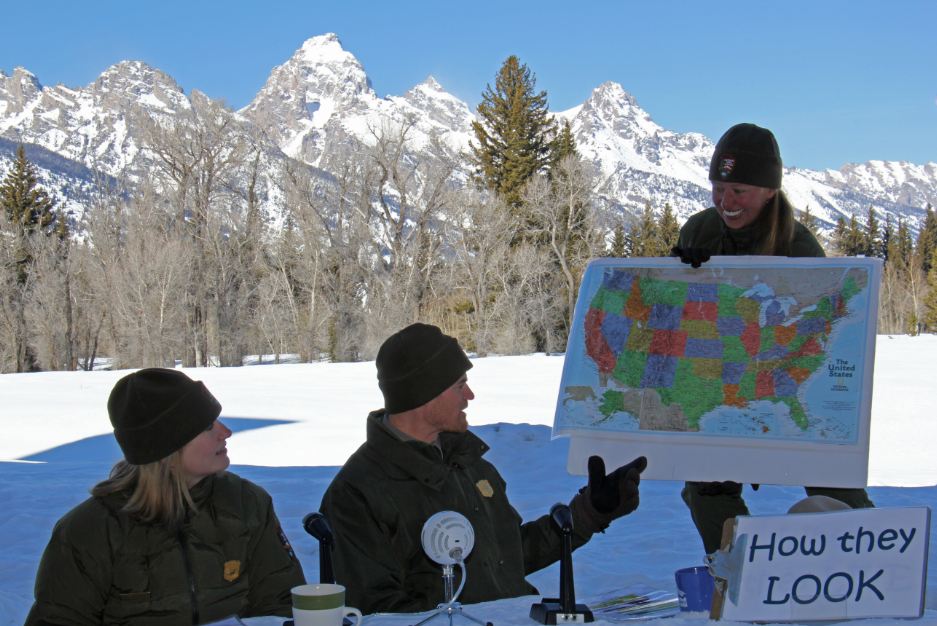 News Release Date:
February 18, 2015
For a fifth consecutive year, Grand Teton National Park is hosting an innovative distance learning program called "Snowdesk." During live broadcasts, park ranger naturalists use video conferencing technology to reach classrooms across the United States—as well as students in Germany and Canada—from a makeshift desk carved into the considerable snowpack adjacent to the Craig Thomas Discovery &Visitor Center in Moose, Wyoming.
From February 12 through February 27, park rangers will produce 35 different Snowdesk programs to students in California, Florida, Illinois, Michigan, North Carolina, New Hampshire, New York, Ohio and Texas. Participating students are able to visually and verbally interact with rangers using Skype video conferencing technology with the snow-covered Teton mountain range as a picturesque backdrop. Classrooms use their own technology to connect with each live broadcast from the park.
During each 30-minute "show from the snow" broadcast, classroom students in grades 1 through 5 learn about how park wildlife survive the harsh winter climate in Grand Teton National Park and the Jackson Hole valley: an environment that can receive up to 400 inches of snow a year and reach temperatures of minus 30 degrees Fahrenheit or colder.
Prior to the broadcasts, park ranger naturalists created an outdoor set next to the Discovery Center by sculpting the snowpack into a physical desk. They also packed down and leveled a "staging area" where they conduct demonstrations that help explain basic concepts of winter ecology and wildlife adaptation. Two park rangers generally host the broadcast while seated at the snow-sculpted desk, and one additional ranger demonstrates wildlife survival skills using animal pelts, headgear (antlers, horns, etc.) and other props. To enhance the learning experience and engage different learning styles, each classroom was provided additional materials such as photographs, park maps and newspapers, along with other preparatory information, before the sessions started.
From its beginning in 2011, Grand Teton National Park has annually expanded the Snowdesk broadcasts and doubled the number of programs just in the last year. Each broadcast reaches between 20 and 60 students throughout the U.S. and around the world.
Any school or classroom interested in signing up for the winter 2016 Snowdesk broadcasts is encouraged to call 307.739.3349 for further information.
Last updated: February 24, 2015